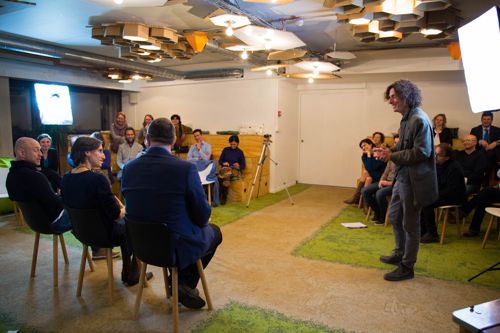 Brussels Imagination Club Workshop Archives
---
You Can Heal Your Past by Dijana Zorić 26/06/2019
Listen Up: Improve Your Listening Skills to Become a Better Boss, Employee and Partner by Todd Buell 12/06/1019
Creating: Become the Alchemist of Your Own Life by Filip Roeckens 22/05/2019
How to Create a Great Workshop by Andy Whittle 8 May 2019
Transforming Your Nightmare into a Dream Come True by Lindsey Curtis; Brussels, 24/04/2019
Creating a Wardrobe that Works : A Women's Fashion Workshop by Diane Salkiewicz, 10/04/2019
The Problem - Working on a Problem Without Disclosing It by Lorraine Wrafter; Brussels, 27/03/2019
Evolving in Love by Katrin Duerkoop; Brussels, 13/03/2019
From Shy to Star in 60 Minutes by Patrice Blanchard; Brussels, 27/02/2019
Who Is I? by Jeroen Walravens; Brussels, 13/02/2019
Challenge Your Fears by Andy Whittle; Brussels, 23/01/2019
How to Market Yourself and Become a Client Magnet by Tasso Tsirpouchtsidis; Brussels, 09/01/2019
Discover the Hidden Clues to the Culture Puzzle by Ruth Friedman; Brussels, 12/12/2018
You Were Born with Wings by Dijana Zoric; Brussels, 28/11/2018
Secondary Sensing by David Franks; Brussels, 14/11/2018
Visual Storytelling by Erin Meyer Charneux; Brussels, 10/24/2018
Walk the Talk - Improve Your Body Language by Zsuzsanna Corridori; Brussels, 10/10/2018
Increase Your Self Confidence by Nura Umarova; Brussels, 26/09/2018
Reboot Your Life by Andy Whittle; Brussels, 12/09/2018
Living the Life and Work You Love? It Is Possible, Discover How. Brussels, 23/05/2018
Decision Making Inside Out by Ruth Friedman - 9 May 2018
When Things Go Wrong - learn to handle it more and worry less by Lenka Grackova -25 April 2018
How to Create a Colourful Storytelling Palette by Martin Jugmans - 27 September 2017
Tackle Procrastination and Get moving with your Action Blocks by Ruth Friedman and Lenka Grackova - 13 September 2017
Learn how to use your intuition to create powerful results in your life by Christiana Moeschler - 28 June 2017
How to Use Audience Psychology to Give Inspiring Presentations By Carsten Wendt and Daniel Mouqué - 14 June 2017
How the brain is stopping you from reaching your goals by Ivan Faes - 24 May 2017
How to charm anyone to be more successful in life by Andy Whittle - 10 May 2017
The Happy Leader by Tom Aerden - 26 April 2017
Co-Creation by Alvita De Souza and Hans Begeer - 22 March 2017
How Practicing Visualisation Helps You in Everyday Life by Jana Gàl - 8 March 2017
Challenging Limiting Beliefs by Ana Escarpenter - 22 February 2017
Humour as a Creative Tool by Ingrid Kreksch (8 February 2017)
The Neighbourhood - A New Social Media Network by Bruno Duarte (25 January 2017)
How to Design and Deliver Awesome Presentations by Jeffrey Baumgartner (11 January 2017)
The Felt Sense by Ruth Friedman (20 December 2016)
Listen Very Carefully, I Will Say This Only Once by Greet Selderslaghs (14 December 2016)
Conflict Management (23 November 2016)
Courage, the Art of Living Dangerously (15 November 2016)
Zen and the Art of Happiness (9 November 2016)
Presence in Front of a Group (26 October)
A Tête-à-Tête with Things (18 October 2016)
Having Fun Reshaping Your Reality (12 October 2016)
Define Your Own Brand (28 September 2016)
Travel Writing Walk in Brussels (20 September 2016)
Identify Your Values and Strengths (14 September 2016)
An Exploration of Grounded Presence (29 June 2016)
The Brain Game - A Workshop Designed to Unleash Your Potential (21 June 2016)
Personal Discoveries and Insights with Points of You™ (15 June 2016)
Manage your success when you change your job (25 May 2016)
The X-factor of life: Emotional Intelligence (11 May 2016)
Developing your Resilience (27 April 2016)
Transformational Change and the Pippi Longstockings Principle (13 April 2016)
Accessing Your Inner Body Wisdom (23 March 2016)
Cancel Your Subscription to Unhappiness (9 March 2016)
ReflAction – Boosting Your Action for a Better World (24 February 2016)
Develop an Attitude of Gratitude (10 February 2016)
When It Hits the Fan (27 January 2016)
Overcoming Inertia (13 January 2016)
Let's Travel Into the Future (9 December 2015)
The Six Hats Are Back (25 November 2015)
Being Wise Together (28 October 2015)
How to run an awesome workshop (14 October 2015)
An Experiment in Social Psychology (23 September 2015)
The Dark Side of Creativity (9 September 2015)
The Money Opera (24 June 2015)
Mining Your Field of Dreams (10 June 2015)
Grains, Beans, Nuts and Seeds in Ayurveda (27 May 2015)
Creating a Life Purpose Statement in 3 Easy Steps (13 May 2015)
Expanding Creativity: Calling the Muse (25 March 2015)
Combatting Discrimination in the Workplace (11 March 2015)
Neuroscience the Mind/Brain Body and Heart: Change Your Mind, Change Anything? (25 Feb 2015)
An Introduction to Chinese Medicine-the Five Elements (11 Feb 2015)
Money and Our Relationship to It (28 Jan 2015)
Relax Your Body and Improve Your Posture (14 Jan 2015)
All you ever wanted to know about Social Media but were afraid to ask (10 December 2014)
How to Make Your Dreams Come True (26 November 2014)
Ayurveda Evening (12 November 2014)
How to Win at Life in 3 Easy, Fun Steps (22 October 2014)
Wellness Weekend in the Ardennes (17-19 October 2014)
Your Unique Leadership (8 October 2014)
Seriously, Laughter is the Best Medicine! (24 September 2014)
Dynamic Problem Solving (10 September 2014)

What"s Our Strategy (25 June 2014)
Solving the Culture Puzzle: Clues for living in Belgium (18 June 2014)
Organisations Under Change; Are all Changes Needed? (11 June 2014)
Beyond the Selfie (28 May 2014)

How to Get to Where You Want to Be (14 May 2014)
Conscious Success... it's time to break the rules! (9 April 2014)
Discovering Brussels: What's Hiding Behind the Walls? (26 March 2014)
Spoken Word Poetry (12 March 2014)
The Myths of Grief (26 February 2014)

The Power of the Sixth Sense (12 February 2014)
What Should I Do Right Now? (22 January 2014)
8 Ways to Wellbeing (8 January 2014)
Learning to live after Loss (11 December 2013)
Create Your Own Story (27 November 2013)
Using Technology to Get Organised (13 November 2013)
Communication Skills – Building Skills across Cultures (23 October 2013)
Your Cosmic Creativity (9 October 2013)
Communicate with Confidence (25 September 2103)
Work Less, Do More 11 September 2013

How to Be Confident in (at least) 10 Steps (26 June 2013)
Sexy Goals (13 June 2013)
Why We Do What We Do (30 May 2013)
Imagination Club Weekend (25-26 May 2013)
Why Are You Here? How to Find Your Purpose in Life (16 May 2013)
Leuven Cultural Walk & Beer (1 May 2103)
Enjoy & Learnshop - Changing Is Fun (15 April 2013)
Creativity & Beer - an informal pub-talk about creativity (3 April 2013)
Exploring Group Intelligence (19 March 2013)
Keeping Burnout at Bay (5 March 2013)
Mindfulness in Motion (20 February 2013)
Overcoming the Fear of Failure (6 February 2013)
Mandalas to Heal and Manifest our Dreams, Desires and Intention (23 January 2013)
The Joy of Appreciative Living (9 January 2013)
Understanding Cultural Differences Through Storytelling (12 December 2012)
Virtual Team Building (28 November 2012)
Rebirthing and How Your Birth Affects Your Life (14 November 2012)
How to Get Out of Your Comfort Zone (17 October 2012)
Reaset: The Return of Ease (3 October 2012)
Self–Compassion a tool to deal with life's challenging moments (19 September 2012)
The Happiness Project (5 September 2012)
Dare to Be Unique -- Reveal Your Talents! (27 June 2012)
Imagine You Are Someone Else (13 June 2012)
Activating Secret Wishes (23 May 2012)
The Art of Writing Postcards (9 May 2012)
Let's Design a New Religion for the 21st Century (25 April 2012)
Mindfulness for Everyone (11 April 2012)
Drawing Out Your Visions and Dreams (28 March 2012)
Conversational Hypnosis (14 Mar 2012)
Creative Cost Cutting (22 Feb 2012)
Forward Tinkering (8 Feb 2012)
A Journey Through Your Imagination with Bach (25 Jan 2012)
Developing Empathy (11 Jan 2012)
14 December 2011
23 November 2011
9 November 2011
26 October 2011
12 October 2011
28 September 2011
14 September 2011
25 May 2011
11 May 2011
27 April 2011
13 April 2011
23 March 2011
9 March 2011
23 February 2011
9 February 2011
26 January 2011
12 January 2011
8 December 2010
24 November 2010
11 November 2010
27 October 2010
13 October 2010
22 September 2010
8 September 2010
26 May 2010
12 May 2010
24 April 2010
14 April 2010
24 March 2010
10 March 2010
24 February 2010
10 February 2010
27 January 2010
13 January 2010
9 December 2009
25 November 2009
11 November 2009
28 October 2009
14 October 2009
23 September 2009
9 September 2009
27 May 2009
13 May 2009
22 April 2009
8 April 2009
25 March 2009
11 March 2009
25 February 2009
11 February 2009
28 January 2009
14 January 2009
Previous workshops were not archived -- sorry!
---
Sunday Afternoon Culture Club
---
Annual Erps-Kwerps BBQ
14 August 2010
9 August 2009
18 August 2008
How would you like to do a workshop at the Imagination Club? It's a great way to try out new ideas and approaches with a cool, receptive, international audience. Learn more here.
Upcoming Events
27 July 2019 Imagination Club Summer Barbecue
11 September 2019 Responsibility, Power and Freedom by Lisa Kretschmann
25 September 2019 The Six Ingredients of Self-Management by Lenka Grackova
9 October 2019 Marketing Your Small Business by Sheldon Stanton
23 October Dress with Colour and Style by Ella Strickland
13 November 2019 Personal Finance by Elena Nikolskaya
Want to do a workshop or talk with us? Get in touch!
Note titles and facilitators are subject to change.
Mailing List
Want to be kept informed of new events and occasional news from the Brussels Imagination Club? Just enter your email below − and be sure to follow the link in the confirmation email to complete your subscription to our mailing list.
---
---
Notes:
(1) We will never share your contact information with anyone, not even workshop facilitators, without your permission.
(2) "Are you human" question is a spam control measure. Please answer correctly to subscribe.