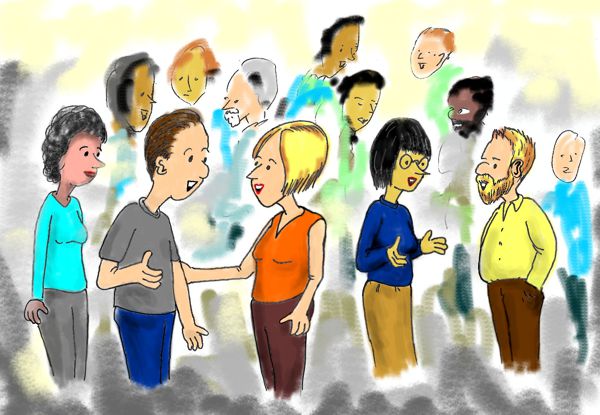 Activity: Deep Conversations
Brussels: 23 June 2021
Please note the coronavirus rules below!
Do you ever get bored by all the small talk that comes with social events, meeting new people and expanding your social circle? Have you ever thought how nice it would be to skip the small talk and dive right into a deep, meaningful conversation with an interesting person? After more than a year of lockdown and the resulting limitation of meeting up with others, wouldn't it be great if you could really get to know new people?
If the above resonates with you, please join us at the Brussels Imagination Club for Deep Conversations. After a brief introduction, you will be paired up with someone you don't know and given a set of thoughtful questions. You can help yourself to refreshments, find a comfortable place to sit (or stand) and you'll be invited to skip the small talk and immediately choose questions from the list to ask each other. But do not treat it as an interrogation. Instead, listen to your conversation partner's answers and ask your own additional questions. Feel free to let the conversation wander. You do not need to ask all of the questions and you may invent your own questions. The only rule is that your conversations are completely confidential and you will not share your conversation partner's answers with anyone else.
Afterwards, we will have a debriefing and feedback session.
Deep Conversations is not really a workshop as it does not aim to teach you anything. Nevertheless, we hope you will learn something about someone new and about yourself. If Deep Conversations is successful, we will consider launching it as a regular activity at the Imagination Club, so your feedback will be especially valued.
Deep conversations is inspired by Oxford University professor Theodor Zeldin's Conversation Dinners and Vienna Coffee House Conversations (also inspired by Professor Zeldin's concept).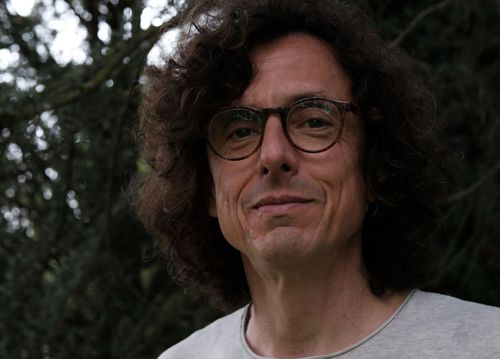 About Jeffrey Baumgartner
Deep conversations will be led by Jeffrey Baumgartner, co-founder of the Imagination Club.
Jeffrey is the author of four books, including The Insane Journey (science fiction humour novel), Anticonventional Thinking (creativity), The Way of the Innovation Master (business innovation) and The Adventures of Felicity Holmes (literary hack).
Until recently, Jeffrey spoke and gave workshops on creativity, business innovation and imagination around the world. He's given workshops and talks at FritoLay, Hilti, Philip Morris International, Genentech, Agra, Afton Chemical, the Algarve region of Portugal, numerous industrial groups, the Dubai Prime Minister's Office, Almajduie, the European Commission and more. He's also spoken at conferences throughout Europe as well as in India, Australia and South Africa.
However, in 2019, he largely gave up enabling business and government groups to be creative so that he could focus in being more creative himself. And he has been busying himself with art and writing projects. You can see some examples of his creative work here.
---
Important: Coronavirus Rules
In order to provide a safe space for you and other participants of this workshop, we expect you follow our coronavirus rules:
The workshop is strictly limited to 12 participants (not including the organisers and facilitator). You must register via email or the web site in order to attend this workshop. If you register and are later unable to attend, please cancel via email or the form on the web site as soon as possible.


If you do not feel well or have a fever, please do not attend.


Please do not shake hands, kiss or hug others. Even if you feel comfortable kissing old friends, old friends may not feel safe being kissed. (I hate writing this rule, but it is important for the welfare of us all).


Please keep at least 1.5 meters distance from others. If it is not possible to do so, please wear a face mask.


Please check the rules for snacks and drinks before helping yourself.


We will sanitise the space beforehand. Hand gel will be available. Please make use of it.
If you have any questions please contact us. If you have last minute questions or concerns, you can also call, SMS or Whatsapp Jeffrey on +32 478 54 94 28.
---
Practical Information
When Wednesday, 23 June from 18h45-21h00
Where? Cooperativa Kreativa, Rue Volta 8, 1050 Brussels - Map <- Note new venue
How much? A contribution of €15 to cover expenses including materials, drinks, snacks, etc. - payable at the door.
Please share this event on social media!
Want to come?
Please reply to your invitation e-mail or follow this link to sign up for for this workshop.
Attending
Organisers
Andy W
Jeffrey B


Facilitator
Jeffrey Baumgartner

Participants (limit: 12)
Strictly limited to 12 people. You must register via email or the web form and receive a confirmation from us in order to attend this workshop. If you register and change your mind, please notify us as soon as possible so someone else can have your place. For last minute changes, please contact Jeffrey by telephone, SMS or Whatsapp on +32 478 54 94 28. If you do not feel well or have a fever, please do not attend.
Jeroen W
Olivier D
Maggie L
Cheryl C
Aleydis D
Yannick B
Peter W
Regina D
Marie Ann G
Upcoming Events
24 July 2022: Event: Summer Barbecue
14 Sep 2022: Workshop: Communications by Cass Hebron
28 Sep 2022: Workshop: The Waiting Room - A Practice Between Mindfulness and Creativity by Daphné Sarpyener
12 Oct 2022: Workshop: How to Recharge Your Batteries by Aurélia Mellin
26 Oct 2022: Workshop: Self-Improvement by Andy Whittle
9 Nov 2022: Workshop: Money by Fatiha Elbaj
Mailing List
Want to be kept informed of new events and occasional news from the Brussels Imagination Club? Just enter your email below − and be sure to follow the link in the confirmation email to complete your subscription to our mailing list.
---
---
Notes:
(1) We will only use your email address to send you invitations to our activities and for occasional Imagination Club news.
(2) We will never share your contact information with anyone, not even workshop facilitators, without your permission.
(3) "Where is the Imagination Club based?" question is a spam control measure. Please answer correctly to subscribe.