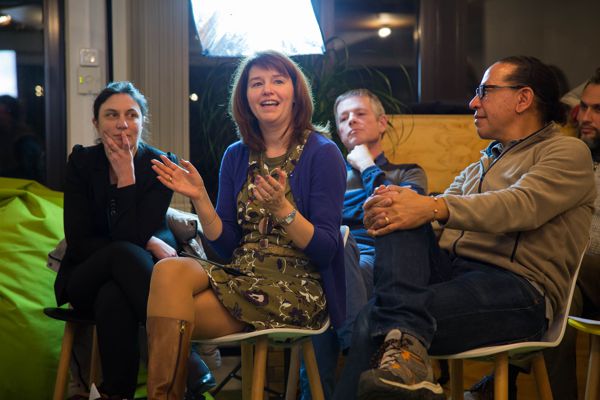 Workshops at the Imagination Club
For more than a dozen years, we've been hosting facilitators and trainers to try out new ideas in short, interactive workshops on all kinds of topics. For facilitators and trainers, it is an opportunity to try out new content, new techniques and new ideas with a receptive, international audience. For participants, it is a chance to learn something new in the context of a 90 minute workshop. Moreover, because of the nature of our workshops, participants can look forward to a very low cost learning experience without sales pitches. If you'd like to participate, check out our schedule below.
If you would like to run an experimental workshop at the Imagination Club, get in touch with us! But, before you get in touch, please note the rules: we do not want demonstration workshops, we do not want sales pitches and we do not want workshops you have done many times before. We want to provide you with a safe place to try out something - or many things - new. Experienced facilitators and aspiring facilitators are most welcome to use our platform.
If you want to see what kind of workshops we have done over the years, please visit our Workshop Archives.
If you'd like to learn how to give a great workshop at the Imagination Club (or anywhere else), watch this video.
Upcoming Events
---
27 September 2023 - Workshop: Break Free from Control Freakism and Perfectionism by Andy Whittle
11 October 2023 - Workshop: Befriending Your Nervous System to Better Navigate Challenging Times by Anita Sheehan
25 October 2023 - Workshop: "I Have a Dream": from Vision to Reality by Irina Papancheva
22 November 2023 - Workshop: Active/Empathic listening by Monika Branat
13 December - Workshop - Our 21st Centuary Big CC: from Climate Crisis to Climate Collaboration. A coach's framework. by Mary Jones
Workshops are subject to change
---
Mailing List
Want to be kept informed of new events and occasional news from the Brussels Imagination Club? Just enter your email below − and be sure to follow the link in the confirmation email to complete your subscription to our mailing list.
---
---
Notes:
(1) We will only use your email address to send you invitations to our activities and for occasional Imagination Club news.
(2) We will never share your contact information with anyone, not even workshop facilitators, without your permission.
(3) "Where is the Imagination Club based?" question is a spam control measure. Please answer correctly to subscribe.