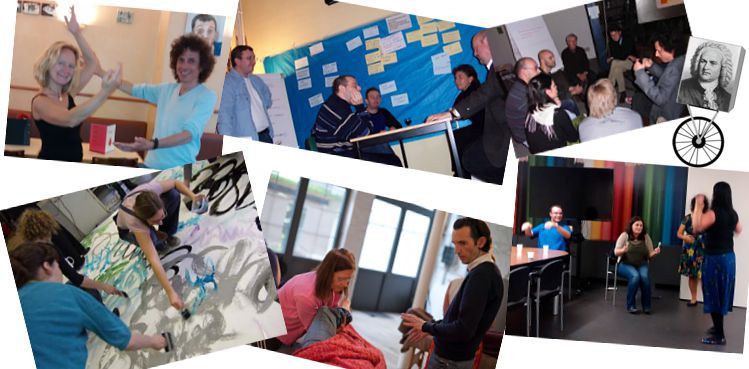 Imagination Club Events
Workshops
Our main activity are our experimental workshops which we run every 2nd and 4th Wednesday evening of the month (except July and August). Workshops are 90 minutes, interactive and new for the facilitator and (we hope) the audience. The idea behind these workshops is that they are an opportunity for facilitators to try out new ideas, test techniques and stretch themselves. For a beginner facilitator, this might be as simple as leading a workshop for the first time. For an experienced facilitator, it is a chance to test new ideas before using them professionally. For the audience, it is an opportunity to try something new and learn.
Serious Waffle Sessions
New for 2017, Serious Waffle Sessions are 90 minute, themed sessions during which three people each give a 17 1/2 minute talk and (optionally) presentation. First timers, professional keynote speakers and anyone else is welcome to propose a talk.
All talks should focus on being pragmatic and teaching the audience something they can use in their lives. And we encourage experimentation in technique.
Serious Waffle Sessions will be held on the 3rd Tuesday of the month. Learn more about Serious Waffle Sessions here.
Workshops and talks are always in English.
If you would like to give a workshop or give talk, please contact us!
Mailing List
If you would like to be kept informed of events, please ask to be added to our mailing list. You will only receive event invitations and occasional news of the club. Your email address will never be shared without your permission. Contact Jeffrey to be added to the mailing list.
---
Archives