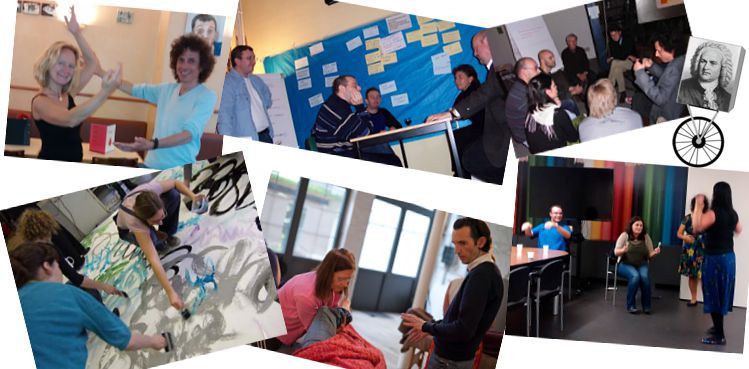 Imagination Club Workshops
Our workshops are unpredictable, educational and fun. That's because they are experimental. We provide a space for facilitators to try out new ideas, new content and new techniques with a receptive, international audience of people like yourself. For the facilitator, it is an opportunity to test ideas before using them professionally. For participants, it is a chance to discover something new, learn and meet some really cool people like yourself. Most workshops include exercises that have you interacting with others, a great way to get to know people.
Workshops are just 90 minutes in length, so you can feel safe trying out new things. If you don't like it, you're only stuck in the workshop for an hour and a half! But, usually, you will like it!
Facilitators range from experienced professionals working globally to inexperienced people wanting to try out their skills and include everyone in between. But do not be put off by facilitators with little experience. Sometimes their workshops are more awesome than the professionals'!
Subscribe to our mailing list
Want to be kept informed of workshops and other events at the Brussels Imagination Club? Enter your email address below and follow the instructions in the confirmation mail you receive to complete your subscription
Note: we will never share your contact information with anyone, not even workshop facilitators, without your permission.
If you would like to give a workshop, please contact us!
---
Archives
---
Mailing List Privacy Note
We respect your privacy. We will not share your contact information with anyone, including other members. The mailing list is used only to notify you of Imagination Club events and news. You may leave it at any time - see instructions at end of every email sent from the list.