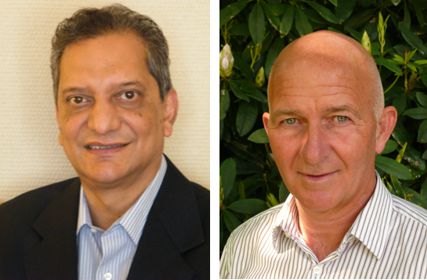 Workshop: Co-Creation - A Quick Taster
By Hans Begeer and Alvito de Souza
Brussels: 22 March 2017
Today we live in an increasingly complex world. A planet that has moved from global interconnectedness to an ever shifting and entangled worldwide habitat. The phenomenal rate of movement of peoples and ideas has engendered an unprecedented pace of innovations, advancements and, yes, conflicts.
We struggle to cope in our organisational and societal structures designed for the fleeting reassurance of stability. But how can we manage when the assurance of constancy is replaced by the reality of unrelenting change?
Coming to grips with the complex issues of our time requires a 'whole system approach" where all who have a stake in the issue are involved from the start. One such approach is co-creation.
Co-creation is trending as many organizations search for ways to stay imaginative and relevant (or even just survive) in today's uncertainties. Despite the positive buzz about co-creation, the feedback is that it can be challenging to implement effectively. Co-creation is not a quick fix. It is an all engaging process which needs to be meticulously planned and given adequate time and resources (energy) to set up, initiate and sustain.
By attending this taster workshop you will be able to:
Discover the 6 principles of co-creation
Share situations and limits to co-creation
Find out about conditions to successfully apply co-creation
Explore self organizing approaches to management
Feel what it means to apply co-creation
The workshop is based on the book, "Co-creation… 13 Myths Debunked", (Begeer Hans & Vanleke Lesley. (2016), Lannoo Publishers nv) which will also be available.
About Hans
Hans Begeer, a management consultant, facilitator and coach. He is interested in managing differently and has been using his insights in an international practise for more than 30 years. He is also co author of the book on Co-creation
About Alvito
Alvito de Souza is a former Secretary General of the World Catholic Association for Communication. His interest is in communication for development (C4D) and grass-root participation. He has a background in community media, peacebuilding and human security.
Practical Information
When? Wednesday, 22 March 2017 from 18h45-21h00
Where? Timesmore Boulevard St Michel 47, 1040 Brussels
Public transport: Metro: Montgomery; Tram: Boileau
See map below or here...
How much? A contribution of €12 to cover expenses including materials, drinks, snacks, etc.
Please share this event on social media!
Want to come?
Please reply to your invitation e-mail or follow this link to sign up for for this workshop.
Participants
Jeffrey Baumgartner
Andy Whittle
Hans Begeer
Alvito de Souza
Nicoleta Parvana
Helena Ruiz Fabra
Emily
Shenna Sanchez
Maya Todorova
Patricia Scherer
Georges Melides
Carolyn Moody
Marianne Rosolen


Frank Barendregt **
Mirjam Dondi **
Monica Dimitriu **
Sascha Siegmund **
Maya Todorova **
Christopher Malapitan **
Rozina Spinnoy **
Notes
* Registered on Facebook
** Registered as "Interested" on Facebook which, in practice, means they probably won't come. But we appreciate their enthusiasm and support nonetheless.
View Larger Map
Mailing List
Want to be kept informed of new events and occasional news from the Brussels Imagination Club? Just enter your email below − and be sure to follow the link in the confirmation email to complete your subscription to our mailing list.
---
---
Notes:
(1) We will never share your contact information with anyone, not even workshop facilitators, without your permission.
(2) "Where is the Imagination Club based?" question is a spam control measure. Please answer correctly to subscribe.