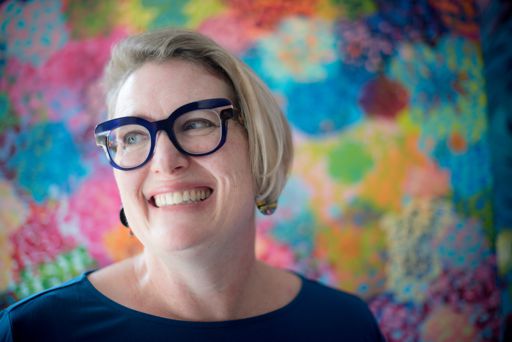 Workshop: Visual Storytelling
By Erin Meyer Charneux
Brussels: 24 October 2018
Ever wanted to do something that seemed "impossible"?
Ever been afraid to try something new because it might not work?
Ever have a burning desire to do something but not sure where to start?
Erin has felt this way too.
She's been dreaming up a 'crazy idea' for something she calls Visual Storytelling. It involves her making a painting while telling a story - LIVE. It's not just her story though, it's your story too. You, the participants, get to help her create this painting by sharing your stories, your "impossible" dreams, your missteps, and your experiences.
Why?
Because through sharing we learn from one another. Because when we can see words represented on canvas, our stories are made tangible through paint and movement, we gain a perspective unlike anything we've ever seen before. At least, that's what Erin is hoping for.
Although all Imagination Club workshops are experimental, Erin's will be more experimental than most. This is what she has to say about it:
"Maybe it won't work at all…. Honestly, I'm a bit terrified of the whole thing. But this crazy idea has been pestering me for almost a year now, waking me up at night, sweeping me off my feet at the most unexpected moments. I need to try this out. I can't think of a better place to start, than with Jeffrey, Andy, you and others at the Imagination Club.

To let you in on a little secret, two weeks ago Jeffrey emailed me asking if I still wanted to do this workshop. I was tempted to back out. I'm nervous. But I really want to try. I called Jeffrey. We talked. I started to breath again. And so here I am, writing this description. I knew if I just called Jeffrey, everything would be alright. So please come try this out with me…or not. There's a part of me that hopes no one will come. Not really…but still…"
About Erin Meyer Charneux
Name: Erin Meyer Charneux
Title: Artist. Speaker. Author.
Book: D-Day Lessons for Today: How to Create Your Future History
Origin: Native Texan, naturalized Belgian
Biggest challenge: Managing proliferous idea factory constantly churning in my head.
Proudest achievement: My four kids
Favorite color: ALL of them (except beige)
Favorite thing to do: Laugh
Motto: Experiment with life. It's worth the experience!
Website: www.erinmeyercharneux.com
Instagram: experimentsontheedge
Practical Information
When? Wednesday, 24 October from 18h45-21h00
Where? Timesmore Boulevard St Michel 47, 1040 Brussels
Public transport: Metro: Montgomery; Tram: Boileau
See map below or here...
How much? A contribution of €12 to cover expenses including materials, drinks, snacks, etc.
Please share this event on social media!
Want to come?
Please reply to your invitation e-mail or follow this link to sign up for for this workshop.
Participants
Jeffrey B
Andy W
Erin MC
Carolyn M
Peter W
AnneMartine
David F
Tom M *
Virginia M *
Nicole vL *


Olivier D **
Mariarosaria M **
Franc E **
Dennis E **
Dalia J **
Liz K **
Sherin S **
Steffi H **
Fabienne P **
Martina B **
Liz K **
Monica D **
Yulia D **
Sascha S **
Miriam **
Muriel H **
Silje O **
Jane W **
John C **
Christie A **
Richard K **
Christopher M **
Rozina S **
Olivier vE **
Em G **
Zlatimira **

Notes
* Registered on Facebook or Meetup
** Registered as "Interested" on Facebook which, in practice, means they probably won't come. But we appreciate their enthusiasm and support nonetheless.
View Larger Map
Mailing List
Want to be kept informed of new events and occasional news from the Brussels Imagination Club? Just enter your email below − and be sure to follow the link in the confirmation email to complete your subscription to our mailing list.
---
---
Notes:
(1) We will never share your contact information with anyone, not even workshop facilitators, without your permission.
(2) "Where is the Imagination Club based?" question is a spam control measure. Please answer correctly to subscribe.