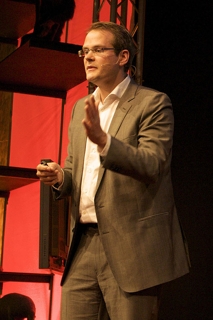 Photo by Hans Stockmans
You are warmly welcome to join us at the Imagination Club on Wednesday, 22 February at 18h45 for an interactive, experimental workshop on:
Creative Cost Cutting
By Lars Sudmann
Background
Cost Cutting? When hearing this, the first reaction of many people, especially from the creative field, is…… 'uuhhh…not my thing'. But cost cutting can actually be a fun and creative exercise.
Fun, creative? Yes!
Many people find exploring and managing cost is done in dull and non-engaging ways, focusing on endless columns in detailed spreadsheets. This turns people off. But managing costs and budgets is a necessity for every professional. And it does not have to be dull at all.
In this workshop, we will approach cost from a creative and interactive angle. The objective is that every participant explores one area important to her/him and identifies creative solutions. We will explore cost cutting as a part of life hacking. Your time spent in this workshop will greatly pay off, as you will have plenty of creative ideas on how to improve your personal costs and time.
Specifically, participants will
explore a cost field (private expenses, professional cost, or even time of the day) in a creative way
get at least 3 ideas on how to improve your costs
explore costs & finance from a new and fun perspective
About Lars Sudmann
Lars is an expert on creative business leadership. He has gained international experience in Europe and Asia with companies such as Procter & Gamble, McKinsey & Company, and The Boss Group, Ltd.
He has in-depth experience speaking to and training a variety of audiences and is an award-winning and certified trainer and coach. He was invited to speak at TEDxFlanders and TEDxGhent.as well as other creative events such as PechaKucha Maastricht.
Lars has a university education in business administration (Aachen University of Technology), and social sciences and psychology (Hamburg University). For more information go to his web site here...
A special thanks to UBI for donating classroom space for us!
Details
---
When?

Wednesday, 22 February 2012
Time:18.45 to 20.30

Where?

UBI (United Business Institutes)
Marnixlaan, 20
1000 Brussels, Belgium

Between Troone and Naamsepoort metros

Map (see below or follow link)

How much?

A contribution of €10 to cover expenses including materials, drinks, snacks, etc.
---
RSVP
Please reply to your invitation e-mail or follow this link to sign up for for this workshop.
Participants
Jeffrey Baumgartner
Andy Whittle
Lars Sudmann
Caroline Bergaud
Ingrid Kreksch
Hugo Demets
Johan Vercruysse
Raphaël Guilbert
Annette Monreal
Chris Hoeree
Raphaël Guilbert
Ruth Friedman
Gunnel Klingberg
Dusan Servic
Gabriela Cristea
+ Guest
Sigrid Ramault
Jean Debrosse
Sonia Resuli *
* indicates confirmation via Facebook
Want to come, but don't want your name on this list? No worries. Just tell us not to publish your name when replying.