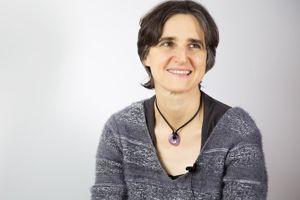 Workshop: The Felt Sense
By Ruth Friedman
Brussels: 20 December 2016
Have you ever experienced a kind of fuzzy feelings in your body that you don't really know how to put words to? You know your body is telling you something of importance −to you− even if you can't explain it? Maybe it's a gut reaction, or a deep sense of feeling really right about something. This is your felt sense in action!
Wouldn't it be great if you could learn to access the felt sense whenever you wanted to?
In this interactive, exploratory workshop we will be learning to do just that! You will learn to get into contact with your own felt sense and begin the process of listening to what it has to tell you.
Being able to access the felt sense: can bring distance to challenging relationships; can help identify and move through action blocks; supports decision making by deep listening; and can help to deal with phobias, such as claustrophobia.
The felt sense is a term that was coined by Eugene Gendlin in the 1960s. He then went on to develop focusing which is a method to help you access the felt sense. We will be drawing on this method during the workshop.
About Ruth Friedman
Ruth Friedman is a focusing guide and self compassion coach. She works with individuals and groups in diverse settings, and is passionate about personal and professional development. She has been working with the felt sense and focusing since 2014 and is a certified trainer in training with the Focusing Institute of New York.
Learn more about Ruth and her work at www.ruthfriedman.com
Practical Information
When? Tuesday, 20 December 2016 from 18h45-21h00
Where? Timesmore Boulevard St Michel 47, 1040 Brussels
Public transport: Metro: Montgomery; Tram: Boileau
See map below or here...
How much? A contribution of €12 to cover expenses including materials, drinks, snacks, etc.
Please share this event on social media!
Want to come?
Please reply to your invitation e-mail or follow this link to sign up for for this workshop.
Participants
Jeffrey Baumgartner
Andy Whittle
Ruth Friedman
Anne De Prins
Grietje Duquesne
Jeroen Walravens
Emilie Sickinghe
Benedicte van Nierop
Pia Bach Nielsen
+Guest
+Guest
Stewart
Edina Dóci
Damien d'Ursel
Joris Eikenaar
Olivier Dierickx *
Anne Loevgren *
Monica Dimitriu *
Bobbi Suzic *
Maroussia Klep *
Amy Lee *


Sarah Sherriff **
Christiane Moeschler **
Bruno Duarte **
Uschi Krampe **
Sachin Sehgal **
Nico Papillon **
Gordon Buhagiar **
Zlatimira Beckham **
Notes
* Registered on Facebook or Meetup
** Registered as "Interested" on Facebook which, in practice, means they probably won't come. But we appreciate their enthusiasm and support nonetheless.
View Larger Map
Mailing List
Want to be kept informed of new events and occasional news from the Brussels Imagination Club? Just enter your email below − and be sure to follow the link in the confirmation email to complete your subscription to our mailing list.
---
---
Notes:
(1) We will only use your email address to send you invitations to our activities and for occasional Imagination Club news.
(2) We will never share your contact information with anyone, not even workshop facilitators, without your permission.
(3) "Where is the Imagination Club based?" question is a spam control measure. Please answer correctly to subscribe.