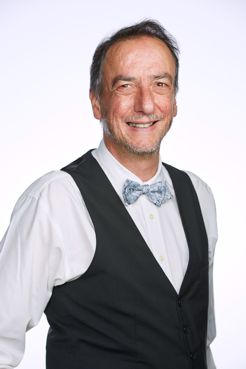 Workshop: From Shy to Star in 60 Minutes
By Patrice Blanchard
Brussels: 27 February 2019
Speaking in public is difficult for everyone, even when you have a complete text to present. Improvising in public is even more difficult. Oh Gosh, where is the text? What am I going to say?
This workshop will introduce you to techniques to allow everyone to speak in public without any fear (or less fear, at least) and to be able to improvise -- in just an hour.
You will learn the basic exercises to break the ice in a group, stimulate imagination, and destroy the fear of public speaking. Are you ready to become a star?
Please wear comfortable clothes. This will be an active workshop!
About Patrice Blanchard
Patrice has been a comedian for the last 20 years. He writes and directs theatre plays. He is legally obligated to feed his family hence he also works as a freelance project manager. For a year, he has been President of a Toastmaster group, helping people to speak in public easily. He gives regular conferences about management in different countries with difficult names.
And, he keeps on teaching public speaking and theatre because he thinks that helps in personal development (mainly his)
Note: We are back at our usual venue
Practical Information
When Wednesday, 27 February 2019 from 18h45-21h00
Where? Timesmore Boulevard St Michel 47, 1040 Brussels - Map
How much? A contribution of €12 to cover expenses including materials, drinks, snacks, etc.
Please share this event on social media!
Want to come?
Please reply to your invitation e-mail or follow this link to sign up for for this workshop.
Participants
Andy W
Patrice B
Carolyn M
Kathy B
Jason K
+ Guest
Arnaud M
Bess S
Nevena M
Stefania D
Susan B
Agata P
Adrian V
Christel G
Daniela T
Catherine C
Antony J
Frans N
Greet S
Audry N
Sonia G
Simone S
Janet W
Miriam G *
Collette V *
Mirjam D *
Daisy T *
Miriam *


Greet S **
Bruno D **
Barry C **
Antonina R **
Katrijn D **
Miriam T **
Larry M **
Richard K **
Megan B **
Ally D **
Krem M **
Zlatimira **
Notes
* Registered on Facebook or Meetup
** Registered as "Interested" on Facebook which, in practice, means they probably won't come. But we appreciate their enthusiasm and support nonetheless.
Mailing List
Want to be kept informed of new events and occasional news from the Brussels Imagination Club? Just enter your email below − and be sure to follow the link in the confirmation email to complete your subscription to our mailing list.
---
---
Notes:
(1) We will never share your contact information with anyone, not even workshop facilitators, without your permission.
(2) "Where is the Imagination Club based?" question is a spam control measure. Please answer correctly to subscribe.