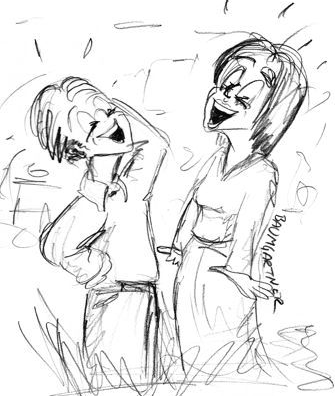 Workshop: Jokes as a Toolkit for Lateral Thinking
By Ingrid Kreksch
Brussels: 8 February 2017
The marriage of poor Kim Kardashian
Was krushed like a kar in a krashian.
Her Kris kried, "Not fair!
Why kan't I keep my share?"
But Kardashian fell klean outa fashian.
—Salman Rushdie
Lateral thinking was defined by Edward De Bono as a way of solving problems through an indirect and creative approach, using reasoning that is not immediately obvious and involving ideas that may not be obtainable by using only traditional step-by-step logic.
A joke is a display of humour in which words are used within a specific and well-defined narrative structure to make people laugh. It takes the form of a story, usually with dialogue, and ends in a punch line. It is in the punch line that the audience becomes aware that the story contains a second, conflicting meaning.
In this workshop we are going to explore jokes as a means to decode reasoning that is not immediately obvious. After exploring the main concepts and theoretical background of jokes, we will analyze a number of them to see how they function. We will further try to write a limmerick, a form of poetry in five lines, which is sometimes obscene with humorous intent (like the one above by Salman Rushdie).
Please bring along 2-3 jokes that made you laugh, suspend your disbelief and political correctness, and let's exercise our zygomatic muscles.
About Ingrid Kreksch
Ingrid Kreksch has been working in the area of training for the last twelve years. She has also written a crime novella now available at Amazon (Ingrid K. Westermann, New Age of Treason). Her interest in jokes dates back to the time when she lived in Venezuela, where they are a basic ingredient of daily life.
Practical Information
When? Wednesday, 8 February 2017 from 18h45-21h00
Where? Timesmore Boulevard St Michel 47, 1040 Brussels
Public transport: Metro: Montgomery; Tram: Boileau
See map below or here...
How much? A contribution of €12 to cover expenses including materials, drinks, snacks, etc.
Please share this event on social media!
Want to come?
Please reply to your invitation e-mail or follow this link to sign up for for this workshop.
Participants
Jeffrey Baumgartner
Andy Whittle
Ingrid Kreksch
Cécile Joris
Peter Whippy
Carolyn Moody
Monica Dimitriu *
Frank Turley *
David Franks *
Michel Wils *
David Franks *
Olivier Dierickx *


Roberta Cacciaglia **
Matteo Schuer **
Clea Crimson **
Sascha Siegmund **
Vaneltina Caimi **
Benoit Watteyne **
Sarah Sherriff **
Gordon Buhagiar **
Zlatimira Beckham **
Notes
* Registered on Facebook
** Registered as "Interested" on Facebook which, in practice, means they probably won't come. But we appreciate their enthusiasm and support nonetheless.
View Larger Map
Mailing List
Want to be kept informed of new events and occasional news from the Brussels Imagination Club? Just enter your email below − and be sure to follow the link in the confirmation email to complete your subscription to our mailing list.
---
---
Notes:
(1) We will never share your contact information with anyone, not even workshop facilitators, without your permission.
(2) "Where is the Imagination Club based?" question is a spam control measure. Please answer correctly to subscribe.