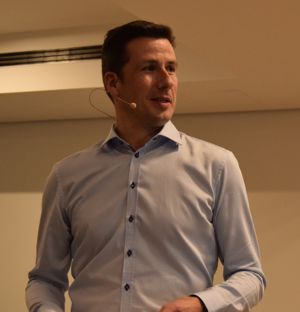 Workshop: The Happy Leader
By Tom Aerden
Brussels: 26 April 2017
We need leaders who inspire, who motivate, who energize. We need … happy leaders! Happy leaders work better with others and they are more creative. They also create a positive environment for the development of their own potential and that of those they work with. In this workshop you will:
Improve your ability to be happy and to be comfortable and effective as a leader
Tap into a series of skills to positively influence your environment
Experience & practice steps to make positive changes in your life to become a Happy Leader
About Tom
Tom Aerden (@tomaerden) is a seasoned business professional with international experience both in Belgium and in the US. As a business catalyst he has a passion for sharing knowledge and leadership best practices. Business, marketing, communication, leadership, optimism, family, self-development and mountain biking are, in no particular order, the things that drive him.
Practical Information
When? Wednesday, 26 April 2017 from 18h45-21h00
Where? Timesmore Boulevard St Michel 47, 1040 Brussels
Public transport: Metro: Montgomery; Tram: Boileau
See map below or here...
How much? A contribution of €12 to cover expenses including materials, drinks, snacks, etc.
Please share this event on social media!
Want to come?
Please reply to your invitation e-mail or follow this link to sign up for for this workshop.
Participants
Jeffrey Baumgartner
Andy Whittle
Tom Aerden
Eva-Nina Kunze
Simkje Kruiderink
Jacqueline van Noordenne
Emily Cools
Maria Vasileva
Elena Nikolayenko *
Oliv Dierickx *
Mirjam Dondi *


Grace Grace **
Mihaela Matei **
Pia Bech Nielsen **
Monica Dimitriu **
Sascha Siegmund **
Catherine Cohet **
Nicoleta Parvana **
Lenka Grackova **
Cheryl Cooper **
Dfm Fernandez **
Gordon Buhagiar **
Zlatimira Beckham **
Notes
* Registered on Facebook
** Registered as "Interested" on Facebook which, in practice, means they probably won't come. But we appreciate their enthusiasm and support nonetheless.
View Larger Map
Mailing List
Want to be kept informed of new events and occasional news from the Brussels Imagination Club? Just enter your email below − and be sure to follow the link in the confirmation email to complete your subscription to our mailing list.
---
---
Notes:
(1) We will never share your contact information with anyone, not even workshop facilitators, without your permission.
(2) "Where is the Imagination Club based?" question is a spam control measure. Please answer correctly to subscribe.