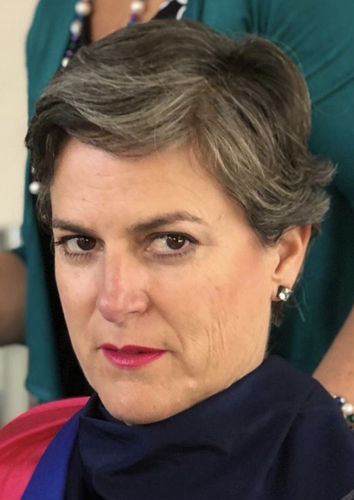 Workshop: Dress with Impact, Dress for Who You Are
By Ella Strickland
Brussels: 23 October 2019
Every morning as we get dressed, we - consciously or unconsciously - communicate with the world via our clothes. It might be connected to how we are feeling that day, how we want to be perceived or how important something is to us.
This workshop is about how to face the outside world, confident in who you are and what's important to you. It is not about vanity or succumbing to the latest fashion.
Join us for a fascinating dive into the language of clothes, colour and style.
During the workshop, you will gain insights into how:
This language of clothes can be understood and mastered.
To reflect the messages you choose to send in the way you look.
To add impact to your outfits.
Join us and learn how to dress with impact while dressing for who you are.
About Ella
The workshop will be delivered by Ella Strickland - an image consultant who uses these tools to complement her calling as a life coach. Ella believes that congruence between how you feel on the inside, and how you reflect that on the outside, is key to living - what she calls - a BIG life. At a time when our world has big issues to deal with, we need big people more than ever!
Contact her on: ella.strickland@gmail.com
Practical Information
When Wednesday, 23 October 2019 from 18h45-21h00
Where? Timesmore Boulevard St Michel 47, 1040 Brussels - Map
How much? A contribution of €15 to cover expenses including materials, drinks, snacks, etc.
Please share this event on social media!
Want to come?
Please reply to your invitation e-mail or follow this link to sign up for for this workshop.
Participants
Andy W
Jeffrey B
Carolyn M
Ella S
Greet W
Geraldine N
Diane S
Carmen P
Dominique B
Paul N
Valerie vK
Christine H
Monique M
Christiani A
Lars S
Andrea L
Madeleine dH
Carolyn H
Rebecca H
Audrey N
Helena C
Joelle D
Jorge DB
Elodie T
Elena H
Diane N
Maria T
Isabelle R
Natalie vdP
Nicole R
Cristina B
Arpita
Monika D *
Miriam *
Benjamin H *
Gordon B *


Lisa N **
Kathy B **
Camelia D **
Ingrid K **
Andreea A **
Petya S **
Yulia D **
Nicole vL **
Miriam **
Meghan K **
John C **
Richard K **
Em G **
Zlatimira **
Notes
* Registered on Facebook or Meetup
** Registered as "Interested" on Facebook which, in practice, means they probably won't come. But we appreciate their enthusiasm and support nonetheless.
Mailing List
Want to be kept informed of new events and occasional news from the Brussels Imagination Club? Just enter your email below − and be sure to follow the link in the confirmation email to complete your subscription to our mailing list.
---
---
Notes:
(1) We will never share your contact information with anyone, not even workshop facilitators, without your permission.
(2) "Where is the Imagination Club based?" question is a spam control measure. Please answer correctly to subscribe.