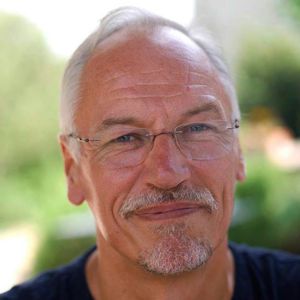 Workshop: Secondary Sensing
By David Franks
Brussels: 14 November 2018
All animals have a sense that is most dominant - in bats it is their "hearing", in dogs their sense of "smell" - for most human beings it is "seeing". This evening will be very experiential and experimental - an opportunity to explore together what happens in our other senses when we choose to restrict the dominance of our "seeing". We will each spend some of the evening blindfolded and explore together in a series of different exercises, what happens to our sense of smell, taste, hearing and touch when we cannot "see" with our eyes the way that we usually do.
You don't need to bring anything special to the evening - just your curiosity and your willingness to explore your experience and discover things you may never have experienced before.
About David Franks
David is fascinated about how to make the impossible possible. He practices Body Rebalancing and Light Therapy in both Berlin and Brussels. For 40 years David has been a leader, coach, facilitator and trainer, helping thousands of people all over the world create results they thought were impossible in their organisations and their lives. He loves learning and discovering new things, making music, cooking, and pretty much anything that can be done out of doors.
Learn more about David and his work at www.bodyrebalancing.de.
Practical Information
When? Wednesday, 14 November from 18h45-21h00
Where? Timesmore Boulevard St Michel 47, 1040 Brussels
Public transport: Metro: Montgomery; Tram: Boileau
See map below or here...
How much? A contribution of €12 to cover expenses including materials, drinks, snacks, etc.
Please share this event on social media!
Want to come?
Please reply to your invitation e-mail or follow this link to sign up for for this workshop.
Participants
Jeffrey B
Andy W
David F
Brian D
Carolyn M
Océane B
Manfred K
Laura G
Gordon B
Lina K *
Petra F *
Monika C-B *
Juliyana S *
Olivier D *


Greet S **
Camelia D **
Ingrid K **
Martina B **
Sascha S **
Luke W **
Miriam T **
Daisy T **
Richard K **
Elena L **
Maya T **
Rozina S **
Francesca F **
Gordon B **
Miriam G **
Sarah S **
Zlatimira **
Notes
* Registered on Facebook or Meetup
** Registered as "Interested" on Facebook which, in practice, means they probably won't come. But we appreciate their enthusiasm and support nonetheless.
View Larger Map
Mailing List
Want to be kept informed of new events and occasional news from the Brussels Imagination Club? Just enter your email below − and be sure to follow the link in the confirmation email to complete your subscription to our mailing list.
---
---
Notes:
(1) We will never share your contact information with anyone, not even workshop facilitators, without your permission.
(2) "Where is the Imagination Club based?" question is a spam control measure. Please answer correctly to subscribe.