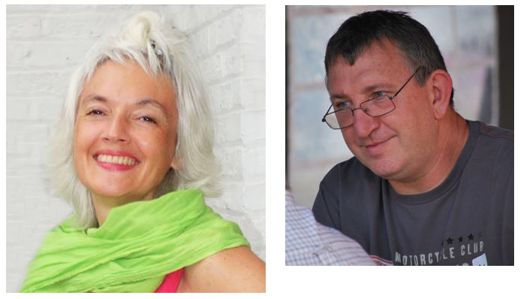 Workshop: Cancel Your Subscription to Unhappiness
By Andy Whittle and Grace Grace
Brussels: 9 March 2016
Cancel your subscription to unhappiness and say "YES" to a fulfilled and Happy life.
Good news, it's easier than you think!
In a world full of conflict and hardships, we need to take care that we don't dwell on the darker side of life all the time and that, instead, we start to take control of our own happiness.
The thing is, even though happiness is a rather ephemeral thing (or is it?), there are practical ways you can increase your happiness quota with a few simple steps − which Andy and Grace will share with you.
It has been scientifically proven time and time again that happiness increases life and job satisfaction, long term health, general mood and emotional vitality.
In Andy and Grace's workshop, you will discover the most "vital component element" all humans need in order to build a specific foundation enabling them to be happy.
About Grace and Andy
Grace Grace
Grace is a Flourisher. It is her job and her joy to make things flourish - from individuals to families, from small groups to communities, from enterprises to global organizations, from stuckness to flow and happiness. With a background in entrepreneurship, counseling psychotherapy and consultancy, she supports people to reconnect with their innate sacredness; rekindles their inspiration and talents; sets them on a clear purposeful path; and moves them beyond their perceived limitations to success. Passionate about training and sharing her creativity, she is also an inspired motivational speaker and trainer and tends to ignite enthusiasm wherever she goes.
She shares her time between Belgium and Bali
Andy Whittle
Andy's passion and motivation in life is to build a kinder and happier world. Through workshops and seminars he loves to share life-hacks and life-tools that encourage people be more creative as well as to learn life-skills necessary to be better connected to themselves and the world around them.
Andy is also part of the PTPI-Hub Social Community which helps people connect and get more out of life as well as the co-founder and co-host of the Brussels Imagination Club which runs regular experimental workshops on all aspects of personal and professional self-improvement and wellbeing.
Practical Information
When?
9 March 2016 from 18h45-21h00
Where?
Timesmore
Boulevard St Michel 47, 1040 Brussels
Public transport: Metro: Montgomery; Tram: Boileau
See map below or here...
How much?
A contribution of €12 to cover expenses including materials, drinks, snacks, etc.
Permanent link to event web page
http://www.imaginationclub.org/brussels/event20160309.php
Please share this event on social media!
Want to come?
Please reply to your invitation e-mail or follow this link to sign up for for this workshop.
Participants
Jeffrey Baumgartner
Andy Whittle
Grace Grace
Carolyn Moody
Frans Nijs
Ingrid Kreksch
Bess Stonehouse
Victoria Kirk
Georges Melides
Chantel Claus
Peter WW
Errol Levy
Nathalie Plateligne
Klavs Skovsholm
Beau Sherriff
Susan Wild
Alain Graas
Seher Aurore Agra
Wendy Deyell *
Pavol Kukučka *
Helena Ruiz Fabra *
Joachim Brigel *
Ulrike Weissenbacher *
Michel Wils *
Ad van Ommen *
Leina Mestrovic *
Pamela J Alexander *
Caroline Weiler *


Jana Gál **
Camelia Dogaru **
Mihaela Matei **
Zlatmira Beckham**
Ruth Friedman **
Lucy Perry **
Gordon Buhagiar **
Justin Andries **
Monica Dimitriu **
Raphaël Guilbert **
Majda Mak **
Mirjam Dondi **
Agnes Tarnai **
Sangeeta **


Notes
* Registered on Facebook
** Registered as "Interested" on Facebook which, in practice, means they probably won't come. But we appreciate their enthusiasm and support nonetheless.

View Larger Map
Mailing List
Want to be kept informed of new events and occasional news from the Brussels Imagination Club? Just enter your email below − and be sure to follow the link in the confirmation email to complete your subscription to our mailing list.
---
---
Notes:
(1) We will never share your contact information with anyone, not even workshop facilitators, without your permission.
(2) "Where is the Imagination Club based?" question is a spam control measure. Please answer correctly to subscribe.