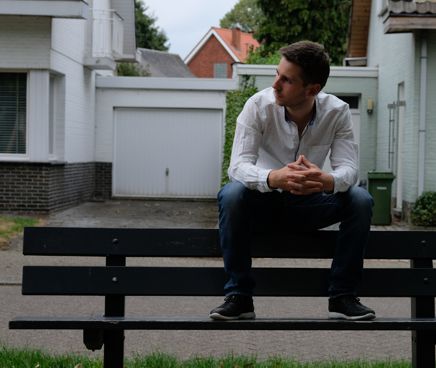 Workshop: Who Is I?
By Jeroen Walravens
Brussels: 13 February 2019
IMPORTANT: Please note change of venue for this event!
The story of who we are seems to be at the center of our very lives.
Who you've decided you are guides your every move and shapes your prospects.
If you're "environmentally conscious" you probably won't take up monster truck driving and someone who's "powerful beyond belief" might have a hard time facing defeat.
The hard truth is that who we think we are today, and who we think we should be, oftentimes is not so much an expression of our authentic selves, as it is a result of conditioning and unconscious patterns.
In this workshop we'll explore the story of who we think we are and look at how we might have a say in all this. Because you have no idea of what's possible, of what you can do, of what you can be.
About Jeroen Walravens
Who are you really, when you loose everything? Jeroen found out at a young age, when he woke up from a month long coma, with severe brain damage. Wheelchair bound and stuck in a rehabilitation clinic for an eternity, his life was gone. Very much disabled and dependent on the assistance of others, the person he was before, was now just a vague memory. So who was he going to be?
AA decade long search for answers lead him past Zen monasteries, the Cambodian jungle and Mount Everest. Creating an opening in the story of who he is, opened up a world of possibilities. The once rebellious, angry and unbound lost soul is now a father and husband and is living his mission of contributing to fellow human beings, by showing them how to become more of who they are.
You can learn more about Jeroen on his web-site (Dutch)
**Change of Venue**
Please note that our usual venue, Timesmore, is not available on 13 February, so we will hold this workshop at Transforma Loi (Rue de la Loi 42, Brussels 1000 - 3rd floor)
Practical Information
When Wednesday, 13 February 2019 from 18h45-21h00
Where? Transforma Loi - Rue de la Loi 42, 1000 Brussels - 3rd floor - Map
How much? A contribution of €12 to cover expenses including materials, drinks, snacks, etc.
Please share this event on social media!
Want to come?
Please reply to your invitation e-mail or follow this link to sign up for for this workshop.
Participants
Jeffrey B
Andy W
Jeroen W
Kathy B
Diane S
Paul N
Ingrid K
AnneMartine N
Matteo V
Carolyn M
Jutta S
Janet W
Benedicte vN
Tony Z
Mirjam D
Milena S
Marilys C
Anna L
Peter W
Marika R
Olivier D *
Monica D *
Ema *


Greet S **
Mihaela M **
Dennis E **
Monica A **
Karolina S **
Alain V **
Yulia D **
Tatiana M **
Nicole vL **
Tasso T **
Nicoleta P **
Sarita K **
John C **
Richard K **
Jessica M **
Maya T **
Sarah S **
Notes
* Registered on Facebook or Meetup
** Registered as "Interested" on Facebook which, in practice, means they probably won't come. But we appreciate their enthusiasm and support nonetheless.
View Larger Map
Mailing List
Want to be kept informed of new events and occasional news from the Brussels Imagination Club? Just enter your email below − and be sure to follow the link in the confirmation email to complete your subscription to our mailing list.
---
---
Notes:
(1) We will never share your contact information with anyone, not even workshop facilitators, without your permission.
(2) "Where is the Imagination Club based?" question is a spam control measure. Please answer correctly to subscribe.