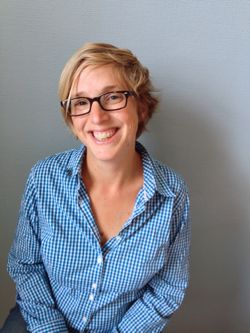 Workshop: A Tête-à-Tête with Things
By Julie Ann (Jules) Gilleland
Brussels: 18 October 2016
Join us for a fun engaging workshop filled with play, conversation, creation and thinking. Sit down across from someone you don't normally talk to and work together on a question or thought in front of you using only recycled circles brought in from their own homes/offices. (items will be provided for this workshop).
This is a hands-on workshop about how the "things" around us can become thinking tools in the classroom or office, in the same way we use paper and pencil.
About Julie Anne (Jules) Gilleland
Designer, mother of 3 boys and education change maker with over 18 years experience in the field of design and education. In 2007 Jules founded Turtlewings, a non-profit center in Brussels Belgium, welcoming educators, children and families to explore design thinking in relation to educational concepts. The idea was based on her masters thesis that she completed in 2000 at Aalto University in Helsinki, Finland.
Presently, she is the CEO and Co-founder of Think with Things founded in 2014. An Edtech company based in the UK, Think with Things is striving to make a difference in education on a global level by bringing idea of hands on learning through play, and thinking with found objects into the normal everyday structured learning environments of children as well as adults.
Her passion lies in working with educational institutions, government initiatives, museums and corporations in the field of creating experiences and environments that inspire creative thinking. She is an expert at executing innovative programming centered on child and or adult learning, the design of learning environments, and inspiring individuals to reach their full potential. She loves presenting and training, and has played with a variety of groups from teams of teachers, museum practitioners, business people, artists, parents and children from 0-99.
Practical Information
When?
Tuesday, 18 October 2016 from 18h45-21h00
Where?
Timesmore
Boulevard St Michel 47, 1040 Brussels
Public transport: Metro: Montgomery; Tram: Boileau
See map below or here...
How much?
A contribution of €12 to cover expenses including materials, drinks, snacks, etc.
Please share this event on social media!
Want to come?
Please reply to your invitation e-mail or follow this link to sign up for for this workshop.
Participants
Jeffrey Baumgartner
Andy Whittle
Julie Anne Gilleland
Benny Sintobin
Richard Bishop
AB
Bess Stonehouse
Samuel Delacour
Nati
Leina Mestrovic *
Valerie Vangeel *
Monica Dimitriu *
Lina Kusaite *


Miriam Tessens **
Monica Dimitriu **
Kristel De Prins **
Elena Leibbrand **
Zlatimira Beckham **
Denis Elslander **
Anita Sheehan **
Monica Caban-Benavides **
Elena Leibbrand **
Notes
* Registered on Facebook or Meetup
** Registered as "Interested" on Facebook which, in practice, means they probably won't come. But we appreciate their enthusiasm and support nonetheless.

View Larger Map
Mailing List
Want to be kept informed of new events and occasional news from the Brussels Imagination Club? Just enter your email below − and be sure to follow the link in the confirmation email to complete your subscription to our mailing list.
---
---
Notes:
(1) We will never share your contact information with anyone, not even workshop facilitators, without your permission.
(2) "Where is the Imagination Club based?" question is a spam control measure. Please answer correctly to subscribe.