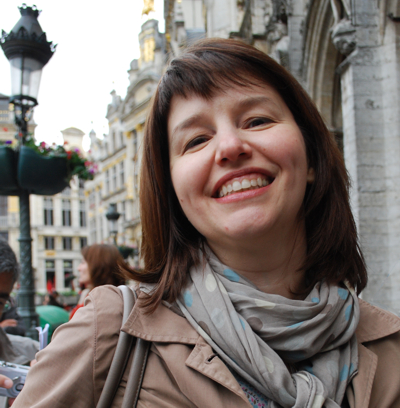 Workshop: Managing Your Personal Finance with Digital Platforms
By Elena Nikolskaya
Brussels: 13 November 2019
In this workshop, you will be introduced to the basics of personal finance. We'll look at...
1. What you must understand before investing
your goals in life
ETFs vs mutual funds
Psychology of investing
diversification
compounding
timing the market
beating the market
brokerage costs
2. Where to start:
set up your savings
set up your brokerage account
set up your knowledge base
ditch your mutual funds
buy your first share!
3. The principles of constructing the simplest portfolio:
asset allocation
find European equivalent of recommended US ETFs
4. Your new favorite information sources:
Yahoo Finance
Investopedia
ETFs screeners
About Elena
Since her early childhood Elena Nikolskaya wanted to know it all! She was always the best student in the class at school and this came to me with ease. She gained a Master in Electrical Engineering from a Moscow university a long time ago and, more recently, a Master in Artificial Intelligence from KULeuven in Belgium.
Since then, Elena has successfully learned how to work in banking, telecoms, railways and energy in several countries. In 2018, after a major change in her personal life, she had to make an important decision about a considerable sum of money. Unsure of what to do, she started learning about investing in stocks - and put that learning to practice. She hasn't stopped since.
Once she started talking to people around her about personal finance, she found that quite a few people are interested in the topic. But, they don't know where to start or they start buying stocks in some random way. So, Elena decided to start sharing her knowledge not only with friends but with anyone who has decided to take their personal finance seriously.
Feel free to join Elena's MeetUp group Brussels Investing to be informed about future events. Send her a message at elena.nikolskaya@gmail.com if you want to receive her reading list on this workshop's topics.
Practical Information
When Wednesday, 13 November 2019 from 18h45-21h00
Where? Timesmore Boulevard St Michel 47, 1040 Brussels - Map
How much? A contribution of €15 to cover expenses including materials, drinks, snacks, etc.
Please share this event on social media!
Want to come?
Please reply to your invitation e-mail or follow this link to sign up for for this workshop.
Participants
Andy W
Jeffrey B
Elena N
Carolyn M
Eva H
Anna Z
Jaun C
Alina P
Valerie vK
Frances M
G Man
Olga S
Valeriy Gram
Dominique S
Jacques V
Anna B
Alvaro U
Sarah D
Susan B
Eleni C
Emilia P *
Filip R *
Lisa K *
Zlatimira *
Olav B *


Carlo P **
Maca M **
Helena F **
Hugues M **
Natalie K **
Cathy B **
Dennis E **
Francesca P **
Elena B **
Lisette dN **
Colette V **
Camille B **
Leina M **
Yulia D **
Pat P **
Virginia M **
John C **
Richard K **
Francesca F **
Miriam G **
Sabine M **
Notes
* Registered on Facebook or Meetup
** Registered as "Interested" on Facebook which, in practice, means they probably won't come. But we appreciate their enthusiasm and support nonetheless.
Mailing List
Want to be kept informed of new events and occasional news from the Brussels Imagination Club? Just enter your email below − and be sure to follow the link in the confirmation email to complete your subscription to our mailing list.
---
---
Notes:
(1) We will never share your contact information with anyone, not even workshop facilitators, without your permission.
(2) "Are you human" question is a spam control measure. Please answer correctly to subscribe.