---
Brussels Workshops 2015*
24 June
The Money Opera
Sydney Schreiber, Charles Davies and Ann-Christin Momsen
1 August
Summer barbecue in Erps-Kwerps
9 September
Tap into the Dark Side of Your Creativity
Jeffrey Baumgartner
23 September
Using Icebreakers in workshops to help people get to know each other better
Andy Whittle
14 October
Title to be announced
Véro Bosschaert

---
16-18 October
Wellness & Nature Weekend in the Ardennes
---
Your Workshop?
Get in touch to discuss!
---
* Note: Above titles, speakers and dates are subject to change. Please check prior to the event or ask to be added to the mailing list
---
How would you like to do a workshop at the Imagination Club? It's a great way to try out new ideas and approaches with a cool, receptive, international audience. Learn more here.
---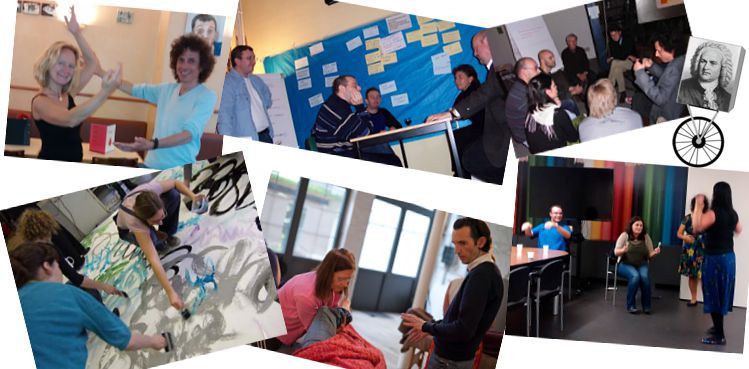 Brussels Imagination Club Workshops & Other Events
At a typical Brussels Imagination Club event, you attend an experimental 90 minute workshop which might be about creativity, yoga, self-improvement, personal productivity or just about anything. At best, you will discover something new and exciting. At worst, you will learn something new.
Workshops usually involve interactive exercises, group work and open discussion. Powerpoint slides are severely frowned upon, crazy activities are encouraged!
In addition, you will meet intelligent, curious and incredibly good looking people like yourself; people from all over the world. You will also get a snack and a drink as well as time to meet and chat with new people (we do not use the word "networking" because the Imagination Club is more a place to make friends than to make business contacts).
Workshops are every second and fourth Wednesday of the month (except July and August) from 18:45 to 21:00 or so. The actual workshop is limited to 90 minutes and we throw facilitators out the window if they go over time.
Our upcoming events are on the left. If the title is blue, you can click on it to go to the event page, learn more and register. If you would like to be on our mailing list so you get invitations to events, click here and introduce yourself. If you think you might like to facilitate an experimental workshop, click here for more information. But do visit an event or two first to get an idea of what the club is like.
We look forward to welcoming you to an Imagination Club workshop soon!