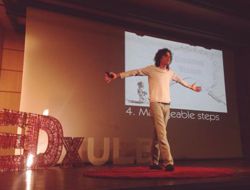 Workshop: Exploring the Dark Side of Creativity
By Jeffrey Baumgartner
Brussels: 9 September 2015
Creativity is not always pretty. Research has also shown that it has a dark side that includes links to mental illness, reduced humility and dishonesty. (Read more here)
In this workshop, we will explore the dark side of creativity and, especially, its relationship with lies, deception and other forms of dishonesty. We'll do this in a handful of individual and group exercises as well as a role-play activities.
The aim of the workshop is not to turn you into a better liar, but rather to help you learn to use the link between creativity and dishonesty in order to be more creative in your thinking, story telling and approach to solving problems.
About Jeffrey
Jeffrey Baumgartner is the co-founder of the Brussels Imagination Club as well as an author, key-note speaker and workshop facilitator who has worked with companies, governments and non-profit organisations around the world.
He is also working on a new blog, AwesomeYou.Be, which provides tips on personal development and self improvement by innovating yourself.
His latest book is Anticonventional Thinking - the Creative Alternative to Brainstorming.
Practical Information
When?
9 September 2015 from 18h45 to 20h30
Where?
Timesmore (Same location as VIP offices)
Boulevard St Michel 47, 1040 Brussels
Public transport: Metro: Montgomery; Tram: Boileau
See map below or here...
How Much?
A contribution of €12 to cover expenses including materials, drinks, snacks, etc.
Permanent link to web page
http://www.imaginationclub.org/brussels/event20150909.php
Want to come?
Please reply to your invitation e-mail or follow this link to sign up for for this workshop.
Participants
Jeffrey Baumgartner
Andy Whittle
Elena Nikolskaya
Dominique Byron
+ 1 or 2 guests
Richard Bishop
Diana Siepmann
Clemens Morvay
Peter Whippy
Vincenzo Le Voc
Frans Nijs
Maren Hedrich
Frans Van der Steen
Paul Van Merode
Helena Ruiz Fabra
Fabienne Vloeberghen *
Dominique Debroux *


Notes
* Registered on Facebook
** Registered as "Maybe going" on Facebook which, in practice, means they probably won't come. But we appreciate their enthusiasm and support nonetheless.

Mailing List
Want to be kept informed of new events and occasional news from the Brussels Imagination Club? Just enter your email below − and be sure to follow the link in the confirmation email to complete your subscription to our mailing list.
---
---
Notes:
(1) We will never share your contact information with anyone, not even workshop facilitators, without your permission.
(2) "Where is the Imagination Club based?" question is a spam control measure. Please answer correctly to subscribe.