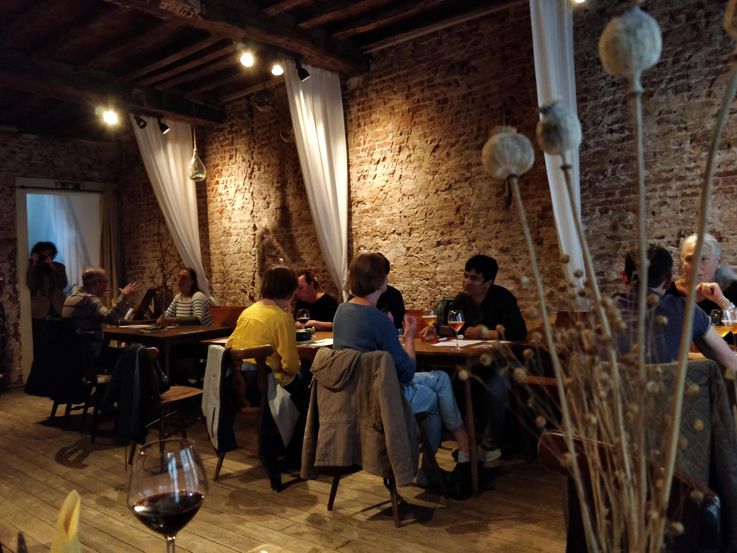 Deep Conversations Dinner
Brussels: Wednesday, 31 May 2023
The Deep Conversations Dinner has returned and you are invited!
Do you like the idea of meeting someone from a different background, skipping the small talk and immediately diving into a deep, thought-provoking conversation - while enjoying a healthy meal? If so, you'll love our Deep Conversation Dinner!
The concept is simple. After a brief introduction, you will be paired up with someone you don't know and given a set of thoughtful questions to ask each other over dinner. After ordering your meal, you sit down at a table and choose a question to ask your conversation partner and ask. You can follow up with more questions and take the conversation in any direction you wish and are comfortable with. Then, your conversation partner asks you the same question. Continue this way for about 90 minutes -- and you and your conversation partner can continue your conversation afterwards, if you like.
After about 90 minutes, we will gather together again for a debriefing and feedback session.
The Deep Conversations Dinner will be held at Kamilou Arts-Loi near the centre of Brussels and the EU district. The restaurant offers a selection of dishes, including vegetarian and vegan, as well as meat and fish. They also have a selection of alcoholic and nonalcoholic drinks. Please order at least a drink and ideally a meal or a snack.
Please tell your friends about Deep Conversation Dinners
If you have participated in a Deep Conversation Dinner and enjoyed it, please tell friends about it. The success of the Deep Conversation Dinners is dependent upon having a wide variety of participants (so we can pair you with a conversation partner who is different from you). The more new people who join us, the better the conversations.
Notes
The Deep Conversation Dinner will be overseen by Imagination Club founders, Jeffrey Baumgartner and Andy Whittle.
Deep conversations is inspired by Oxford University professor Theodor Zeldin's Conversation Dinners and Vienna Coffee House Conversations (also inspired by Professor Zeldin's concept).
Practical Information
When Wednesday, 31 May 2023 from 18h45-21h00. Please arrive no later than 19h00 to ensure you can be paired up with a conversation partner.
Where? Kamilou Arts-Loi - Rue Joseph II 36, 1000 Brussels (Map)
How much? €10 contribution to the Imagination Club + Cost for food and drink that you order.
Want to come?
Please reply to your invitation e-mail or follow this link to sign up for for the Deep Conversation Dinner.

Note: Kamilou is reserving tables for us. If you intend to come, please register. If you have registered and change your mind,please let us know.
Please share this event on social media!
Upcoming Events
---
27 September 2023 - Workshop: Break Free from Control Freakism and Perfectionism by Andy Whittle
11 October 2023 - Workshop: Befriending Your Nervous System to Better Navigate Challenging Times by Anita Sheehan
25 October 2023 - Workshop: "I Have a Dream": from Vision to Reality by Irina Papancheva
22 November 2023 - Workshop: Active/Empathic listening by Monika Branat
13 December - Workshop - Our 21st Centuary Big CC: from Climate Crisis to Climate Collaboration. A coach's framework. by Mary Jones
Workshops are subject to change
---
Mailing List
Want to be kept informed of new events and occasional news from the Brussels Imagination Club? Just enter your email below − and be sure to follow the link in the confirmation email to complete your subscription to our mailing list.
---
---
Notes:
(1) We will only use your email address to send you invitations to our activities and for occasional Imagination Club news.
(2) We will never share your contact information with anyone, not even workshop facilitators, without your permission.
(3) "Where is the Imagination Club based?" question is a spam control measure. Please answer correctly to subscribe.