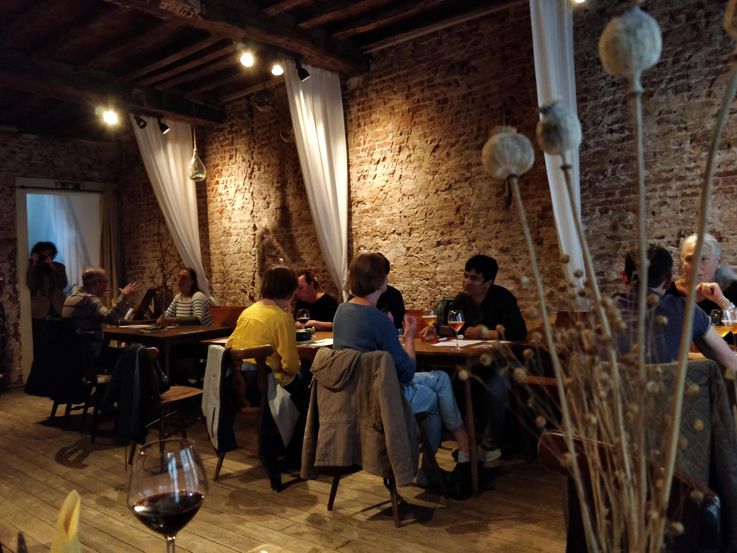 Activity: Deep Conversations Dinner
Brussels: Tuesday, 19 October 2021
Do you ever feel bored by all the small talk that comes with social events, meeting new people and expanding your social circle? Have you ever thought how nice it would be to skip the small talk and dive right into a deep, meaningful conversation with an interesting person? After more than a year of lockdown and the resulting limitation of meeting up with others, wouldn't it be great if you could really get to know new people?
If the above resonates with you, please join us at the Brussels Imagination Club for a Deep Conversations Dinner. After a brief introduction, you will be paired up with someone you don't know and given a set of thoughtful questions to ask each other over dinner. Then skip the small talk and immediately choose questions, from the question set, to ask each other. Feel free to ask follow up questions and let the conversation wander. You can even ask your own deep questions. The only rule is that your conversations are completely confidential and you will not share your conversation partner's answers with anyone else.
Afterwards, we will gather together again for a debriefing and feedback session.
The Deep Conversations Dinner will be held at The Sister Café in the centre of Brussels. They offer a selection of dishes, many vegetarian and vegan, as well as beer, wine and soft drinks. Please order at least a drink and ideally a meal or a snack.
Notes
The Deep Conversation Dinner will be overseen by Imagination Club founders, Jeffrey Baumgartner and Andy Whittle.
If you attend the Deep Conversation Dinner, you agree to follow Covid 19 rules as set by the City of Brussels and the Sister Café.
Deep conversations is inspired by Oxford University professor Theodor Zeldin's Conversation Dinners and Vienna Coffee House Conversations (also inspired by Professor Zeldin's concept).
---
Practical Information
When Tuesday, 19 October 2021 from 18h45-21h00. Please arrive no later than 19h00 to ensure you can be paired up with a conversation partner.
Where? The Sister Café (first floor), Rue Chair et Pain, 3 1000 Brussels (Map)
How much? €5 contribution to the Imagination Club + Cost for food and drink that you order
Please share this event on social media!
Want to come?
Please reply to your invitation e-mail or follow this link to sign up for for the Deep Conversation Dinner.
Participating
Andy W
Jeffrey B
Andrea E
Frans N
Benedict V
Ethan P
Paul M
Janina A
Tamara S
Bess S
Julia K
Benoit P
Ettrick S
E L
Pablo L
Monika R *
Miroslava M *
* Registered on Facebook or Meetup. All others registered directly with us.
Upcoming Events
27 October 2021: Workshop cancelled
10 November 2021: Workshop: title to be announced - by Lisa Kretschmann
24 November 2021: Workshop: title to be announced - by Sascha Siegmund
8 December 2021: Workshop: title to be announced - by Andy Whittle
12 January 2022: Workshop: Astrology by Sabine Henning
Want to do a workshop with us? Get in touch!
Note titles and facilitators are subject to change.
Mailing List
Want to be kept informed of new events and occasional news from the Brussels Imagination Club? Just enter your email below − and be sure to follow the link in the confirmation email to complete your subscription to our mailing list.
---
---
Notes:
(1) We will never share your contact information with anyone, not even workshop facilitators, without your permission.
(2) "Where is the Imagination Club based?" question is a spam control measure. Please answer correctly to subscribe.