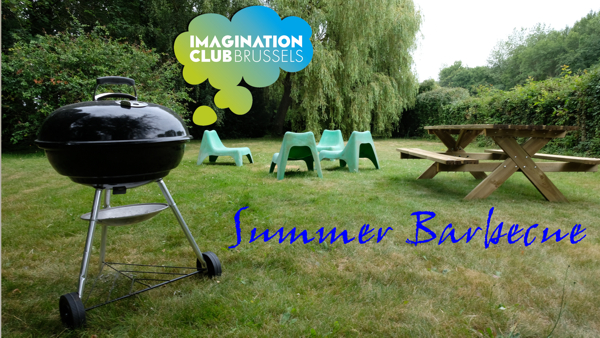 Event: Imagination Club Summer Barbecue
Erps-Kwerps: 27 July 2019
Come, join us for fantastic food, delightful drinks and super company at the annual Imagination Club Summer Barbecue in Erps-Kwerps.
The concept is simple: Andy and I (Jeffrey) will provide some basic meat and veggie food for the BBQ as well as some drinks. You are asked to bring some food (ideally a speciality from your country) and/or drinks to share. Salads, desert and things to throw on the fire are all good.
Friends, family, sweethearts and children are all very welcome.
The BBQ will be held in the village of Erps-Kwerps, about 18km from central Brussels and 12km from Leuven. Please reply to your invitation email or contact us for the address and directions.
If you'd like a ride to the barbecue, but do not have a car, let us know and we will try and set you up with someone who has a car, or is willing to steal one. If you are driving and have room in your car for additional passengers, please also let us know and we will very likely provide you with lovely passengers.
Alternatively, there are regular trains from Brussels stations and a Bus from Kraainem Metro that go to Erps-Kwerps. my house (where the barbecue takes place) is a pleasant 15-20 minute walk from the train station. Or, let us know which train you are on and we'll fetch you from the station.
The barbecue will go ahead rain or shine. There is plenty of space in my house if the weather is uncooperative.
Bonus
If you like music, you can go to the annual Crisis Music Festival in Erps-Kwerps after the barbecue. Better still, it's free. It's a short drive or 20 minute walk from my house. Learn more from the Crisis Festival web site.
Additional Notes
The summer barbecue is restricted to Imagination Club members (in other words you must have come to at least one Imagination Club activity and/or be on our mailing list) and their guests.
Please, no dogs.
Food, Drink and Family Confirmation
If plan to come, please let us know how many people you are bringing as well as what food and/or drink you will bring.
Practical Information
When?
Saturday, 27 July 2019, from 17h
Where?
Top secret location in Erps-Kwerps. Contact us for the address
Public transport: Local train between Brussels and Leuven, De Lijn 352 and 652 busses
How much?
Free, but please bring food and/or drink, ideally specialities from your country
Want to come?
Please reply to your invitation e-mail or follow this link to sign up for for the barbecue.
Participants
Jeffrey B
+ Son
Andy W
Grace C
Carolyn M
Dijana Z
Peter W
+ Guest
Zlatimira
Filip R
Lisa K
Patrice B
+ Guest
Kathy B
Benoit
Anita S
Greet S *
Richard K *


Grace G **
Dennis E **
Cecilia A **
Bruno D **
Anita S **
Monica D **
Dominique D **
Virginia M **
Gillian S **
Sonia R **
Larry M **
Lucile C **
Meghan K **
John C **
Rozina S **
Francesca F **
Notes
* Registered on Facebook or Meetup
** Registered as "Interested" on Facebook which, in practice, means they probably won't come. But we appreciate their enthusiasm and support nonetheless.

Mailing List
Want to be kept informed of new events and occasional news from the Brussels Imagination Club? Just enter your email below − and be sure to follow the link in the confirmation email to complete your subscription to our mailing list.
---
---
Notes:
(1) We will never share your contact information with anyone, not even workshop facilitators, without your permission.
(2) "Are you human" question is a spam control measure. Please answer correctly to subscribe.