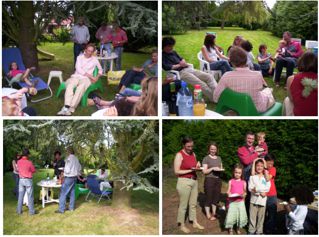 Imagination Club Summer Barbecue
Kortenberg: 5 August 2017
Join us for our annual summer barbecue, which will be held in Andy's back yard in Kortenberg this year.
The concept is simple: Andy and I (Jeffrey) will provide some basic meat and veggie food for the BBQ as well as some drinks. You are asked to bring some food (ideally a speciality from your country) and/or drink to share. Salads, desert and things to throw on the grill are all good.
Friends, family, sweethearts and children are all very welcome. However, do please note that the summer BBQ is restricted to Imagination Club members (in other words you must have come to at least one Imagination Club activity and/or be on our mailing list) and their guests. Non-member gate-crashers will be fed to Kortenberg's infamous human-eating crocodiles.
The BBQ will be held in Kortenberg, which is located midway between Brussels and Leuven. Andy's house is just a five minute walk from Kortenberg train station (with regular train service from Brussels and Leuven) as well as De Lijn Busses 358 and 351 from Brussels Nord; 352 from Kraainem Metro; and 652 and 651 from the airport. So, why not hop on a train or a bus and avoid having to worry about drinking and driving or parking?
Please reply to your invitation email or contact us for the address and directions.
The barbecue will go ahead rain or shine. There is plenty of space in Andy's house if the weather is uncooperative.
Food, Drink and Family Confirmation
If you are coming, please let us know how many people you are bringing as well as what food and/or drink you will bring.
Practical Information
When?
Saturday, 5 August from 17h00
Where?
Top secret location in Kortenberg. Contact us for the address
Public transport: Local train between Brussels and Leuven, De Lijn 358, 352, 351, 652, 651 Busses
How much?
Free, but please bring food and/or drink from your country
Permanent link to event web page
http://www.imaginationclub.org/brussels/summer_barbecue_2017.php
Want to come?
Please reply to your invitation e-mail or follow this link to sign up for for the barbecue.
Participants
Jeffrey B
Andy W
Grace C + 2 Children
Inge Y + Child
Carolyn M
Paul
Amine O
Jennifer O
Ken C
Lenka G
Susan W
Miriam T
Dionne B
Luisa M
Allesandra D
Peter W
Benedicte D
Ally D
Michel W *
Lina K *
Martin J *
Zlatimira B *
Grace G *
Claudia F *


Csilla **
Grace G **
Adrian P **
Mihaela M **
Dennis E **
Bart R **
Cristina S **
Monica D **
Alexandra K **
Sascha S **
Ally D **
Notes
* Registered on Facebook or Meetup
** Registered as "Interested" on Facebook which, in practice, means they probably won't come. But we appreciate their enthusiasm and support nonetheless.