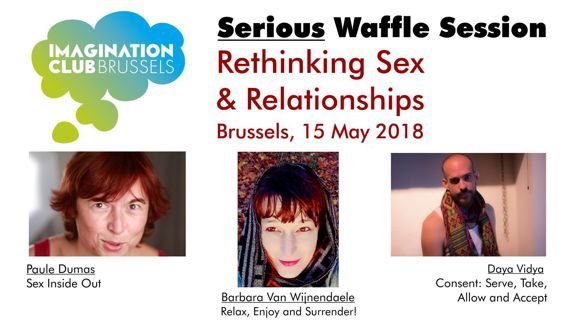 Serious Waffle Session: Rethinking Sex and Relationships
Brussels: 15 May 2018
***Please note new venue below***
Come, join the Imagination Club and the brightest of Brussels for a Serious Waffle Session on sex and relationships. Learn about consent, the ins and outs of sex and Tantra with our expert speakers.
Each speaker will have 15 minutes to teach you something (and ideally three things) about their topic, so you can expect to leave this session with a deeper understanding about sex and relationships and how to enjoy sensuality.
Afterwards, there will be an open panel discussion where you can ask questions.
The Speakers & Their Talks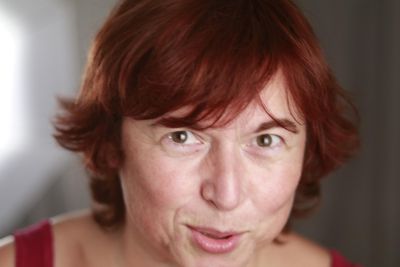 Sex Inside Out by Paule Dumas
Ever thought sex could be the worst or the best experience ever? What made it awesome? What made it awful? Can we avoid the awful and make sure the good parts last? What are the actual benefits of a happy sex life? And the most common errors, traps, myths, mishaps that can ruin sex for you? Silence is not the best ally when porn is becoming the new norm. So let's give healthy, "innocent" sex the focus it really deserves.
About Paule
Paule Dumas, 52, used to be a communication and lobbying expert in the energy industry. She is now an Ethics, Sustainability and Gender diversity specialist; Biodanza teacher; and trained sex therapist. She helped develop the Académie des Arts de l'Amour in 2014-1015 and has given several conferences about "Female orgasm" in and around Brussels. She also wrote the "Yoni Queen Manifesto" and organizes workshops to help women create new words to express desire and ultimate pleasure. Learn more at www.biodanzatervuren.be.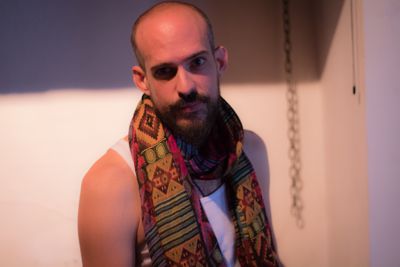 Consent: Serve, Take, Allow and Accept by Daya Vidya
To touch and to be touched is a wonderful way to interact and encounter pleasure. We experience touch mainly in primary relationships, more professional settings or guided workshop sessions. The wheel of consent (by Betty Martin) creates a framework for those who want to explore touch and boundaries in daily life. The wheel of consent also hands us basic insights to rethink the way we handle our sexual desires.
About Daya
Daya has a calling for connection and self realization. He studied solution focused therapy and family science. He follows the pathway of surrender. The aim of his soul is to accompany fellow humans on their journey from the mind to the heart. Creating safe space to explore touch and intimacy is part of this process. Daya facilitates workshops on intimacy and divine nature of (wo)man in Belgium and abroad.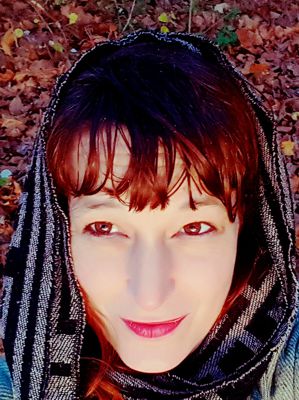 Relax, Enjoy and Surrender by Barbara Van Wijnendaele
All in life is about sex and all in sex is about life! This talk is about a Tantric approach to life through a focus on the body and looking deeper into different aspects of sex. It shows there is much more magic in sex ànd life than what we are often used to or contented with! Please come, relax and enjoy! After all, that is what it is all about.
About Barbara
Barbara is an anthropologist with a profound interest in spirituality and meditation. Thirteen years ago she started Vipassana meditation. She was introduced into Tantra five years ago, which has been central in her life ever since. She did various trainings with Tribal Tantra, Soul Tantra and Wild Tantra. She gives massages and body work sessions in her practice at home. You can find more information on her website: www.barbaravanwijnendaele.com
Practical Information
When? Tuesday, 15 May 2018 from 18h30-21h00 - First talk at 19h00
Volta
Rue Volta 8
1050 Brussels (Ixelles/Elsene)
How much? €12, pay at the door, please
Register
Interested? Please reply to your invitation e-mail or follow this link to sign up for for this Serious Waffle Session. Spaces are limited.
Participants
Jeffrey B
Andy W
Barbara VW
+ Guest
Paule D
Daya V
Inge Y
Radmila S
+ Guest
+ Guest
+ Guest
+ Guest
+ Guest
Peter W
Barbara F
Jutta S
Ubaldo M
Molly K
Ella S
+ Guest
+ Guest
Lodewijk R
Bess S
Silje O
+ Guest
Lisa K
Filip R
David F
Oriane P
+ Guest
Zlatimira *

Bess S *
Magdalena M *


Subhash X **
Keesy W **
Grace G **
Erin M **
Himanshu S **
Mihaela M **
Pia N **
Bruno D **
Véro B **
Christiane M **
John C **
Lenka G **
Koen D **
Alexander H **
Francesca F **
Ruchama H **
Lina K **
Notes
* Registered on Facebook
** Registered as "Interested" on Facebook which, in practice, means they probably won't come. But we appreciate their enthusiasm and support nonetheless.
---
Please share this event on social media!
Mailing List
Want to be kept informed of new events and occasional news from the Brussels Imagination Club? Just enter your email below − and be sure to follow the link in the confirmation email to complete your subscription to our mailing list.
---
---
Notes:
(1) We will never share your contact information with anyone, not even workshop facilitators, without your permission.
(2) "Are you human" question is a spam control measure. Please answer correctly to subscribe.