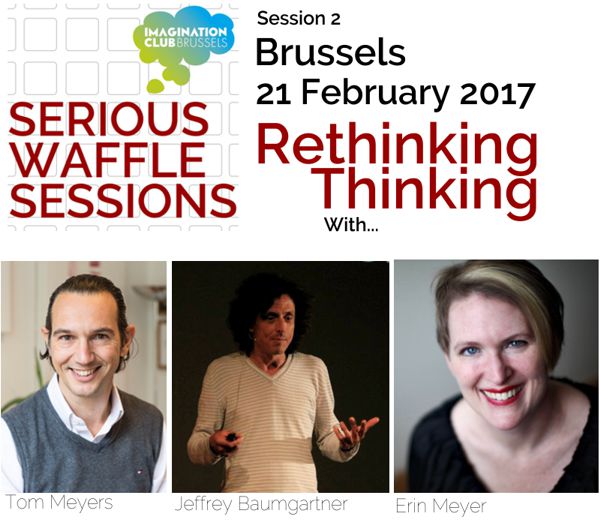 Serious Waffle Session: Rethinking Thinking
Brussels: 21 February 2017
The way you think can have profound implications in how you perceive the world, how you feel about yourself and your capabilities. How you think determines how you solve problems, how you interact with others and how you succeed. In this Serious Waffle Session, three experts will each teach you something new (and ideally three new things) about how to think differently in ways that will make your life better.
Videos are in editing and will be uploaded soon.
The Speakers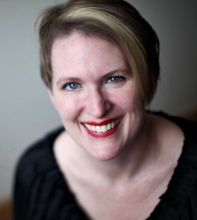 Creating Your Future History: D-Day Lessons for Every Day by Erin Meyer
How can an event that happened 70+ years ago teach you valuable lessons for today's unpredictable world? To thrive in the coming years you must prepare for an unknown future using skills and technology not yet developed to meet challenges not yet defined. Sound impossible? The Allied landing in Normandy, France on June 6, 1944 exemplifies how to achieve something when nothing in your current circumstances says it's possible.
The past is a roadmap to navigate today.
About Erin
Weaving together degrees in WWII history and cultural anthropology with visual and spoken arts, I use the past as a portal to address today's challenges in innovation and leadership. Currently creating a visual art book on the lessons of D-Day, I speak on platforms around the world about how our understanding of the past influences the future history we create today.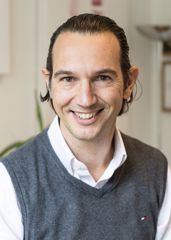 Reaset or not to reaset that is the question? by Tom Meyers
When humankind first walked this earth it adapted itself to the environment until it saw the light and started to adapt its environment to its needs. However, in recent years technology has allowed us to modify our environment so effectively that our environment changes at a higher rate than we can cope with. The engendered conflict is the main cause of stress and 90% of all diseases.
The return of ease is now or never, your life depends on it.
About Tom
Tom is an osteopath, stress coach and visionary in the field of health and wellbeing. He runs a private health practice and gives presentations on the topic of 'Stress' and workshops on the 'Reaset Approach', a novel manual body-mind and educational health approach he developed. Currently he's writing his first self-help book in which he interlaces soul-purpose, personal development, health and healing into a compelling self-help guide to thrive.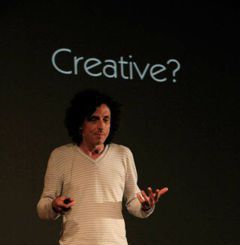 The Surprising Links Between Creativity and Dishonesty
Recent research has shown that there is a fascinating two way link between creativity and dishonesty. Understanding this link can help you think more creatively. In this entertaining and informative talk, Jeffrey will explain the link and how you can legitimately be dishonest when you want to be creative.
About Jeffrey
Jeffrey is the author of two books on business creativity and innovation, a novel and a collection of short stories. He has also helped organisations such as Genentech, PepsiCo, Philip Morris International, the Government of Dubai, Afton Chemicals, Almajdouie, TE Connectivity and others boost innovative thinking. He has spoken at conferences throughout Europe, Asia and Africa and, most importantly, he is the co-founder of the Brussels Imagination Club. Learn more about Jeffrey and his work at www.CreativeJeffrey.com.
Practical Information
When? Tuesday, 21 February 2017 from 18h30-21h00 - First talk at 19h00
Where? Transforma BXL Avenue Jules Bordet 13, 1140 Evere - Click for map
Register
Only €12 if you book on-line or €15 at the door.
Buy your tickets online
Or click here to register without paying on-line
Contact
Questions? Feedback? Contact us and share your thoughts.
* Note: payments are being managed by Bwiti bvba on behalf of the Brussels Imagination Club
Sponsors
A special thanks to our sponsors, Transforma BXL and Imagination Video.
---
Please share this event on social media!
Mailing List
Want to be kept informed of new events and occasional news from the Brussels Imagination Club? Just enter your email below − and be sure to follow the link in the confirmation email to complete your subscription to our mailing list.
---
---
Notes:
(1) We will never share your contact information with anyone, not even workshop facilitators, without your permission.
(2) "Where is the Imagination Club based?" question is a spam control measure. Please answer correctly to subscribe.