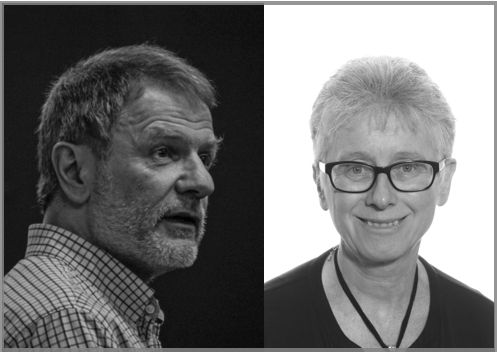 Workshop: Presence in Front of a Group
Or the Art of Being Comfortable Being You
By Susan Wild and Barry O'Halpin
Brussels: 26 October 2016
Speaking in public can be nerve-wracking. And it's often harder in front of a small group of colleagues, because we can feel particularly visible and even judged. Join us to discover ways to get more comfortable in these situations. This is a practical session. You'll be discovering and trying out techniques from theatre and storytelling performance, which help increase confidence from the feet up, and using posture and voice to give you more 'presence'.
About Susan Wild
Susan spent 20 years of her professional life sitting at a desk working as a marketing communications specialist, writing content and running projects for major international companies. But throughout that time she longed to be moving and to communicate beyond words on the page. So in 2014, Susan decided to come out from behind the screen for good. She took a course in storytelling (Your Journey, Your Voice) at the International School of Storytelling at Emerson College in the UK. Since then, Susan has combined freelance writing with creating and performing stories. Her experience of learning to perform has convinced her that confidence starts with our posture and movement, not what goes on in our heads.
About Barry O'Halpin
Barry moved to Brussels in 1994. Always a gregarious person, though also rather shy, he moved into English Language Teaching, taking his TEFL diploma from the Dublin School of English. A teaching method based on 'suggestopaedia' (where learning is aided by employing the right, or creative, side of the brain), re-awoke Barry's dormant love of acting and theatre. In 2010 he took a Teaching Certificate in Communications with the London Academy of Music and Dramatic Arts, followed two years later by the certificate in Performance. Barry has worked in communications training throughout this time, including incorporating it in his EFL work, and has used the skills he has learned in his drama teaching to help others achieve a sense of presence and confidence through posture and voice. Barry has also both acted in and directed plays with a range of amateur dramatic groups in Brussels and Antwerp.
Practical Information
When?
Wednesday, 26 October 2016 from 18h45-21h00
Where?
Timesmore
Boulevard St Michel 47, 1040 Brussels
Public transport: Metro: Montgomery; Tram: Boileau
See map below or here...
How much?
A contribution of €12 to cover expenses including materials, drinks, snacks, etc.
Please share this event on social media!
Want to come?
Please reply to your invitation e-mail or follow this link to sign up for for this workshop.
Participants
Jeffrey Baumgartner
Andy Whittle
Susan Wild
Barry O'Halpin
Jeroen Walravens
Carolyn Moody
Lenka Grackova
Stewart Foster
Pia Bech Nielsen
Stephen Lawson
Frank Turley *
Denis Elslander *
Miriam Tessens *
Sylvie Gosme *
Claire Schonbach *


Tom Meyers **
Marie-Agnès Delvaux **
Oliv Ange **
Tom Meyers **
Sascha Siegmund **
Jana Gál **
Lidija Stopfer **
Gordon Buhagiar **
Catherine Cohet **
Barbara Silvestri **
Notes
* Registered on Facebook or Meetup
** Registered as "Interested" on Facebook which, in practice, means they probably won't come. But we appreciate their enthusiasm and support nonetheless.

View Larger Map
Upcoming Events
24 July 2022: Event: Summer Barbecue
14 Sep 2022: Workshop: Communications by Cass Hebron
28 Sep 2022: Workshop: The Waiting Room - A Practice Between Mindfulness and Creativity by Daphné Sarpyener
12 Oct 2022: Workshop: How to Recharge Your Batteries by Aurélia Mellin
26 Oct 2022: Workshop: Self-Improvement by Andy Whittle
9 Nov 2022: Workshop: Money by Fatiha Elbaj
Mailing List
Want to be kept informed of new events and occasional news from the Brussels Imagination Club? Just enter your email below − and be sure to follow the link in the confirmation email to complete your subscription to our mailing list.
---
---
Notes:
(1) We will only use your email address to send you invitations to our activities and for occasional Imagination Club news.
(2) We will never share your contact information with anyone, not even workshop facilitators, without your permission.
(3) "Where is the Imagination Club based?" question is a spam control measure. Please answer correctly to subscribe.