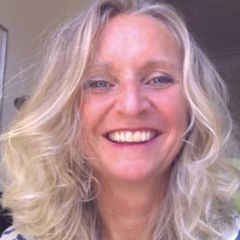 Workshop: Having Fun Reshaping Your Reality
By Ulrike Weissenbacher
Brussels: 12 October 2016
Your reality is created by beliefs and perceptions, thoughts and feelings. These ingredients make up the "hardwired program" of your brain and the emotional addiction of your body. This first part is well-known. But did you know that it also makes up the biochemical cocktail flushing around in our bodies − the exact mixture that our body is addicted to. We are talking of an addiction to our state of being.
To reshape our reality, it is not enough to simply change our beliefs, partners, jobs etc. This assumption is where so many people stumble.
Have you ever had the experience where you are trying and getting better; the change starts to show in your life, and suddenly, the "program" catches up with you, holds you back or even sends you "back to the start"?
The question is, can we biologically change?
Can we actually bust the brain-body-loop that keeps informing itself of the ever same patterns? Can thoughts actually become matter?
In this workshop we are going to delve into the possibilities of moving from thinking to doing to being, right into the creation zone of your being. Creating a "new you". You will discover how you can wire circuits in your brain together so they start firing together in the way you desire. As a result, you can start to recondition your body to a new mind and signal your genes in a new way.
We will look at the scientific background, at the biochemical processes and the three steps to actual change. In a very practical way we will play, meditate and start out on our joyful change experience.
About Ulrike
Ulrike Weissenbacher is a Psychotherapist specializing in clinical energy psychology. She is also a coach and trainer. She teaches in the 3-year psychotherapy training cycle at Therapeutia and is the coordinator of the Therapeutia Energy Psychology training centre. In addition, she gives workshops and training in constructive communication for couples, groups, and teachers. She also leads workshops on personal, spiritual development and Mindfulness as well as teaching Yoga and Meditation.
Ulrike draws from her extensive experience in a range of very different work areas: making fun and realising the personal potential the centre point of her teaching at secondary level at the beginning of her worklife; training her communication, problem solving and conflict resolution skills working in a political environment; as an expert for the EU institutions, UN and World Bank − in conflict and post conflict countries; and later as a professional and political coach. Turning back to her main joy – human relations, helping people shaping and reshaping their reality to a more playful and connected experience – she has chosen to accompany people in their quest to bring more inner peace, joy and abundance into their lives.
Learn more about Ulrike at http://www.therapeutia.com/les-formateurs/
Practical Information
When?
Wednesday, 12 October 2016 from 18h45-21h00
Where?
Timesmore
Boulevard St Michel 47, 1040 Brussels
Public transport: Metro: Montgomery; Tram: Boileau
See map below or here...
How much?
A contribution of €12 to cover expenses including materials, drinks, snacks, etc.
Please share this event on social media!
Want to come?
Please reply to your invitation e-mail or follow this link to sign up for for this workshop.
Participants
Jeffrey Baumgartner
Andy Whittle
Ulrike Weissenbacher
Ruth Friedman
Ingrid Kreksch
Barbara Van Wijnendaele
Inge Ysebaert
Claudia Fortes
Benedicte van Nierop
Bess Stonehouse
Elena Nikolskaya
Carolyn Moody
Greg
PV
Monika Caban-Benavides *
Oliv Ange *
Dominique Debroux *



Filip Roeckens **
Oana Escu **
Lucy Perry **
Raphaël Guilbert **
Denis Elslander **
Sangeeta **
Grace Grace **
Em Gee **
Jana Gál **
Patrícia Camisão **
Ioana Matei **
Sabine Thirion **
Notes
* Registered on Facebook or Meetup
** Registered as "Interested" on Facebook which, in practice, means they probably won't come. But we appreciate their enthusiasm and support nonetheless.

View Larger Map
Mailing List
Want to be kept informed of new events and occasional news from the Brussels Imagination Club? Just enter your email below − and be sure to follow the link in the confirmation email to complete your subscription to our mailing list.
---
---
Notes:
(1) We will never share your contact information with anyone, not even workshop facilitators, without your permission.
(2) "Where is the Imagination Club based?" question is a spam control measure. Please answer correctly to subscribe.