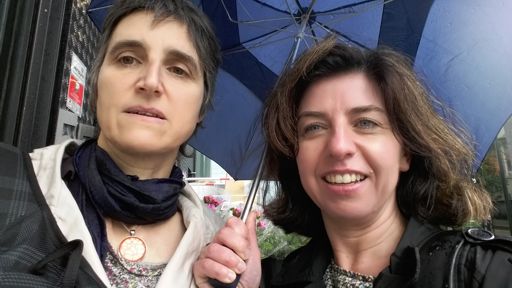 Workshop: An Exploration of Grounded Presence
By Ruth Friedman and Lara Peumans
Brussels: 29 June 2016
What does it mean to be really present; grounded in your self and in your environment; the whole of you, really here?
What happens when two people meet in a grounded way and open up to explore the question "How can I be 'me here', in this situation right now, in connection with 'you there'?"
During this interactive, participatory workshop we will explore how each of us can find a sense of our own grounded presence. Ruth and Lara will invite you to experience this way of being, and to explore what happens in our connection with each other, when the whole of me is here with the whole of you.
Come along to the workshop to find out more.
Grounded Presence is a term that comes from Relational Whole Body Focusing and we will draw on this method during the workshop.
About Ruth Friedman
Ruth Friedman is a cross cultural trainer, consultant and coach. She works in the fields of intercultural awareness, self-compassion, personal development and careers development. She has been working with grounded presence and focusing since 2014 and is currently a certified trainer in training with The Focusing Institute of New York. She is following the Advanced Wholebody Focusing Certification Program with Karen Whalen & Katrijn Van Loock. Ruth is from the UK and has lived in Belgium since 2004.
About Lara Peumens
Lara Peumans, Master in Applied Linguistics/Master in International Politics, is a certified focusing trainer of The Focusing Institute in New York. She was influenced by Ann Weiser Cornell to start teaching Inner relationship Focusing. Since 2013 she has been integrating 'heartfelt communication' in her teaching (Karen Whalen). She is following the Advanced Wholebody Focusing Certification Program with Karen Whalen & Katrijn Van Loock. She is also working in a marketing environment of a financial company.
Practical Information
When?
Wednesday, 29 June 2016 from 18h45-21h00
Where?
Timesmore
Boulevard St Michel 47, 1040 Brussels
Public transport: Metro: Montgomery; Tram: Boileau
See map below or here...
How much?
A contribution of €12 to cover expenses including materials, drinks, snacks, etc.
Permanent link to event web page
http://www.imaginationclub.org/brussels/event20160629.php
Please share this event on social media!
Want to come?
Please reply to your invitation e-mail or follow this link to sign up for for this workshop.
Participants
Jeffrey Baumgartner
Andy Whittle
Ruth Friedman
Lara Peumans
Lenka Grackova
Richard Bishop
Frans Nijs
Susan Wild
José Gomes
David Franks
Benedicte
Jean-François Degelaen
Adrian Poher
Lawson Stephen
Susanne Bentley
Erik Shun Leung *



Oli Olivier **
Filip Roeckens **
Geraldine Vandeloise **
Lars Sudmann **
Pavol Kukučka **
Patricia Camisão **
Christiane Moeschler **
Caroline Weiler **
Jana Gál **
Tom Koninckx **
Zlatimira Beckham **
Bea Durand **
Sonia Resuli
Notes
* Registered on Facebook or Meetup
** Registered as "Interested" on Facebook which, in practice, means they probably won't come. But we appreciate their enthusiasm and support nonetheless.

View Larger Map
Mailing List
Want to be kept informed of new events and occasional news from the Brussels Imagination Club? Just enter your email below − and be sure to follow the link in the confirmation email to complete your subscription to our mailing list.
---
---
Notes:
(1) We will only use your email address to send you invitations to our activities and for occasional Imagination Club news.
(2) We will never share your contact information with anyone, not even workshop facilitators, without your permission.
(3) "Where is the Imagination Club based?" question is a spam control measure. Please answer correctly to subscribe.