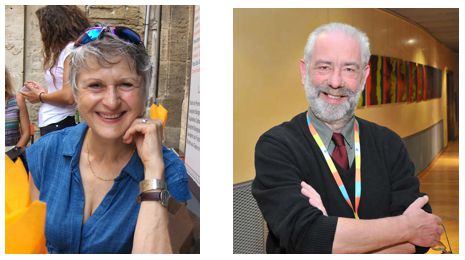 Being Wise Together
By Frans Nijs and Anita Sheehan
Brussels: 28 October 2015
Have you ever struggled with a question that was yours to solve, but which that affected more than just yourself? Try as you might, you could not come up with a satisfactory answer?
We have all been there at some point, but there is hope, because one way of working through such questions, when you find yourself unable to go it alone, is to create an environment where you can draw from the experience and the wisdom of a larger group. One such tried and tested way is a technique called the "World Café".
Of course, the best way to understand the World Café concept is to experience it. So, we've set it up for you! Frans Nijs and Anita Sheehan will guide you through the World Café approach and help you uncover the mysteries of how to integrate the insights of people from various backgrounds and cultures to create a better world to live in.
You are invited to learn about this collective intelligence method and to discover "the Magic in the Middle."
About Frans
Frans Nijs is a practitioner of the Art of Hosting, writer, philosopher, cyclist and civil servant (not necessarily in this order of importance).
About Anita
Anita likes nothing better than bringing out the best in individuals and organizations. In her experience, collective intelligence practices, including the World Café, are excellent tools to ensure that people are fully engaged in the dynamics of an organization and thus happier to contribute with all their talents, capacities and passion.
Practical Information
When?
28 October 2015 from 18h45-21h00
Where?
Timesmore (ex-VIP offices)
Boulevard St Michel 47, 1040 Brussels
Public transport: Metro: Montgomery; Tram: Boileau
See map below or here...
How much?
A contribution of €12 to cover expenses including materials, drinks, snacks, etc.
Permanent link to event web page
http://www.imaginationclub.org/brussels/event20151028.php
Please share this event on social media!
Want to come?
Please reply to your invitation e-mail or follow this link to sign up for for this workshop.
Participants
Jeffrey Baumgartner
Andy Whittle
Frans Nijs
Anita Sheehan
Jutta Schlinke
Sydney Schreiber
Beate Munzinger
Paul van Merode
Daisy Tsvete *
Chalks Corriette *
Sonia Resuli *
Mihaela Matei *
Mate Bilic *
Leina Mestrovic *


Vanessa Van Borm **
Serge Huybrechts **
Christophe Boeraeve **
Nathalie Villanueva Fernandez **
Kristel De Knibber **
Ghislain Dzou **
Sofie Baeke Danniau **
Pavol Kukucka **
Notes
* Registered on Facebook
** Registered as "Maybe going" on Facebook which, in practice, means they probably won't come. But we appreciate their enthusiasm and support nonetheless.

Mailing List
Want to be kept informed of new events and occasional news from the Brussels Imagination Club? Just enter your email below − and be sure to follow the link in the confirmation email to complete your subscription to our mailing list.
---
---
Notes:
(1) We will never share your contact information with anyone, not even workshop facilitators, without your permission.
(2) "Where is the Imagination Club based?" question is a spam control measure. Please answer correctly to subscribe.