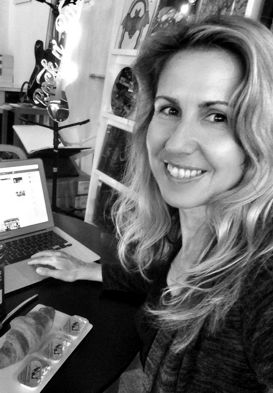 Workshop: Define Your Own Brand
By Jana Gál
Brussels: 28 September 2016
This workshop is for everyone who actively maintains a professional life: freelancers, small business owners, employees and anyone else with a profession.
How do you make yourself stand out from the crowd? You concentrate on your strengths!
Stop desiring to be like others and ask yourself (as I did recently): what is within you that you can offer to the world?
During this workshop you will find that answer as well as answers to...
What is personal branding good for?
Why is it interesting for employees?
How do I define my personal brand?
Shall I do my own marketing too?
Do you know your own value proposition? If not, come to the workshop and learn how to create it.
About Jana Gál
Jana Gál's professional life started when she was 18 and someone recommended her as good and hardworking kitchen help for his restaurant. Since than she has been doing her best to avoid writing her CV for a job application process.
She has been working in marketing and human resources for corporations for more than 15 years.
In 2013 she came to Brussels and 2016 started the initiative Find Your Vocation – mainly to help expat spouses on the move to find their unique portable careers.
Practical Information
When?
Wednesday, 28 September 2016 from 18h45-21h00
Where?
Timesmore
Boulevard St Michel 47, 1040 Brussels
Public transport: Metro: Montgomery; Tram: Boileau
See map below or here...
How much?
A contribution of €12 to cover expenses including materials, drinks, snacks, etc.
Event web page
http://www.imaginationclub.org/brussels/define_your_own_brand.php
Please share this event on social media!
Want to come?
Please reply to your invitation e-mail or follow this link to sign up for for this workshop.
Participants
Jeffrey Baumgartner
Andy Whittle
Jana Gál
Zlatimira Colova
Emma Russell
Ray Snider
Jarita Christie
Carine Sottiaux
Alvito de Souza
Dominique Byron
Emma Castremanne *
Sascha Siegmund *


Raphaël Guilbert **
Gordon Buhagiar **
Sonnen Blume **
Oliv Ange **
Roberta Cacciaglia **
Rosemary Ngahu **
Maria Larsson **
Clea Crimson **
Mihaela Matei **
Frank Barenderegt **
Denis Elslander **
Ivana Malarić **
Monica Dimitriu **
Mirjam Dondi **
Nicoleta Parvana **
Mei-Yin Teo **
Ruth Friedman **
Lenka Grackova **
Ben-Ja **
Pavol Kukučka **
Andie Martin
Raphaël Guilbert **
Em Gee **
Daisy Tsvete **
Sangeeta **
Notes
* Registered on Facebook or Meetup
** Registered as "Interested" on Facebook which, in practice, means they probably won't come. But we appreciate their enthusiasm and support nonetheless.

View Larger Map
Mailing List
Want to be kept informed of new events and occasional news from the Brussels Imagination Club? Just enter your email below − and be sure to follow the link in the confirmation email to complete your subscription to our mailing list.
---
---
Notes:
(1) We will only use your email address to send you invitations to our activities and for occasional Imagination Club news.
(2) We will never share your contact information with anyone, not even workshop facilitators, without your permission.
(3) "Where is the Imagination Club based?" question is a spam control measure. Please answer correctly to subscribe.