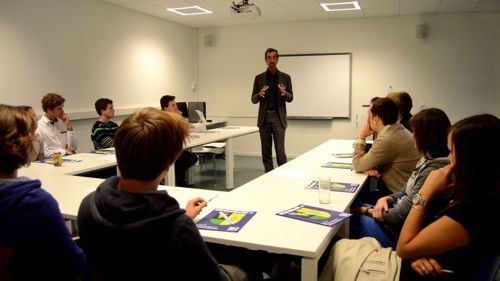 Workshop: How to Create a Colourful Storytelling Palette.
By Martin Jugmans
Brussels: 27 September 2017
By association through music we can form mental connections between sensations, ideas, or memories and use them as foundations for storytelling.
This workshop will be on how to generate an abundance of storytelling ideas and structure them to create spell binding narratives.
About Martin
Since 2009 Martin has been helping professionals and students to communicate their aspirations, services and products. His speciality is teaching Public Speaking. Martin uses the power of storytelling as a formidable tool for making an impact and leaving a lasting impression. His approach, focuses on universal principles, lively interaction and innovative solutions. Martin accompanies people in the creation of their story to facilitate clear and concise communication.
Learn more about Martin and his work at MartinJugmans.com.
Practical Information
When? Wednesday, 27 September 2017 from 18h45-21h00
Where? Timesmore Boulevard St Michel 47, 1040 Brussels
Public transport: Metro: Montgomery; Tram: Boileau
See map below or here...
How much? A contribution of €12 to cover expenses including materials, drinks, snacks, etc.
Please share this event on social media!
Want to come?
Please reply to your invitation e-mail or follow this link to sign up for for this workshop.
Participants
Jeffrey B
Andy W
Martin J
Bess S
Kevin S
Jeroen W
Christopher M
Sydney S
Marianne R
Caroline H
Inge U
Carolyn M
Lenka G
Emna O
Stephen L
Geanina M *
Juan M *
Marie-Agnès D *
Miriam T *
Grace G *


Sarah L **
Rizdi B **
Greet S **
Helena F **
Stefan A **
Jolien D **
Dennis E **
Claudine D **
Katerina P **
Véro B **
Monica D **
Filip R **
Christine H **
Tom M **
Laura F **
Katarzyna C **
Sonia R **
Patricia P **
Claudia F **
Valentina C**
Mircea B **
Cheryl C **
Maya T **
Rozina S **

Notes
* Registered on Facebook
** Registered as "Interested" on Facebook which, in practice, means they probably won't come. But we appreciate their enthusiasm and support nonetheless.
View Larger Map
Mailing List
Want to be kept informed of new events and occasional news from the Brussels Imagination Club? Just enter your email below − and be sure to follow the link in the confirmation email to complete your subscription to our mailing list.
---
---
Notes:
(1) We will never share your contact information with anyone, not even workshop facilitators, without your permission.
(2) "Where is the Imagination Club based?" question is a spam control measure. Please answer correctly to subscribe.