Pictures of the historic cemetery of Laeken and its two churches
Photographs and text by Patrick Wheeler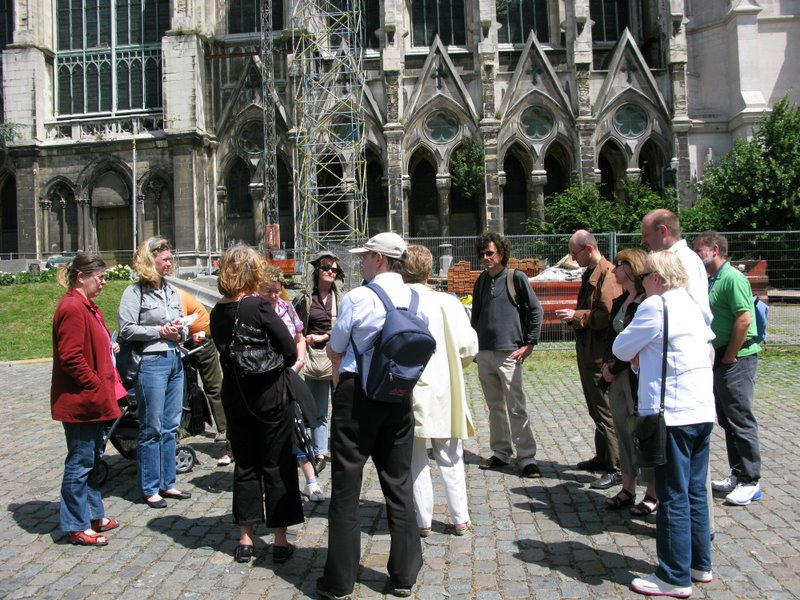 On the first Sunday of the month during summer, small groups are lead on a free tour of the Laeken cemetery, we are fortunate enough to join one of the English speaking groups as our local dialect is still not up to par … they've a regular web site (http://www.laekendecouverte.be/) and a local guide met us and took us around for some unique insights into the cemetery as well as the associated cathedral, part of the group this day is from the local imaginationclub.org and very enjoyable they are …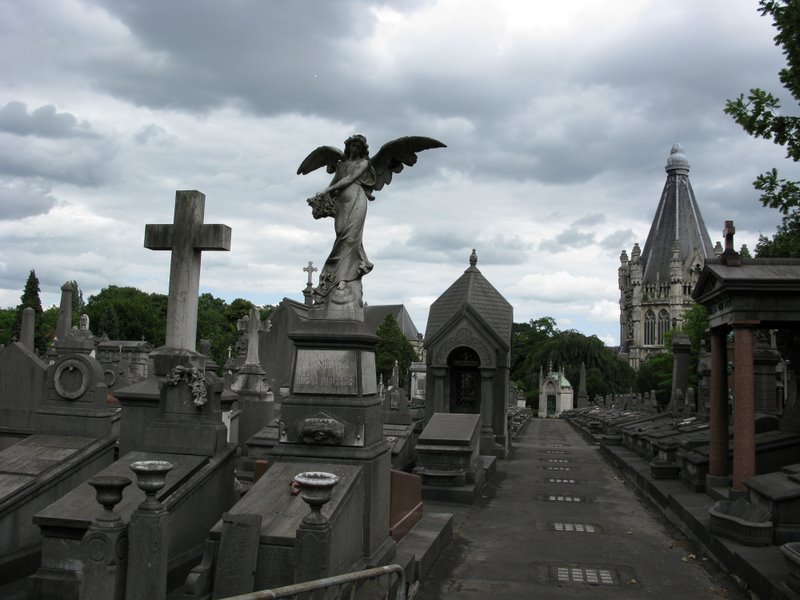 Right next to the main Laeken church, and in the neighborhood where the royal family lives, the Laeken cemetery has a wonderful ambiance and invites a stroll about the premises, either guided or not …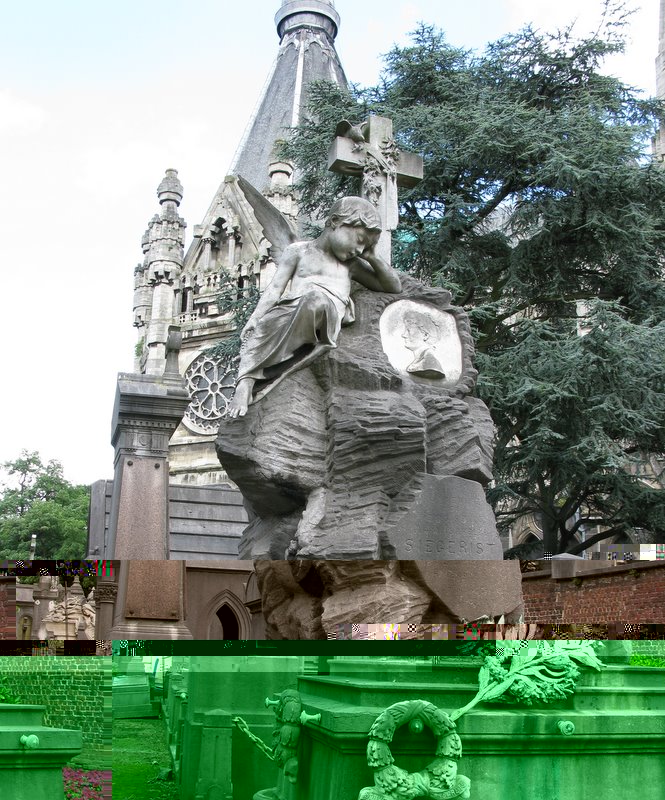 Very few opportunities for detail or symbolism are missed, from the dove, weeping angel, the relief of the dear departed or even the aspect of the neo-gothic cathedral behind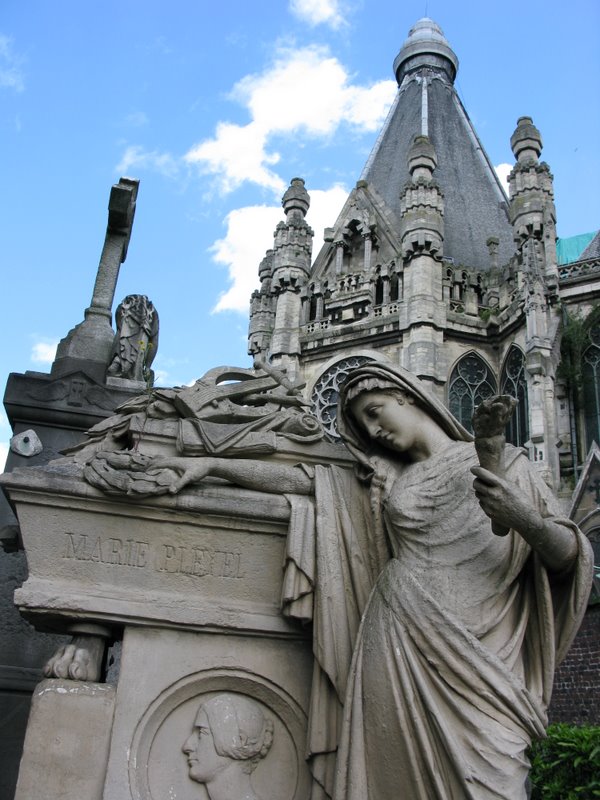 We are introduced to the famed pianist Marie Pleyel who in later years became a very well known instructress and head of the local conservatory in her time. Here she carries the torch of knowledge and the musical instruments are piled upon the stone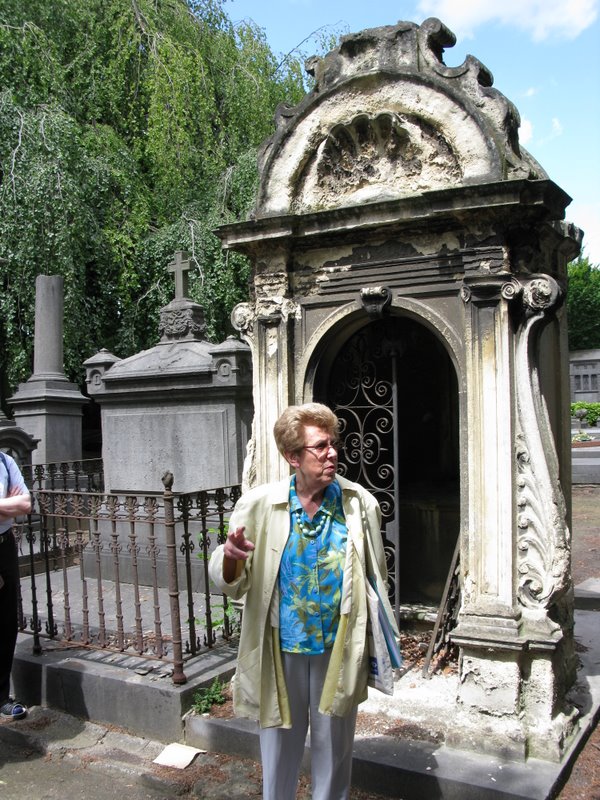 Our lovely guide intersperses her historical narrative with a discussion of the current state of restorative efforts, as you can see, some of the family crypts are in quite a state of disrepair and the city is trying to do something about it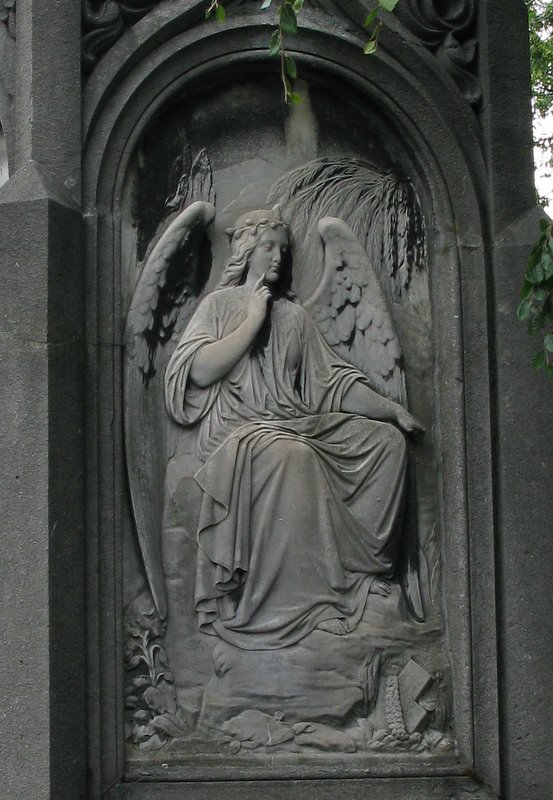 But what to do? Perhaps this pensive angel has an idea or two …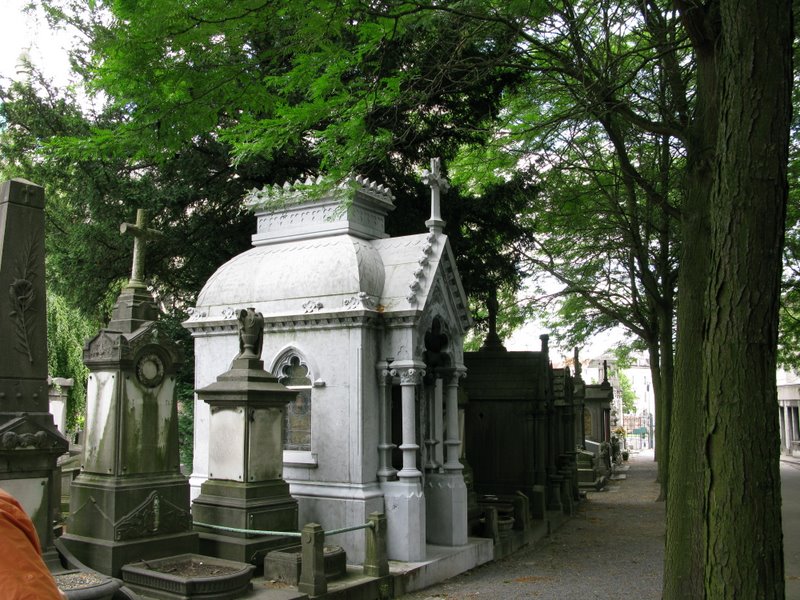 A freshly restored crypt really stands out amongst the crowd!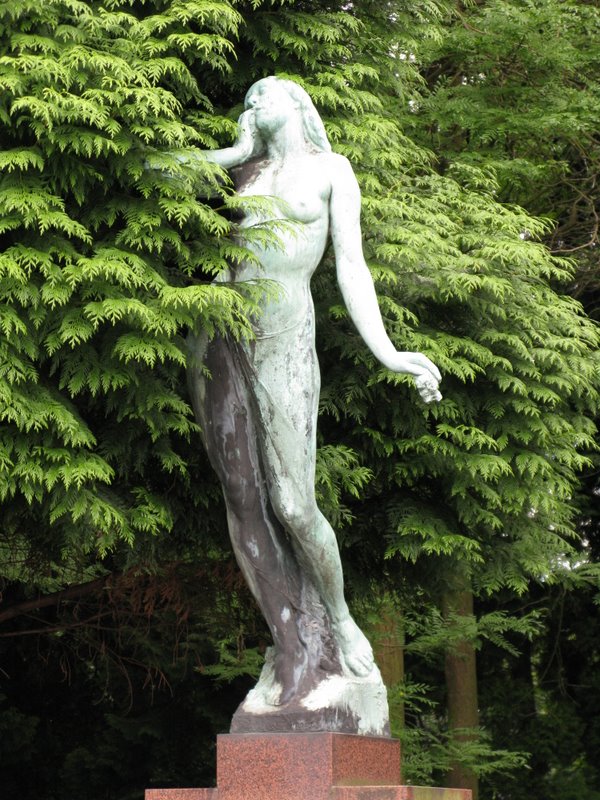 A family of three generations of sculpturers plied their trade and left a lasting monument of wispy clad grieving maidens of striking beauty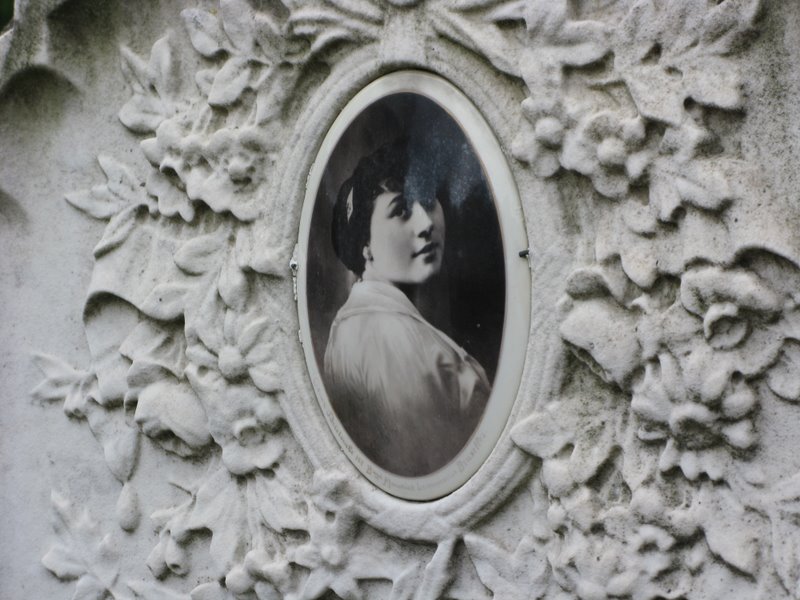 But there are also direct photographs and this striking beauty makes a lovely memorial indeed …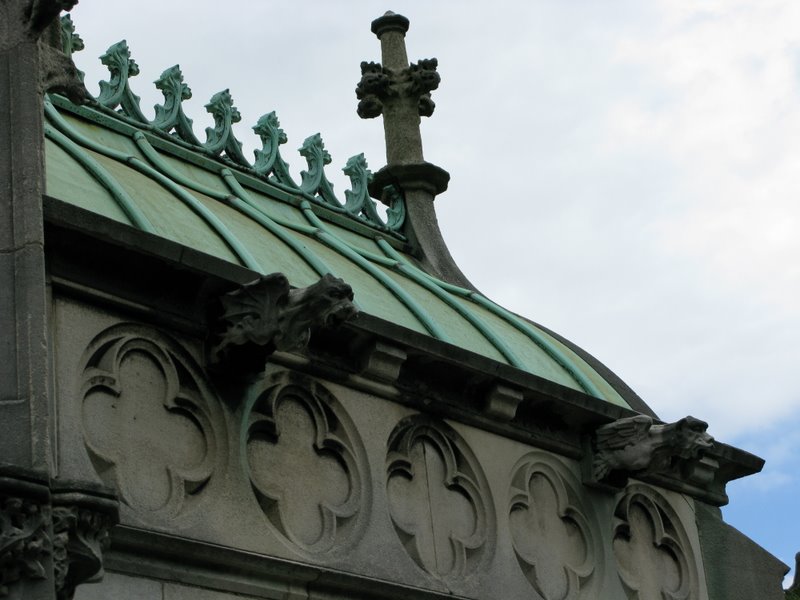 And what is a mini-gothic crypt without a gargoyle or two? These handsome fellows look just ready to spit water on you as soon and the clouds cooperate, which fortunately they are not doing today ;-)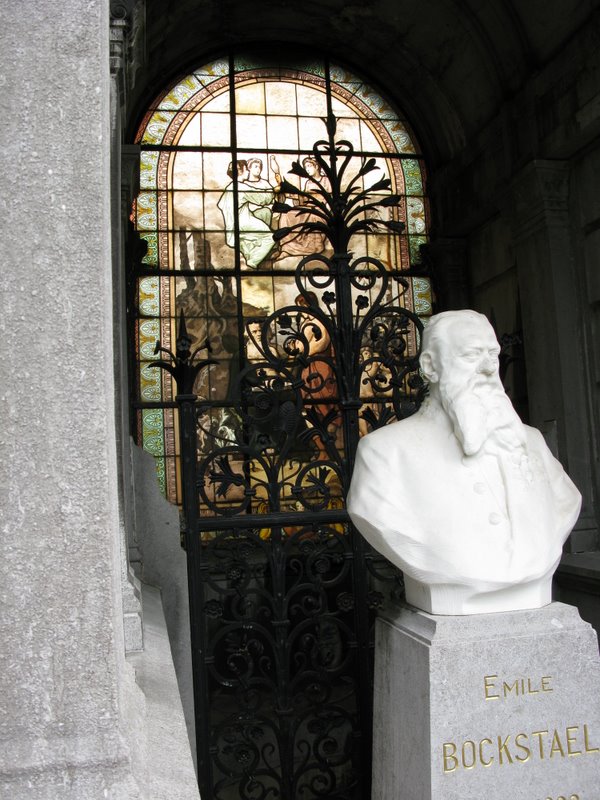 At the monument to Mssr Bockstael, you see the family name interspersed throughout Brussels history as well as geography, architecture and metro stations … lovely stained glass and out guide mentions to us the three maidens of allegory weaving the thread of life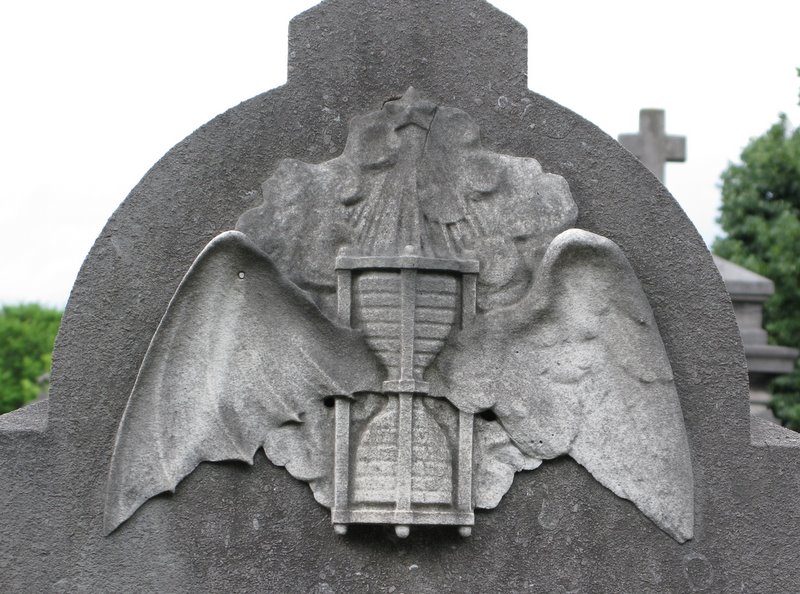 Quite enjoyed the fanciful juxtaposition of a bat wing and dove wing … well, you know what they meant …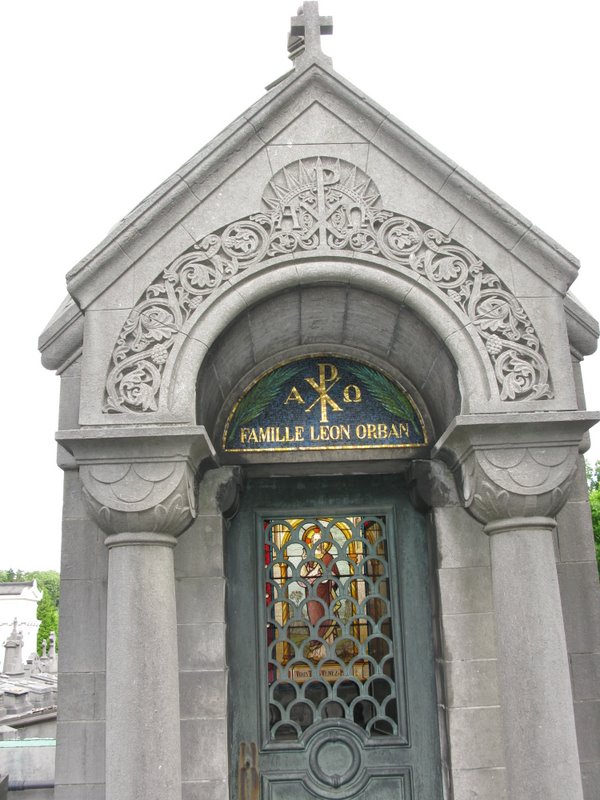 Although a Catholic cemetery, the Belgians are most welcoming and many freemasons seem to find there way here as well as part of the family plots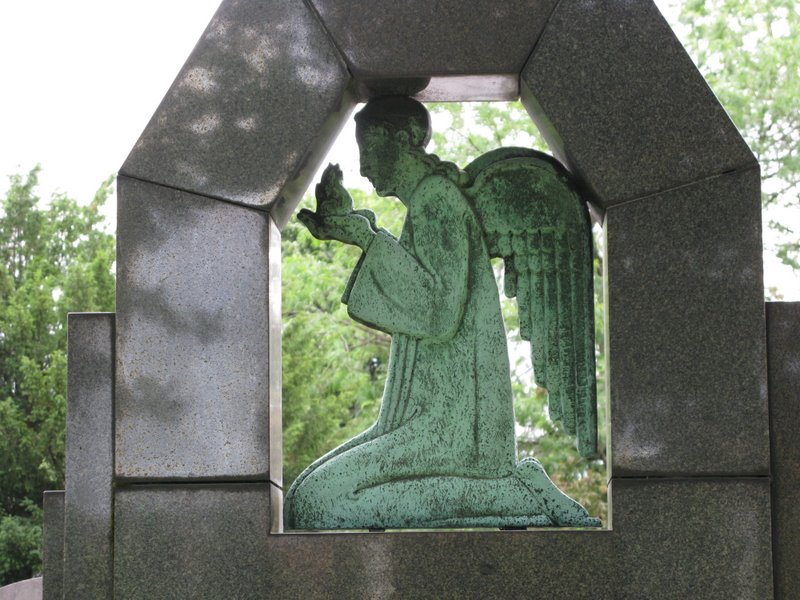 A very deco angel, at first I thought that was a small squirrel he was holding, but on close inspection is a flame, of course …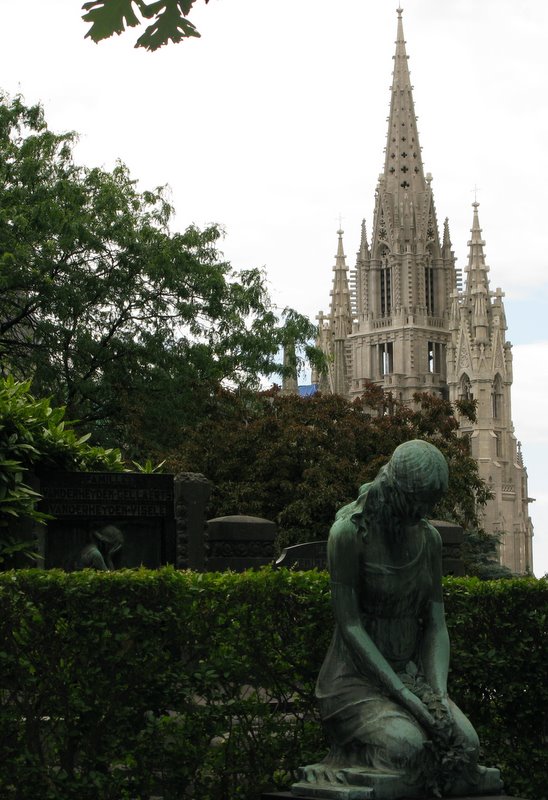 More wispily clad weeping maidens with lovely patina really juxtaposing with the bright stone of the cathedral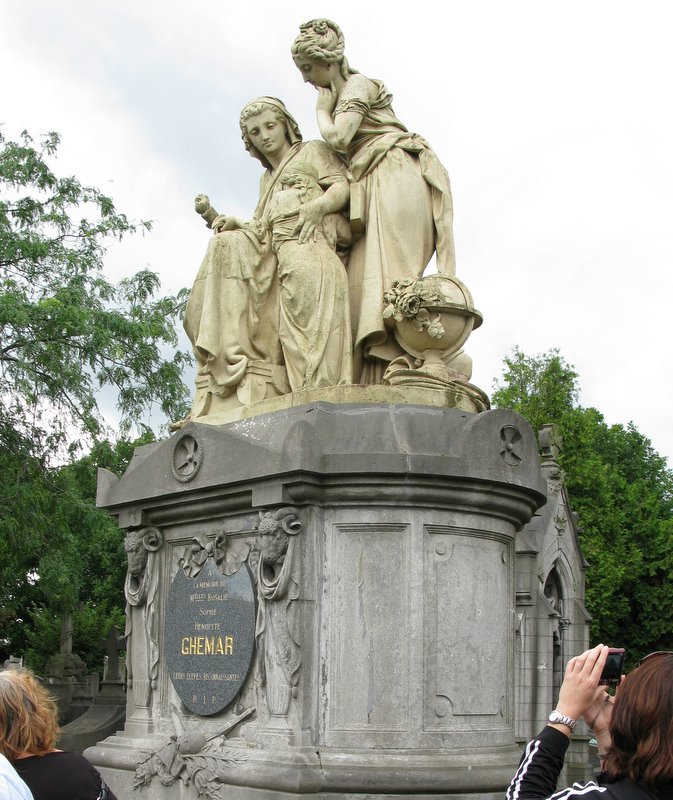 Our guide stops to tell us the lovely story of this monument, erected to their favorite lady teachers by some students, the ladies are shown imparting knowledge in three generations … must be so much more to this story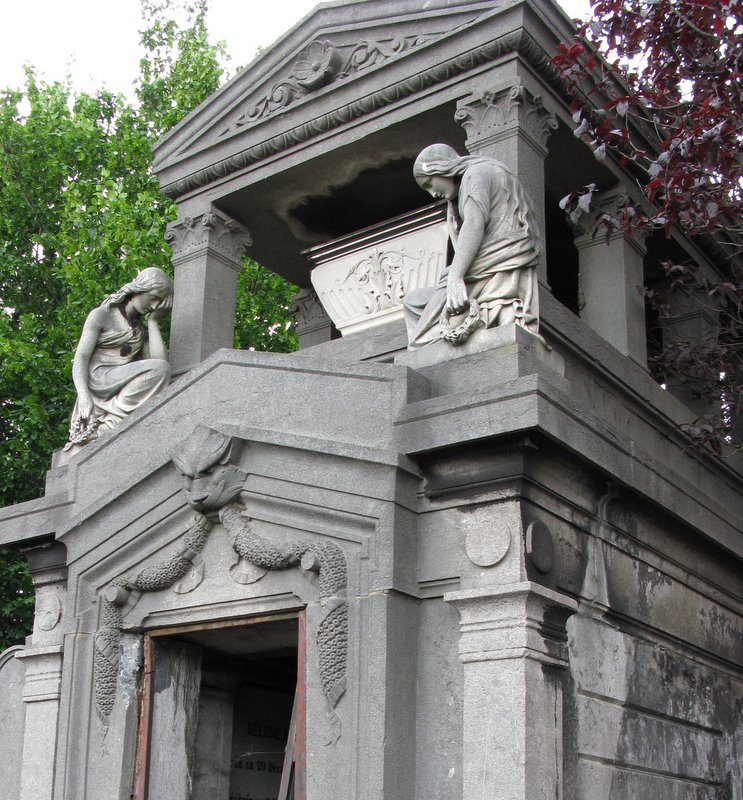 Nice bit of stone work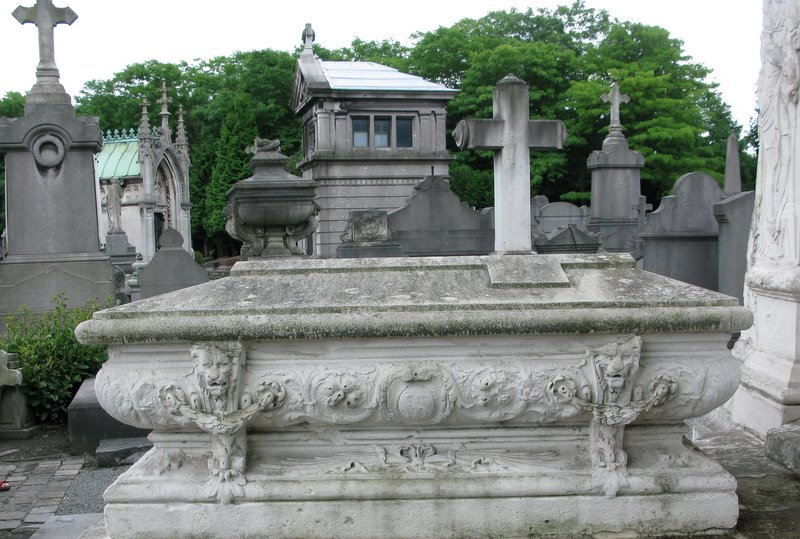 Much work was done in Italian marble, but the local climate is not that hospitable to this lovely stone so much decay is apparent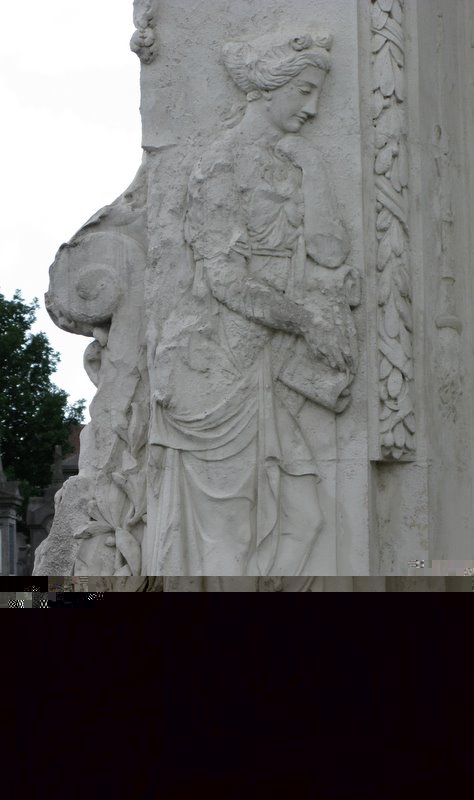 And some attempts to paint and restore are not going so well. but can you imagine what it must have been like when new?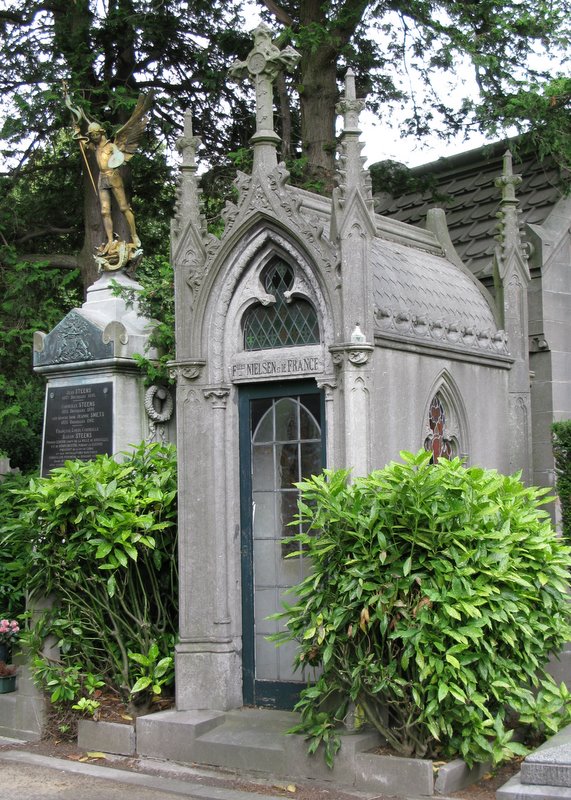 Lovely pair, very French, and angel doing bad things to the poor dragon again …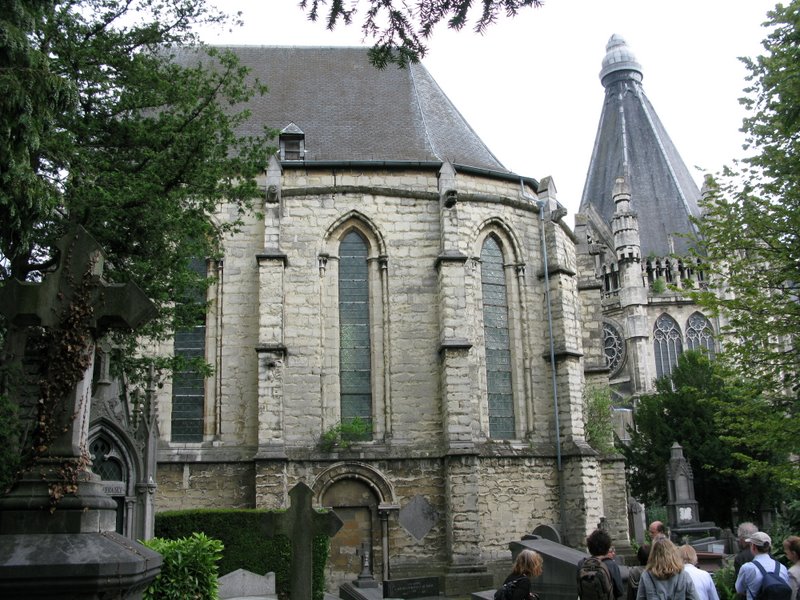 Here is the old church built in 1275, lots of old style gargoyles still trying the keep the rain away from the stone, unfortunately we are not able to make the tour inside as the keys have not shown up this day.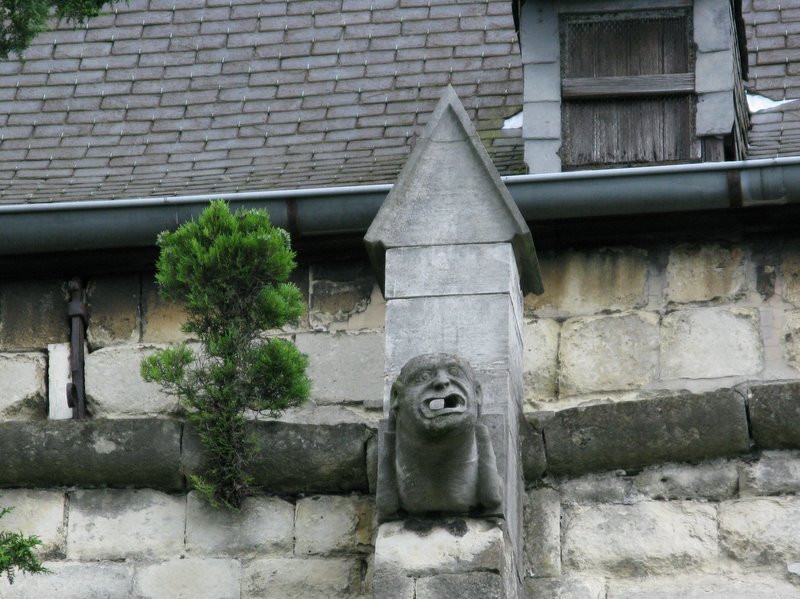 But life is trying to grow between the cracks at every opportunity as the tree is growing through the drain channel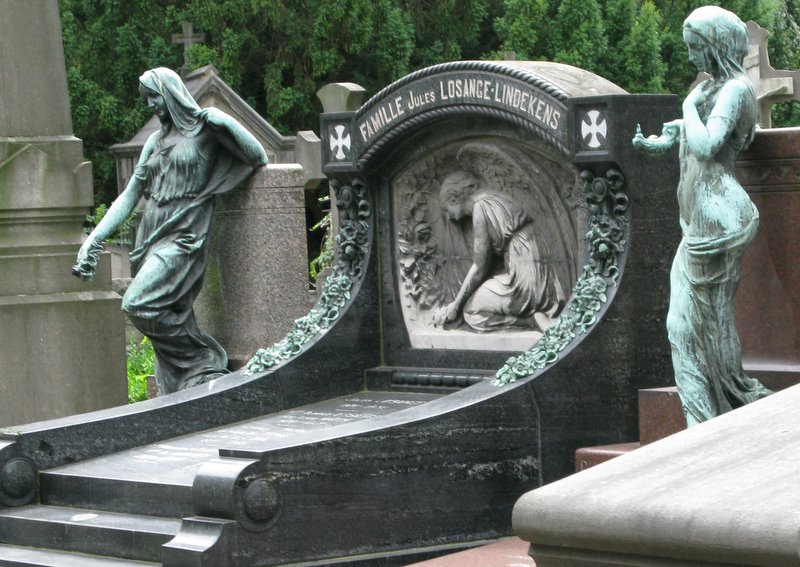 This fine family is well accompanied by our favorite maidens …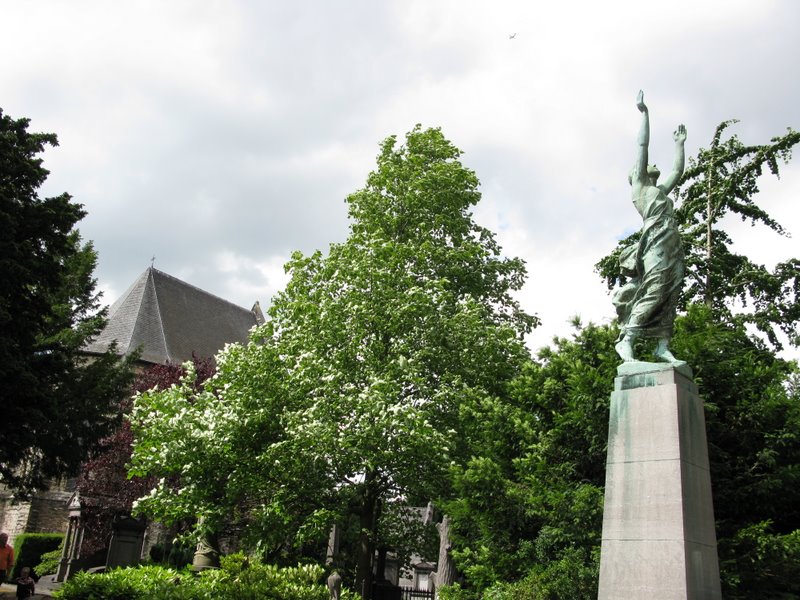 With her back to the old church and facing the new cathedral this one is reaching up high, just as a plane goes overhead on its way out from the Brussels airport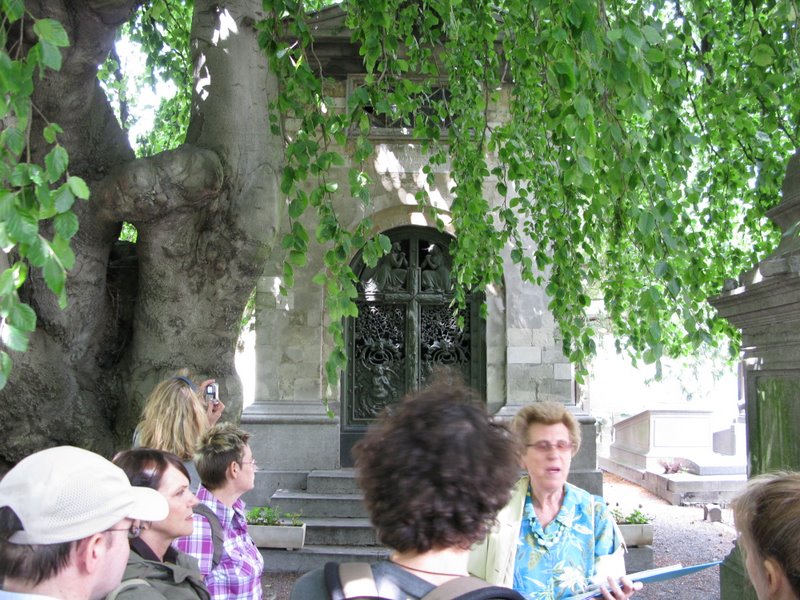 Here is the tomb of the famed opera singer Malibran and our guide tells of the lovely and heartbreaking story of the young lady's life, adventures, and untimely demise at 28 on stage at the end of Norma in the UK.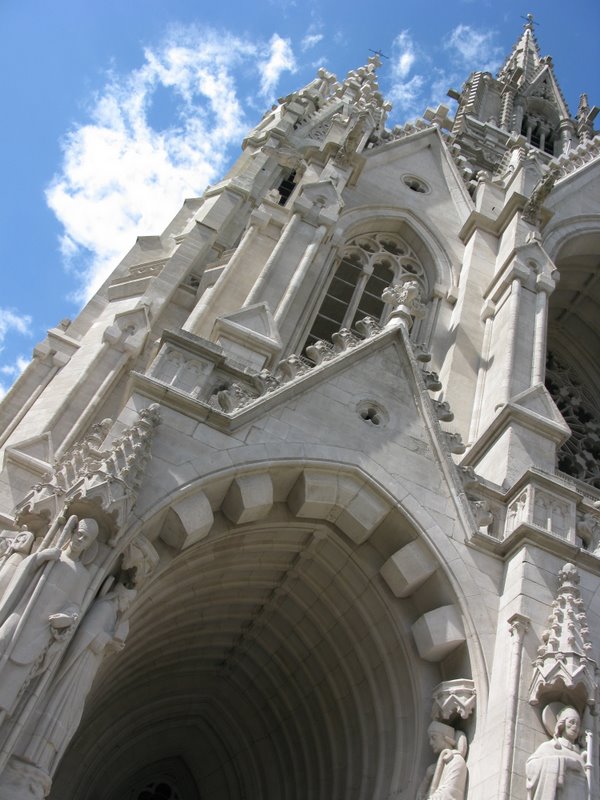 Off to visit the neo-gothic cathedral, or Eglise Notre-Dame de Laecken to use its full name.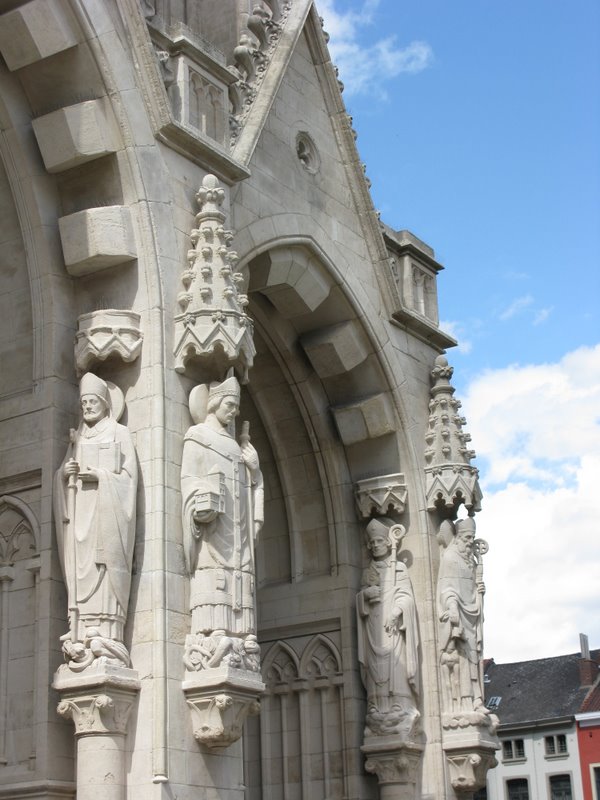 Lovely statuary about the entrance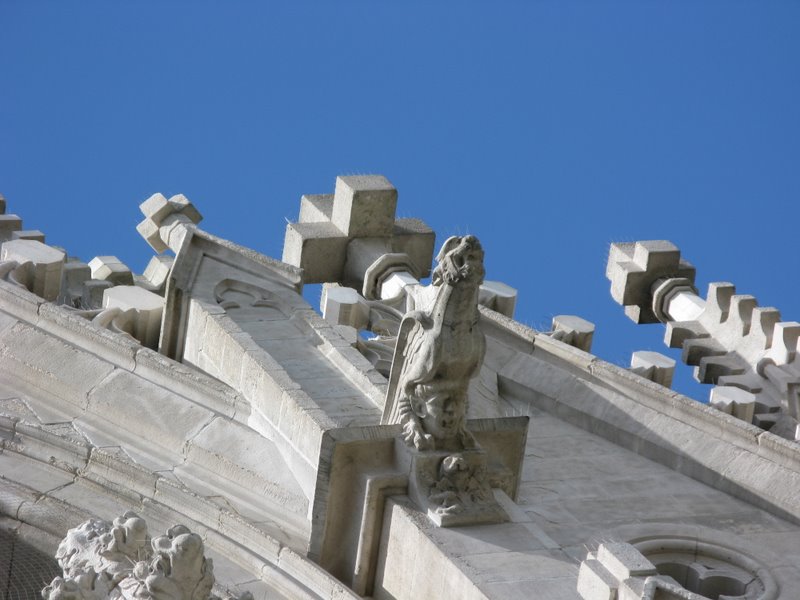 And a nicely done gargoyle … As we gather our guide mentions there may be a concert inside so please enter quietly….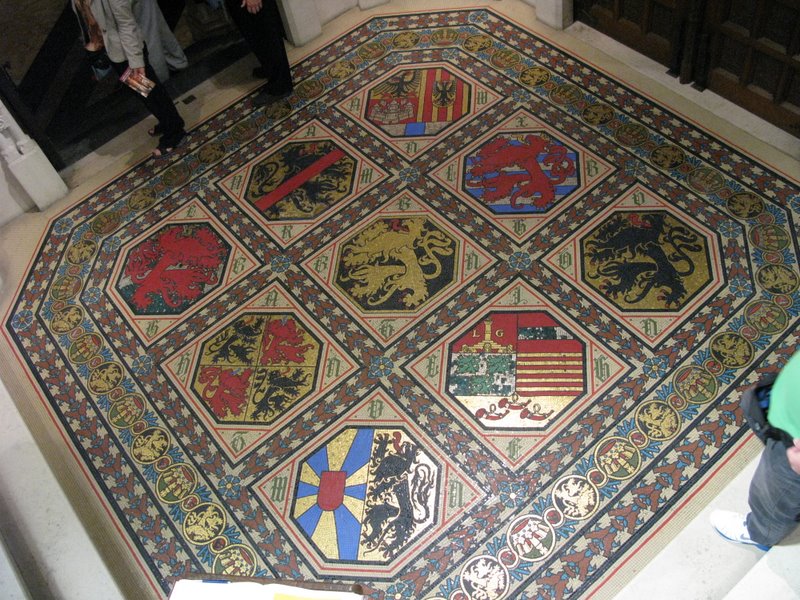 As we quietly file to the back to enter the crypt of the royal family the floor catches my eye, very bright and playful …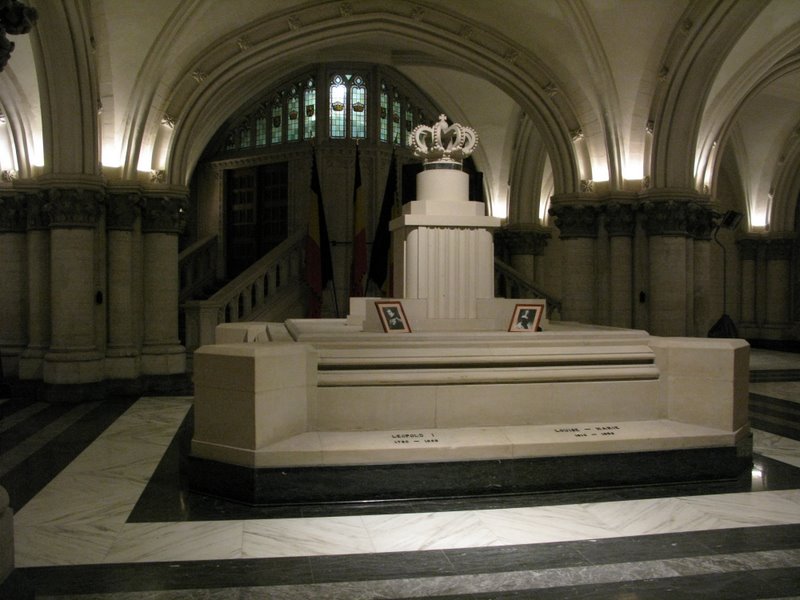 Here underneath is King Leopold, there is a bit of a story how he got here, they had to make an entrance at the back of the church as they were not supposed to bring him in through the entrance. Here also are many members of the royal family gathered, and our guide gives us much information on their lives, trials, troubles and loves. http://en.wikipedia.org/wiki/Monarchy_of_Belgium#List_of_Kings_of_the_Belgians
Really too much to share here, but certainly a must not miss part of the tour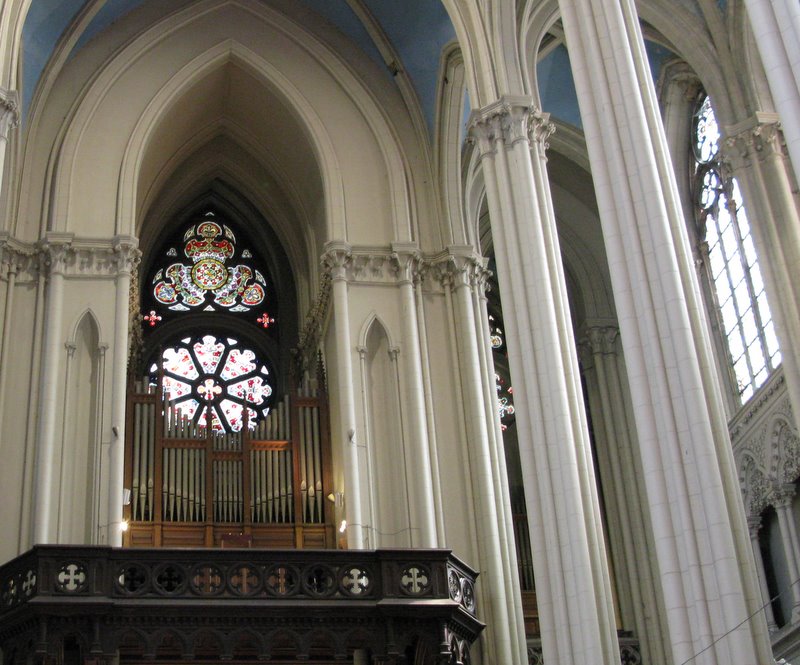 We are amazingly fortunate this day as there is a fabulous organ concert taking place, as the tour ends we stay on to listen to the lovely music, before wandering outside to enjoy a draft and some coffee with some new friend and acquaintances from the tour. Altogether a lovely day and an entrancing experience …
A special thanks to Patrick for contributing the images and words to the Imagination Club!
Return to Imagination Club home page