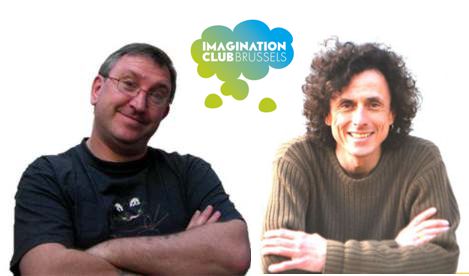 The Brussels Imagination Club
Discover - Learn - Experiment
Welcome to the Imagination Club! For more than a decade, we've been running experimental workshops and other events for the international community of Brussels. Today, our informal group has over 300 members from dozens of countries around the world; we even have a few Belgians in the group!
The Imagination Club is devoted to discovery, learning and experimentation. We provide this through workshops and talks.
Workshops are 90 minute introductions to all kinds of exciting things. What makes the workshops particularly interesting is that they are required to be experimental. We do not allow sales pitches or demonstrations (where you are pressured to sign up for a full seminar). Instead, we want workshop facilitators to use the Imagination Club to try out new ideas, techniques and concepts. For participants, that means workshops are always a surprise. Some are awesome beyond words, some could be a bit better. Most are awesome. For facilitators, it is a chance to learn from you
In addition to the workshop, you can enjoy a drink and a snack while chatting with a variety of open-minded people from the Brussels international community.
What are you waiting for? Join us at our next workshop, meet some great new friends and enjoy a drink. Learn more here...
The Serious Waffle Sessions are a new initiative from the Imagination Club. In a Serious Waffle Session, three expert speaker-presenters have 15 minutes to teach you something (and ideally three things) new about the evening's themes. Afterwards, there is a panel discussion where you can ask questions. And, as with every Imagination Club event, there's a drink and a snack available! (we wouldn't want you to leave us hungry and thirsty!)
Experts range in speaking experience from novice to noted international keynote speakers, but they are professionals in their topics.
Like the workshops, the Serious Waffle Sessions provide you with an opportunity to discover and learn new things as well as meet some really cool people like yourself. Learn more here...
Mailing List
Want to be kept informed of new events and occasional news from the Brussels Imagination Club? Just enter your email below − and be sure to follow the link in the confirmation email to complete your subscription to our mailing list.
Note: we will never share your contact information with anyone, not even workshop facilitators, without your permission.