You are warmly welcome to join us at the Imagination Club on Wednesday, 24 June 2015 at 18h45 for an interactive, experimental workshop on: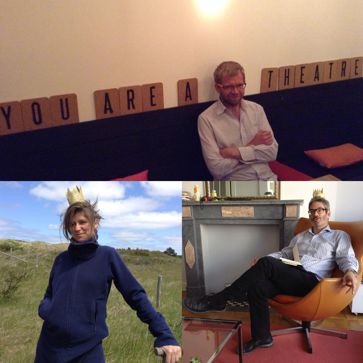 The Money Opera
By Sydney Schreiber, Charles Davies & Ann-Christin Momsen
Death, sex, life, love, rage, impotence, fear, destruction, ambition...
Ah! A whole world of drama. What do you think of when you think of Money? What do you think of when you think of opera?
On 24 June, the Brussels Imagination Club presents a new workshop / seminar / performance / happening / training / event / session with Sydney Schreiber, Charles Davies and Ann-Christin Momsen.
There will be music. There will be money. There will be spectacle. There might be laughing. There might be tears. There might be life-changing transformation. Who knows?
Sydney (Belgium), Charles (UK) and Ann-Christin (Holland) between them bring experience of New York corporate law, modern dance, stand-up comedy, professional coaching, business design, improvisation and virtuoso violin.
This will be the first time that they will work together. This will be the first time that they deliver the essence of their work in the form of an opera.
They are very excited about the idea.
Details
---
---
RSVP
Please reply to your invitation e-mail or follow this link to sign up for for this workshop.
Participants
Andy Whittle
Jeffrey Baumgartner
Sydney Schreiber
Charles Davies
Ann-Christin Momsen
Peter Whippy
Rose Pallettra
Joyce Baldwin
Grace
Jutta Schlinke
Laurence Vicca
Sigrid Ramault
Celicia Theys
Samuel Dellicour
Richard Bishop
Paul van Merode
Carsten Wendt *
Brigitte Jacobs *
Lina Kusaite *
Ruth Friedman *


Mihaela Matei **
Gordon Buhagiar **
David Estrada **
Filip Roeckens **
* indicates confirmation via Facebook
** indicates 'maybe coming' onFacebook -- which in practice means they probably won't come. But we appreciate their enthusiasm for the event.
Want to come, but don't want your name on this list? No worries. Just tell us not to publish your name when replying.
View Larger Map