Hi!
Here's an update on the Imagination Club weekend in the Ardennes. The theme is wellness and we have a handful of workshops already planned. See below.
Don't miss out! Join us for what will be an incredible weekend. And remember, we need your confirmation by Thursday.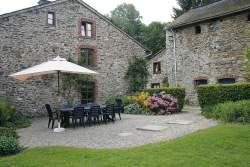 You are invited to join us in the Ardennes on 17-19 October for the
Wellness Weekend in the Ardennes
Together with the Imagination Club Nederland, we a planning an International Imagination Club weekend in the Ardennes. It will be a chance to experience workshops, walks and great times with great people like yourselves!
The theme for the weekend is Wellness. Workshops include (but subject to change):
Walk and Write Workshop
Meditation using the sounds of nature (Andy)
Super Foods
Shaman energy of Nature
If you would like to run a workshop at the Imagination Club Wellness Weekend, let us know.
Download a (PDF) flyer with more information and pictures.
Confirm by Thursday
In order to book accommodation, we need to know how many people are coming. If you are interested, please let us know by Thursday, 10 July. If you have any questions, please ask right away.
If you plan to drive from Brussels and have room in your car, please let us know. If you need a ride, please also let us know and we'll try arrange for you. It is also possible to take the train to Vielsalm and get a free ride to our accommodation.
Details
---
When?

17-19 October 2014
Time:18h45 to 20h30

Where?

Lieurneux, Belgian Ardennes

How much?

Between €79-95 (depending on number of people attending)
Fees are to cover the cost of accommodation and some meals. Facilitators are also expected to pay.
---
RSVP
Please reply to your invitation e-mail or follow this link to sign up for for the Wellness Weekend by Thursday, 10 July.