You are warmly welcome to join us at the Imagination Club on Wednesday, 8 October 2014 at 18h45 for an interactive, experimental workshop on: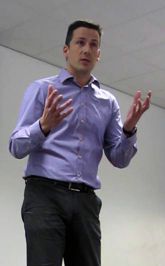 Your Unique Leadership
By Tom Aerden
Leaders are not born, they are made. The journey starts with fully knowing yourself. Tom will draw parallels between the business world and your personal leadership. In the subsequent workshop you will rediscover the leader in you through examples and methods from the field of marketing. It will help you form and apply your leadership values and your unique leadership.
Tom Aerden will draw from his almost 20 years of corporate marketing experience. He has a passion for sharing knowledge and leadership best practices to drive business results and continuously develop people. He will use examples and methods from the field of marketing to help you discover your unique leadership and apply it.
Details
---
---
RSVP
Please reply to your invitation e-mail or follow this link to sign up for for this workshop.
Participants
Jeffrey Baumgartner
Andy Whittle
Tom Aerden
Ed Baumgartner
Marilys Corbex
Anita Ivan
Tamas Szin
Sydney Schreiber
Dominique Byron
Christelle Munganyende
Jutta Schlinke
Stephen Lawson
Astrid Brommelstroet
Tomasz Kaminski
Omar Cutajar *
Harghel Rodica *
Andreea Hirica Popa *


Isabelle Haya Berthier Benzakin **
Mircea Bordeianu **
Mary-Roos Nijs **
Stefaan De Jonckheere **
Zlatmira Smile **
Jane Anne Whearty **
Filip Roeckens **
Tushar Singh **
Nathalie Villanueva Fernandez **
Jacek Ka **
Zlatimira Smile **
Khurram Waqas Malik **
* indicates confirmation via Facebook
** indicates 'maybe coming' on Facebook -- which in practice means they probably won't come. But we appreciate their enthusiasm for the event.
Want to come, but don't want your name on this list? No worries. Just tell us not to publish your name when replying.
View Larger Map