You are warmly welcome to join us at the Imagination Club on Wednesday, 10 September 2014 at 18h45 for an interactive, experimental workshop on: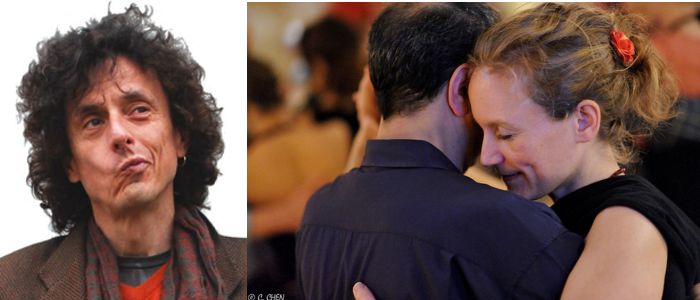 Dynamic Problem Solving
By Elena Leibbrand and Jeffrey Baumgartner
In this workshop, you will learn an exciting new technique for understanding and solving problems: you will learn how to impersonate the problem.
Using creative thinking techniques combined with the vocabulary of movement, you will learn how to give form to a problem, or any situation in which you need to take action, through physical expression. The aim is to give you another, deeper insight into the situation which, in turn, enables you to generate new approaches and hopefully solutions.
Although you will not dance in this workshop, you will use physical warm-up, movement and body language to express ideas. You will also learn about how your mind interprets situations and constructs solutions.
The aim of this workshop is to give you a powerful new means of approaching, interpreting and solving problems.
This experimental workshop on Dynamic Problem Solving is the result of conversations between Elena and Jeffrey about corporate creativity, anticonventional thinking, dance movement and getting people physically involved in thinking about complex situations. It is their first ever presentation of their idea and so promises to be an exciting and enlightening experience for all. Do join us!
About Elena and Jeffrey
Elena spent some 12 years in the corporate world, the European institutions and working in the highly stressful environment of cruise ships.
At the same time, she immersed herself in social and contemporary dancing for over 15 years, and is training in massage and energy work. Three years ago, she turned around her professional life to become a folk dance teacher and administrator of the dance school Frisse Folk.
She sees immense potential in mixing those two worlds, in "bringing movement into the office".
Visit www.frissefolk.be to discover more about folk dancing and Elena's group lessons which start again on 15 September)
Jeffrey is an author and creativity specialist. He has written The Way of the Innovation Master, a business innovation book, and The Insane Journey, a controversial science fiction humour novel. When not writing Jeffrey speaks and holds workshops about creativity around the world. He is also the co-founder and co-manager of the Brussels Imagination Club. You can find his web site at www.jpb.com

Details
---
When?

10 September 2014
Time:18h45 to 20h30

Where?

Tipik
Avenue de Tervueren 270
1150 Brussels

From Montgomery metro station, you can take tram 39 or 44. Get off at the stop "Jules César" or walk.

How much?

A contribution of €12 to cover expenses including materials, drinks, snacks, etc.

Where's the web page?

http://www.imaginationclub.org/brussels/event20140910.php
---
RSVP
Please reply to your invitation e-mail or follow this link to sign up for for this workshop.
Participants
Jeffrey Baumgartner
Andy Whittle
Elena Leibbrand
Yasaman Ramezani
Homeira Kroone
A.L.
Tomasz Kaminski
Ed B
Grace
Lodewijk Regout
Sonja Schwarz
MC
JP
Pia Bech Nielsen *
Paul-François Doubliez *
Chiara De Caro *
Sonia Resuli *
Vincent Bouillez *
Carole James *
Sophie Hubaut *


Tania Postil**
Monica Dimitriu **
Anna Rydén **
Celia Crahay **
Gail D. Rego **
Khurram Waqas Malik **
Zlatimira Smile **
Tushar Singh **
Catarina Ascensao **
Frank Barendregt **
Nathalie Villanueva Fernandez **
Líevinsky Willems **
Jan Amadori **
Koen Dhondt **
Mircea Bordeianu **
* indicates confirmation via Facebook
** indicates 'maybe coming' on Facebook -- which in practice means they probably won't come. But we appreciate their enthusiasm for the event.

Want to come, but don't want your name on this list? No worries. Just tell us not to publish your name when replying.


View Larger Map Larger Map