You are warmly welcome to join us at the Imagination Club on Wednesday, 28 May 2014 at 18h45 for an interactive, experimental workshop on: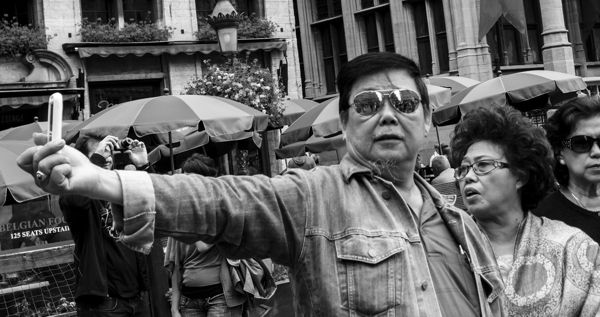 Photo by Kevin Scarlett - © Kevin Scarlett
Beyond the Selfie
By Kevin Scarlet
Are you tired of the Selfie? You know, the distorted image of the face too close to the camera and the long arm stretching to the frame? So are we!
Fortunately, help is at hand!
In this experimental, practical workshop we'll explore techniques and tricks to make better portraits. Perhaps we'll make mistakes along the way, but we will learn from them and so improve our ability and knowledge of some alternative ways to get better and more interesting portraits of yourself and others.
This workshop is aimed at beginners or casual photographers who want to improve the quality and variety of the photos that they take at home and on holiday. We will be shooting mostly in automatic mode with our compact camera's or smartphones. The only technical thing that is demanded is that you fully charge your battery and you know how to display the pictures you take on the screen (this should be set to continuous or no time-out, check your manual how to turn off this energy saving function) the cameras/smartphone should have enough free memory space as we'll be taking a lot of pictures.
Notes
This workshop is limited to 18 participants.

This will be a walking workshop in central Brussels. We'll start somewhere in the centre (near the Royal Park or Grand Place) and finish at a pub, taking photos along the way. The actual starting point will be dependent upon the weather forecast and will be announced in the reminder email and on the web site on Monday, 26 May
About Kevin Scarlett
Kevin comes from a visually creative background and has run his own graphic design business in Brussels for almost 20 years. Growing frustrated with pencils and paint, he could never define his own style but almost by accident he found an outlet in photography that fulfilled his creative endeavour. After taking a couple of photography workshops in India and Turkey recently, his love for the medium has increased even more, and is at a stage now were he would like to share some of the tips that have helped him along the way and made him a better photographer.

Details
---
When?

28 May 2014
Time:18h45 to 20h30

Where?

We will meet up at

Hotel de Ville in Grand Place, Brussels. Look for us under the main arch. From there, we will be walking around in the area. So, be there by 19h.

Image by Alina Zienowicz

How much?

A contribution of €12 to cover expenses including materials, drinks, snacks, etc.

Where's the web page?

http://www.imaginationclub.org/brussels/event20140528.php
---
RSVP
Please reply to your invitation e-mail or follow this link to sign up for for this workshop.
Participants
Jeffrey Baumgartner
Andy Whittle
Kevin Scarlett
Beate
Ingrid Kreksch
Marjolein Jongman
Elena Nikolskaya
Sigrid Ramault
Sylvia Taylor
Estelle
+ Friend
Jennifer Palumbo *
Ana Agundez *
Miriam Tessens *
Marilys Corbex *
Eric Deschoenmaeker *
Phil Dean *
Mike Davies *
* indicates confirmation via Facebook
** indicates 'maybe coming' on Facebook -- which in practice means they probably won't come. But we appreciate their enthusiasm for the event.
Want to come, but don't want your name on this list? No worries. Just tell us not to publish your name when replying.