You are warmly welcome to join us at the Imagination Club on Wednesday, 8 January 2014 at 18h45 for an interactive, experimental workshop on: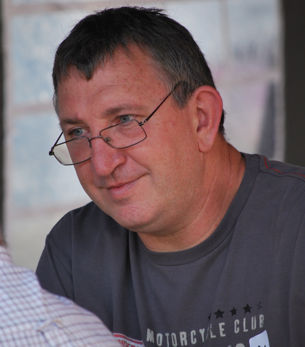 8 Ways to Wellbeing
By Andy Whittle
You are cordially invited to join us for an experimental workshop on "8 Ways to Wellbeing"'
Do you roll your eyes when people mention New Years Resolutions?
Would you like to try an alternative? Something that has a chance of working?
Ask yourself these questions first:
Are you happy with your current lifestyle or at least think it could be better somehow?
Is your life so busy you don't have time to think about being healthier?
Do you ever take time to stop and think?
Not really?
Maybe now is the time to do something about all that….
Join in Andy's workshop where he will take you through the 8 ways to Wellbeing and how you can use these ways to significantly improve your happiness and general health without having to resort to unrealistic resolutions.
Note: This workshop is based on a paper published by Dr Roger Walsh in the 'American Psychologist' magazine in January 2011
About Andy
Andy Whittle is an IT consultant and trainer who has worked with organisations such as Glaxo Klein Smith, Toyota, The European Commission and the Belgian government [others?]. He is also the co-founder of the Brussels Imagination Club where he runs regular workshops on all aspects of personal and professional self-improvement.
A special thanks to Tipik for donating a meeting space for us!
Details
---
When?

8 January 2014
Time:18h45 to 20h30

Where?

Tipik
Avenue de Tervueren 270
1150 Brussels

From Montgomery metro station, you can take tram 39 or 44. Get off at the stop "Jules César" or walk.

How much?

A contribution of €12 to cover expenses including materials, drinks, snacks, etc.

Where's the web page?

http://www.imaginationclub.org/brussels/event20140108.php
---
RSVP
Please reply to your invitation e-mail or follow this link to sign up for for this workshop.
Participants
Jeffrey Baumgartner
Andy Whittle
Luisa Mannu
CJ
Helen Kerrison
Gazelle Gaignaire
Isabelle
Ellen Kamienowski
Katie Murphy
Stephen Lawson
Robert Suzic
Anne-Sophie Duchene
Bryony Ulyett
Margarita Au *
Carolyn Dare *
Grace Clifford *
Irene Yu *
Solvene Karen Renoult *


Véro Bosschaert **
Tania Postil **
Dominique Debroux **
Christina Sima **
Em Gee **
Zlatimira Smile **
Alba Longa **
Stefaan De Jonckheere **
Tushar Singh **
Yannick Bollati **
* indicates confirmation via Facebook
** indicates 'maybe coming' on Facebook -- which in practice means they probably won't come. But we appreciate their enthusiasm for the event.

Want to come, but don't want your name on this list? No worries. Just tell us not to publish your name when replying.


View Larger Map Larger Map