You are warmly welcome to join us at the Imagination Club on Wednesday, 11 September at 18h45 for an interactive, experimental workshop on: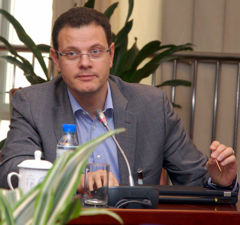 Work Less, Do More
By Laurent Hayem

Impossible working hours? Want to do something about it? Then this workshop is for you!
Laurent will help you defend yourself against those who steal your time and then go on the offense achieving your goals in an effective use of your time and resources.
In this process, Laurent pretends he can give you a seemingly impossible 25th bonus hour, a full extra hour per day ! Will you help him keep his promise ? If so, be there ... Make the time and be on time !
About Laurent Hayem
Laurent is a French-Swiss manager and facilitator, passionate about helping others improve and succeed.
Details
---
When?

11 September 2013
Time:18h45 to 20h30

Where?

Plateforme pour le Service Citoyen / Platform Jongeren voor de Samenleving
Rue du Marteau 21
1000 Bruxelles

Map (see below or follow link)

How much?

A contribution of €10 to cover expenses including materials, drinks, snacks, etc.

Where's the web page?

http://www.imaginationclub.org/brussels/event20130911.php
---
RSVP
Please reply to your invitation e-mail or follow this link to sign up for for this workshop.
Participants
Jeffrey Baumgartner
Andy Whittle
Laurent Hayem
Susanne Bentley
Chiara de Caro
Tamara Sanne
Carolyn Dare
Ed
Véro Bosschaert
Jovana Bogojevic *
Sonia Resuli *
Francesco Cavallaro *
Mourad Daraji *
Frank Barendregt *
Erhun Alptekin **
Nathalie Villanueva Fernandez **
Miriam Tessens **
Tushar Singh **
Stefaan De Jonckheere **
Frank Barendregt **
Beverley Sinton **
Zlatimira Smile **
* indicates confirmation via Facebook
** indicates "maybe coming" on Facebook
Want to come, but don't want your name on this list? No worries. Just tell us not to publish your name when replying.
View Larger Map