You are warmly welcome to join us at the Imagination Club on Wednesday, 1 May at 15h45 for a special event: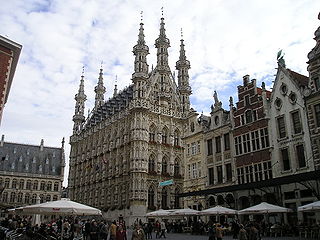 Leuven Cultural Walk & Beer
Once again, the regularly scheduled Imagination Club workshop falls on a bank holiday. So, instead of a workshop, let's discover the city of Leuven!
Leuven Walks, a recent start-up, has prepared a special, guided city walk especially for the Brussels Imagination Club!
Our guide will take us to some of the most special places in Leuven, including three Unesco World Heritage sites, beer sites (fascinating bars, old breweries, the longest bar in the world), and the university (the best historic colleges).You will get an excellent overview of what Leuven is about. We will also pass some less frequented and more hidden parts of the city. About two hours.
If you are up to it, there will be a second leg of the walk, going to Den Hoorn (the Horn) brewery (first established in 1366).
By then, you will doubtless be thirsty, so why not stay in Leuven for a beer and perhaps a bite to eat?
Children are welcome!
Getting There
We will meet in front of the Town Hall in Leuven's Grote Markt at 15h45 for a 16h start.
There are regular trains from Brussels stations as well as buses from Kraainem Metro station. To get to the Grote Markt, exit the front of the train station (the bus station is adjacent to the train station) and walk down Bondgenotenlaan. It's a five minute walk.
If you are driving, I am told that there is free parking on Brabanconnestraat.
Notes
Leuven Walk has asked us to finalise the number of participants by Monday, 29 April. So, if you intend to join us, please book your space by then and, more importantly, if you book a place and change your mind, please let us know before the 29th.
Details of the walk may change. Watch this web page or the reminder email for any changes.

Details
---
When?

Wednesday, 1 May 2013
Time:15h45 to...

Where?

In Front of Town Hall (building in the picture above)
Grote Markt
Leuven

Map (see below or follow link)

How much?

€8 for the walk. (You are responsible for your own food or drink afterwards)
€6 for students, €5 for children between 10 and 16 and is free for children under 10.

Where's the web page?

http://www.imaginationclub.org/brussels/event20130501.php
---
RSVP
Please reply to your invitation e-mail or follow this link to sign up for for Creativity & Beer.
Participants
Jeffrey Baumgartner
Inge Ysebaert + child
Andy Whittle + 2 children
Grace Clifford
Annette Monreal`
Kevin Scarlett
Carina Bjurklilnt
Peter Whippy
Tony Zamparutti
Marjolein Jongman
Phil Dean *
Lisah Goldberg *
Larissa Wallig *
Anita Sheehan *
* indicates confirmation via Facebook
** indicates "maybe coming" on Facebook
Want to come, but don't want your name on this list? No worries. Just tell us not to publish your name when replying.
---
View Larger Map