You are warmly welcome to join us at the Imagination Club on Monday, 15 April at 18h45 for an interactive, experimental workshop on: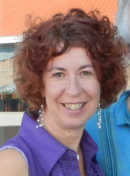 Enjoy & Learnshop - Changing Is Fun
By Greet Selderslaghs
Changing is fun! This is an 'Enjoy & Learnshop' for everyone who has been through changes already -- and anyone who hasn't. How would you like to go through the process of change with much more ease, acknowledging fears and resistance, and yet moving confidently in the direction of new dreams and aspirations?
In this workshop, we will find out by experimenting, by doing and by just enough theory to satisfy our minds as well. Be prepared for an active and interactive evening!
About Greet
"I earnestly believe learning can and should be fun! There's enough 'work' to do already, so in our spare time, we should enjoy ourselves, while still gaining new insights and skills!
"Creating an environment for people to grow, offering tools to bring about positive change into the life of other people, making them prosper, shine. That's what I am passionate about. I do this through workshops and coaching of individuals and couples. Have a look at www.artofgoodliving.eu to find out more."
Note!
Please note that this workshop is being held on a Monday evening and not a Wednesday evening as usual! Our venue, UBI, is closed Wednesday evenings for the remainder of the semester.
Thank you!

A special thanks to UBI for donating classroom space for us!

Details
---
When?

15 April 2013
Time:18h45 to 20h30

Where?

UBI (United Business Institutes)
Marnixlaan, 20
1000 Brussels, Belgium

Between Troone and Naamsepoort metros

Map (see below or follow link)

How much?

A contribution of €10 to cover expenses including materials, drinks, snacks, etc.

Where's the web page?

http://www.imaginationclub.org/brussels/event20130415.php
---
RSVP
Please reply to your invitation e-mail or follow this link to sign up for for this workshop.
Participants
* indicates confirmation via Facebook
** indicates "maybe coming" on Facebook
Want to come, but don't want your name on this list? No worries. Just tell us not to publish your name when replying.
---
View Larger Map