You are warmly welcome to join us at the Imagination Club on Wednesday, 9 January at 18h45 for an interactive, experimental workshop on: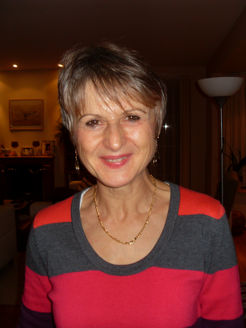 The Joy of Appreciative Living
By Anita Sheehan
Do you find yourself sometimes (or often) in low spirits? Having a hard time getting up in the morning? Trying to re-find the spark that made you embrace every day anew?
Find out how you can find more joy and happiness in your life on a more consistent basis in a few easy steps. Based on the book The Joy of Appreciative Living - Your 28 Day Plan in 3 Incredibly Easy Steps, by Jackie Kelm, Anita will show you how you too can empower yourself to lead a happier and more fulfilled life.
In this workshop we will discover that there is always another side to each of our stories. By pulling the curtain to see the other parts of our lives that are positive and full of opportunities, we can create a different world for ourselves. The goal is not to negate any difficult aspects of our lives, but to put them in context of our whole experience.
About Anita
Anita is a Life Coach and Appreciative Inquiry Facilitator. As a result of her own hard earned lessons she has made it her goal in life to spread the news that we live in the world our stories create and that we all have the power to change the way we look at our lives and achieve greater joy and happiness.
A special thanks to UBI for donating classroom space for us!

Details
---
When?

Wednesday, 9 January 2013
Time:18.45 to 20.30

Where?

UBI (United Business Institutes)
Marnixlaan, 20
1000 Brussels, Belgium

Between Troone and Naamsepoort metros

Map (see below or follow link)

How much?

A contribution of €10 to cover expenses including materials, drinks, snacks, etc.

Where's the web page?

http://www.imaginationclub.org/brussels/event20130109.php
---
RSVP
Please reply to your invitation e-mail or follow this link to sign up for for this workshop.
Participants
Jeffrey Baumgartner
Andy Whittle
Anita Sheehan
Peter Whippy
Ingrid Kreksch
Marilys Corbex
Katja Legiša
Cristina
Anke Seidler
Annette Monreal
Hinano Spreafico
Elzbieta
Mohamed Zefzaf
Robert Suzic
Joelle Draily
Paul Van Merode
Lodewijk Regout
Sinziana Radu
Sylvain Gille
Yannick Bollati *
Fabienne Vloeberghen *
Sonia Resuli *
Johan Verheven *
Cristina Sima *
Ally Doritos *
Fabienne Vloeberghen *
Samuel Dellicour *
Juan Arcas **
Kevin Scarlett **
Filip Roeckens **
Soundharya Jayaraman **
* indicates confirmation via Facebook
** indicates "maybe coming" on Facebook
Want to come, but don't want your name on this list? No worries. Just tell us not to publish your name when replying.
---
View Larger Map