You are warmly welcome to join us at the Imagination Club on Wednesday, 12 December at 18h45 for an interactive, experimental workshop on: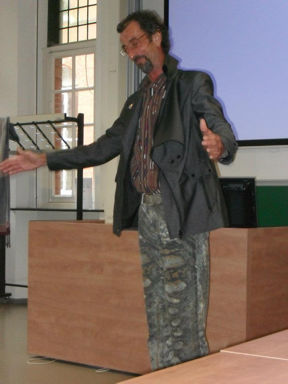 Understanding Cultural Differences Through Storytelling
By Martin Jugmans
The Brussels Imagination Club is a multinational group with members from all over the world. And as a member, you know that when cultures come together it can add richness to our lives and depth to our life experiences. But it can also lead to misunderstandings, embarrasment and confusion. One way to understand cultural differences is to list them and explain them. Another way is to tell stories. That's what this workshop is all about.
Under the facilitation of international storyteller Martin Jugmans, we will share stories about our own cultures and adopted cultures; about rituals and about misunderstandings. You can expect to learn not only about the cultures of other Imagination Club members, but also how to tell better stories yourself.
What to Bring
Your stories.
Stories about customs or rituals that pertain to your culture.
Cultural misunderstandings that have occurred and what happened for you to gain a deeper understanding.
Example Story by Martin
While living in South Africa, (during the apartheid era) it was rare for us to have a black person as a guest in in our house. When it did happen, the event was so unusual I still remember it very clearly.
A smartly dressed gentleman turned up one evening. He was one of my Dad's employees, a courier, he had come to pick up a parcel that needed to be delivered. My Dad had not yet arrived home and was expected any minute so my mother invited the gentleman in. He stepped inside and immediately sat himself down in the nearest chair. I could hardly believe the rudeness of this stranger, planting himself down without invitation or permission. I had been taught that it was polite to wait until the host/ess extended a gesture or invitation before seating oneself as a guest in someone else's house. Feelings of animosity toward the man rose within me.
It was only many years later my animosity toward the man turned to respect. I learned that according to his cultural etiquette he was demonstrating a sign of deference by immediately placing himself in a position beneath that of his hostess.
About Martin.
Martin Jugmans is a storyteller. Known for his fertile imagination and humanistic ideals, Martin accompanies people in the creation of their stories. His approach, like a memorable fable, focuses on universal principles, interaction and bright ideas. Participants in Martin's workshops, say that he has helped them to overcome obstacles, find harmony in relationships, and be inspired to tell a great tale.
A special thanks to UBI for donating classroom space for us!

Details
---
When?

Wednesday, 12 December 2012
Time:18.45 to 20.30

Where?

UBI (United Business Institutes)
Marnixlaan, 20
1000 Brussels, Belgium

Between Troone and Naamsepoort metros

Map (see below or follow link)

How much?

A contribution of €10 to cover expenses including materials, drinks, snacks, etc.

Where's the web page?

http://www.imaginationclub.org/brussels/event20121212.php
---
RSVP
Please reply to your invitation e-mail or follow this link to sign up for for this workshop.
Participants
Jeffrey Baumgartner
Andy Whittle
Martin Jugmans
Ingrid Kreksch
Peter Whippy
Mei-Yin Teo
Marjolein Jongman
Jovana Bogojevic
Anke Seidler
Marilys Corbex
Nicolas Crespin
Samuel Dellicour *
Arnd Schöter *
Ally Doritos *
Imad Essalih *
Fay Watson *
Ally Doritos *
Monica Alvarez *
Annemarie Huber *
Est Well *
Yannick Bollati **
Maroun Five **
Aleksei Trofimov **
Amine Othmane **
Ronny Vandermeeren **
* indicates confirmation via Facebook
** indicates "maybe coming" on Facebook
Want to come, but don't want your name on this list? No worries. Just tell us not to publish your name when replying.
---
View Larger Map