You are warmly welcome to join us at the Imagination Club on Wednesday, 28 November at 18h45 for an interactive, experimental workshop on: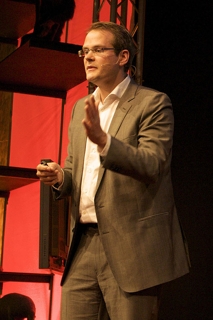 Virtual Team Building
By Lars Sudmann
Team building activities are very common in companies and organizations. Global and remote teams conduct face-to-face team building events on a regular basis. However, seldom are there team building activities when team members are working together 'virtually' but not together physically. But team building in these circumstances is also possible. Indeed, remote/virtual team building is a great way to enhance the engagement of virtual organizations and teams.
In this session we will explore virtual team building activities that will transform virtual team interaction. It will be a highly engaging session and does not require any special technical expertise or experience working 'virtually'.
Highlights of the session include:
Exploring team building and team building activities.
Exploring the challenges and virtues of virtual team environments.
Assessing the need for virtual interaction and team building – tools and best practices.
Virtual team building tools, activities, and games.
Please bring your mobile phones / laptops / smartphones to the session!
About Lars Sudmann
Lars Sudmann is the founder and CEO of Sudmann & Company, a consulting firm specialized in organizational development and change management of global corporations. He is a consultant, trainer and speaker with more than 10 years experience as a business leader, e.g. as CFO Belgium of Procter & Gamble.
Lars has in-depth experience in the leadership of remote organizations and is a lecturer on the topic at the university of Lüneburg. He is frequently invited to speak on the subject at major conferences such as TEDxGhent, PechaKucha Maastricht and the 2012 International Convention of the eLearning Guild.
More information and contact details here: www.lars-sudmann.com. His blog on virtual team interaction can be found here: www.makevirtualwork.com
A special thanks to UBI for donating classroom space for us!

Details
---
When?

Wednesday, 28 November 2012
Time:18.45 to 20.30

Where?

UBI (United Business Institutes)
Marnixlaan, 20
1000 Brussels, Belgium

Between Troone and Naamsepoort metros

Map (see below or follow link)

How much?

A contribution of €10 to cover expenses including materials, drinks, snacks, etc.

Where's the web page?

http://www.imaginationclub.org/brussels/event20121128.php
---
RSVP
Please reply to your invitation e-mail or follow this link to sign up for for this workshop.
Participants
Jeffrey Baumgartner
Andy Whittle
Lars Sudmann
Annette Monreal
Ingrid Kreksch
Paul van Merode
Gert Dierckx
Edward Duffus
Peter Whippy
Rasma Kass
Eliana Celaj
Anke Seidler
Joris Swinnen
Robert Suzic
Sonia Resuli *
Fay Watson *
Martin Jugmans *
Merita Shehu *
Anita Sheehan *
Bob Beck *
* indicates confirmation via Facebook
** indicates "maybe coming" on Facebook
Want to come, but don't want your name on this list? No worries. Just tell us not to publish your name when replying.
---
View Larger Map