You are warmly welcome to join us at the Imagination Club on Wednesday, 17 October at 18h45 for an interactive, experimental workshop on: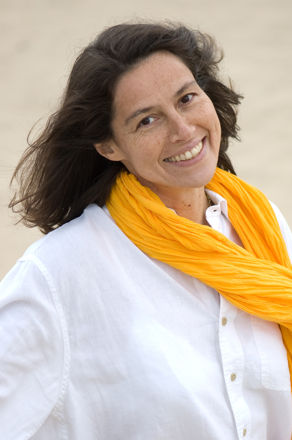 How to Get Out of Your Comfort Zone
By Magda Fahsi
The workshop
Have you been willing to change things in your life but somehow never actually managed to? Have you been pondering about changing jobs or partner but somehow your current life always looked more secure and comfortable? Have you been dreaming about doing something different but never really managed to find the energy or the courage to do so? Do you sometimes feel you are stuck in your current life; Like you are in prison but don't know how to get out? And, most of all, do you think your life needs some fresh air?
Then this workshop is definitely for you! It will allow you to understand why we find it so difficult to change things in our lives and where your feelings of discomfort and fear come from. It will also give you a few tricks destined to help you overcome your natural reluctance to change and move out of your comfort zone.

The Speaker
Magda was originally trained as a conference interpreter. She worked for 15 years both as a free-lance conference interpreter and as a free-lance journalist whenever she got assignments. Very regularly, she would go back to university to study whatever she found interesting and this is how she got a PhD in International Relations and Diplomacy and a Master in Human Rights. But somehow, she increasingly felt she needed something else. After an insight-gaining travel to Spitsbergen in 2009, she trained both as a personal development coach and a cross-cultural coach. Additionally, she became fascinated by the functioning of the human brain and studied neurocognitivism.
Today, she works as a journalist, a lecturer, a trainer and a coach. Although she has given several seminars in cross-cultural coaching, this is her first workshop in the Personal Development field.
You can find more information about Magda and her activities on www.magdafahsi.eu.
A special thanks to UBI for donating classroom space for us!

Details
---
When?

Wednesday, 17 October 2012
Time:18.45 to 20.30

Where?

UBI (United Business Institutes)
Marnixlaan, 20
1000 Brussels, Belgium

Between Troone and Naamsepoort metros

Map (see below or follow link)

How much?

A contribution of €10 to cover expenses including materials, drinks, snacks, etc.

Where's the web page?

http://www.imaginationclub.org/brussels/event20121017.php
---
RSVP
Please reply to your invitation e-mail or follow this link to sign up for for this workshop.
Participants
Jeffrey Baumgartner
Andy Whittle
Magda Fahsi
Dominique de Troyer
Eszter Farkas
Mei-Yin Teo
Marjolein Jongman
Peter Dupont
Fiore Vacchiano
Peter Whippy
Paul Van Merode
Vicky Perez
Ingrid Kreksch
Kati Brenner
Annette Monreal
Tony Zamparutti
Lodewijk Regout
edward.duffus
Sonia Resuli *
Johan Verheven *
Amine Othmane *
Gordon Buhagiar **
Filip Roeckens **
Ally Doritos **
* indicates confirmation via Facebook
** indicates "maybe coming" on Facebook
Want to come, but don't want your name on this list? No worries. Just tell us not to publish your name when replying.
---
View Larger Map